HCM City proposes welcoming international tourists with vaccine passports next month
HCM City has proposed welcoming international tourists with vaccine passports beginning in December.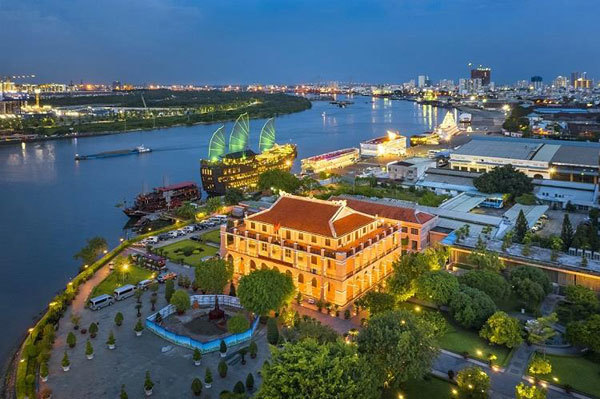 Nha Rong Port in HCM City. — VNA/VNS Photo
The HCM City People's Committee has recently submitted a pilot plan on hosting international tourists to the Prime Minister and Ministry of Culture, Sports and Tourism.
HCM City wants to start the plan in December and gradually expand the scale in 2022. Visitors with vaccine passports would not be required to undergo post-entry quarantine.
According to the plan, qualified international travel agencies would be allowed to bring international tourists to HCM City via package travel programmes on charter and regular international flights.
From January 2022, international guests coming to HCM City via charter and regular international flights under package tours would visit multiple destinations between HCM City and selected neighbouring provinces.
The city expects to fully reopen the international tourism market in April 2022.
International travellers must be fully vaccinated and have a negative COVID-19 test result, along with medical insurance or travel insurance that covers COVID-19 treatment with a level of liability of at least US$50,000.
Multiple Southeast Asian countries have experienced positive signs after reopening, and the Ministry of Foreign Affairs has temporarily recognised the vaccine passports of dozens of countries.
HCM City needs to strive for a higher vaccination rate among locals and prepare a quality health system with necessary medical supplies in order to handle situations that may arise.
HCM City is the tourism centre of Vietnam, welcoming more than 8.6 million international visitors in 2019, accounting for nearly 50 per cent of international tourists to Vietnam.
Source: Vietnam News

Ho Chi Minh City is anticipated to welcome the return of foreign visitors with vaccine passports this December instead of 2022 as planned, according to local authorities.

On November 17 and 18, Quang Nam welcomed 159 international tourists after nearly two years of suspending international commercial flights due to the impact of the Covid-19 pandemic.