HCM City puts classical music revival on the anvil
In recent years, HCM City has paid increased attention to developing its classical music scene, aiming to elevate interest in the art among lay public and attract more international tourists.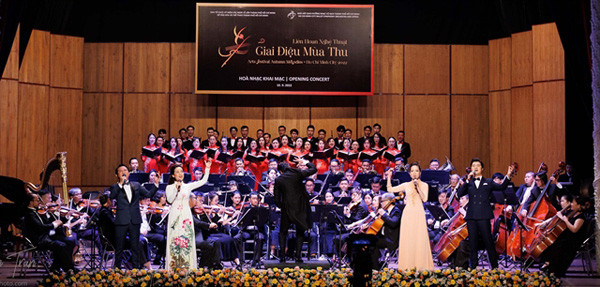 The city is working with theatre, conservatory and music experts on its development plan.
Recently on September 17, the HCM City Culture and Sports Department cooperated with the city's Ballet Symphony Orchestra and Opera (HBSO) to organise the Giai Điệu Mùa Thu (Autumn Melodies) festival, the country's biggest classical music event.
The festival presented three concerts featuring works by Vietnamese and international composers, including a cantata of Carmina Burana, and a dance performance of Ballet Kiều co-choreographed by Tuyet Minh and Phuc Hung.
The performers included famous Vietnamese and foreign soloists and musicians including People's Artist Ta Minh Tam, violinist Bui Cong Duy, tenor Yury Rostotsky, and cellist Dmitry Feygin.
The organisers offered free entry for all the shows, allowing many people and visitors to enjoy a rare treat.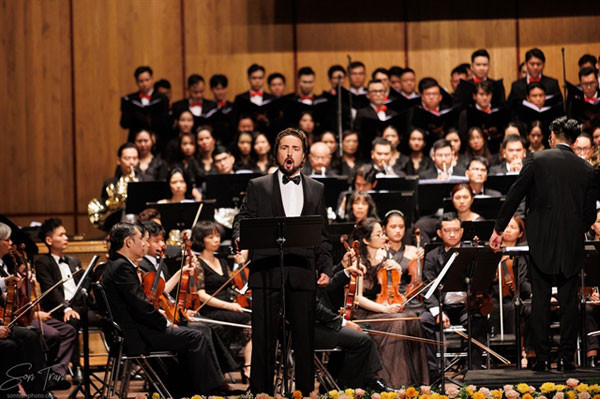 Nguyen Thi Thanh Thuy, the department's deputy director, said: "We were happy and moved on seeing the packed auditorium."
She said since it was first organised in 2005, the biennial Giai Điệu Mùa Thu art festival has become one of the most outstanding music events in the city.
"The festival is an opportunity for leading Vietnamese and foreign artists to perform together and share their experience, and for audiences to enjoy high quality performances."
The event has attracted famous overseas Vietnamese soloists like pianist Dang Thai Son, who made headlines around the world when he became the first Asian to win First Prize and Gold Medal at the 10th International Chopin Piano Competition in Warsaw, Poland in 1980.
International artists and ensembles have been also invited to the event, including Japanese conductor Honna Tetsuji and the 14-member Eine Flute Ensemble from South Korea.
The festival is also a stage for introducing young Vietnamese artists, mostly graduates and students of the HCM City Conservatory of Music.
"We should act together to preserve and promote the Giai Điệu Mùa Thu art festival as a brand event of the city," Thuy said.
The HCM City People's Council, the municipal legislature, recently recognised the festival as a remarkable cultural event.
Developing an ear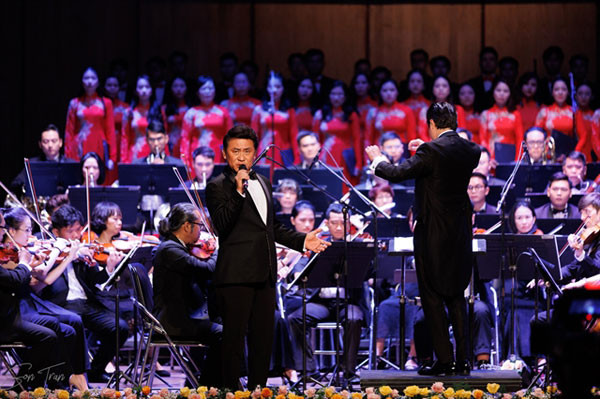 The municipal culture department plans to work with HBSO and the conservatory to organise talks that will contribute to developing an ear for classical music among students and the lay people.
It has asked HBSO, the conservatory and music schools to develop human resources in composition and performance, and to seek more chances to cooperate and have exchanges with international artists.
HBSO director Le Ha My said the theatre would love to bring classical music to schools, like a trio or a quartet. He hoped the city authorities would support this initiative and make it happen.
Thuy said that in near future, the department would propose that the authorities provide more support for developing infrastructure, equipment and technologies to promote the city's classical music scene.
For instance, to develop the classical music scene and lure audiences to the theatre, artists have called for building a new, international standard auditorium.
Violinist Tang Thanh Nam, HBSO's concertmaster, said: "We need to have a beautiful auditorium with high standard sound effects which will increase interest and appreciation among the people."
"The musicians and artists do not want a new auditorium for themselves, but for people and the city," Nam stressed.
"If we have a new auditorium, we can produce higher quality performances and attract more international artists and arts troupes. So, the city residents will have a chance to enjoy the best shows and learn more about classical music," he said.
Nam said a new auditorium could be a performing venue for all kinds of performing arts, including cải lương (reformed opera) and hát bội (classical drama).
In 2018, the city legislature had approved the Thu Thiem Theatre project in District 2 (now part of Thu Duc City).
The new theatre would be designed to meet international standards and have spacious hall capable of accommodating 1,200 guests, and a smaller hall with 500 seats. Its cost was estimated at VND2 trillion (US$84 million), funded by the city budget. It was to be built from 2022-2024.
However, the city decided to temporarily postpone investment in the auditorium.
Deputy director Thuy insisted that the city still needed a new theatre to host beautiful performances and attract foreign artists.
The theatre would allow local residents and visitors to enjoy higher quality performances and allow talented artists to raise their living standards, she added.
Thuy said it was understandable that due to the severe impacts of COVID-19, the city had to prioritise economic development and social security issues.
Source: Vietnam News