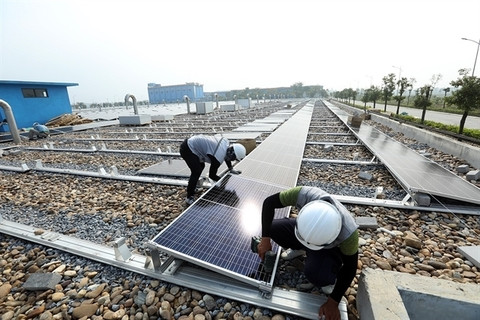 Workers installing rooftop solar pannels in Việt Nam. HCM City has a vast untapped potential for the energy, according to Thanh. — VNA/VNS Photo Phan Tuấn Anh
Ricardo Valente, City Councillor for Economy, Employment, and Entrepreneurship, City of Porto (Portugal), said green growth should be considered a must-have for the development of HCM City.
He said a crucial step in promoting green growth involves a mechanism to incentivise firms to act in line with the green regulations set forth by local authorities.
Gabor Fluit, chairman of the EuroCham in Việt Nam, said his chamber, through technology transfer and capacity building, would support HCM City in its vision to become an export hub for the EU.
In the short term, the chamber would launch programmes to help Vietnamese firms comply with the European Green Deal and help the country move one step closer to its carbon-neutrality targets.
Nguyễn Thị Mai Thanh, director-general of REE Corporation, said environmental sustainability, emission reduction, and efficient use of natural resources are vital to economic prosperity.
"That's why local authorities should incorporate environmental protection into the education system," said Thanh.
She also said her corporation was investing in roof-top solar panels to unlock the vast potential of solar energy that the city offers and is willing to sell the energy for a price equal to the electricity price in the national grid systems.
Ichisaka Hirofumi, director of External Relations of Osaka City, Japan, said his country had incorporated environmental protection into its legal framework since 1886.
In 1973, Osaka moved one step further by implementing the first business management model in Japan with clear regulations on environmental factors. Thanks to that, the city has maintained stable growth and at the same time been to the forefront of green growth since then.
Phan Văn Mãi, chairman of the People's Committee of HCM City, said the green growth spirit would act as a catalyst for the city's sustainable growth in the years to come.
He said the city had outlined a roadmap to carbon neutrality in 2050, which was based on four pillars: a high-skilled workforce, green finance and international cooperation, green infrastructure, and green behaviours.
The city also aims to make Cần Giờ, a district under its administration, reach the net zero targets in 2035, about 15 years sooner than the national targets.
To that end, the city would focus on developing green traffic systems, waste-to-energy facilities, and carbon-credit-generating forests that would turn the district into a plastic-free one. — VNS