VietNamNet Bridge – Of the 25,000 positions HCM City needs to fill in June, 35 per cent require manual labourers and 65 per cent skilled workers with training at vocational schools, colleges or universities.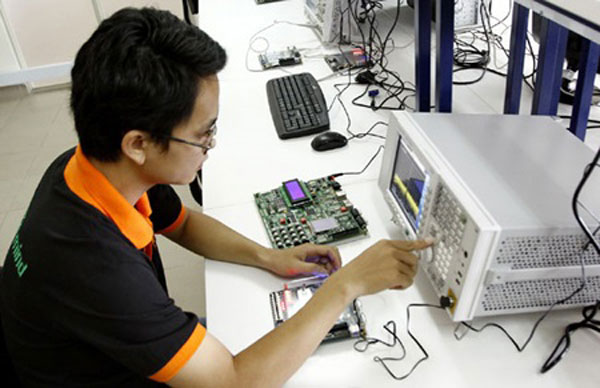 An engineer works at the Integrated Circuit Design Research and Education Centre at the HCM City-based Viet Nam National University. IT is one of the sectors that needs trained workers.
The HCM City Centre for Human Resource Forecast and Labour Information said that most jobs needing trained workers were in the fields of IT, electronics, electricity, food technology, textiles-garments, services and construction.
In May, the centre conducted a survey of 1,852 enterprises, which showed a need for more than 7,100 employees. Trained workers made up 70 per cent of recruitment needs, an increase of 19.97 per cent compared to April.
Architecture-construction, IT consulting and customer care saw an increased need.
Many positions required fluency in English, Korean or Japanese, as well as professional knowledge and skills.
Tran Anh Tuan, the centre's deputy head, said that enterprises in the textile-garment field faced a shortage of trained human resources.
The ASEAN Economic Community, which will take effect by the year-end, will speed the growth of many fields in the country, including the textile and garment sector, he added.
Nearly 20,500 employees will be needed each year after 2015, he said.
However, only 11 schools offer textile studies. Each year, nearly 1,900 students receive training, and, of those, only 200 graduate from universities, he said.
VNS