HCM City seeks to prevent illegal waste dumping
HCM City's environmental sector is taking steps to prevent illegal dumping of domestic waste transported from neighbouring provinces to the city.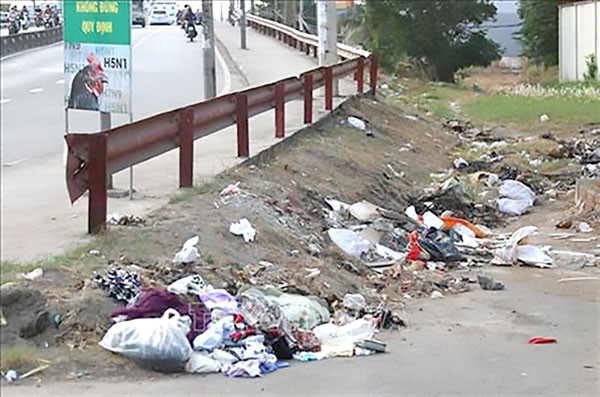 The city is located near many localities in the southern key economic zone where a large quantity of waste is discharged every day.
Illegal transportation and dumping of waste have been discovered at waste transfer stations or on vacant land lots in the border areas of the city.
The city now has 908 waste collection locations and 27 waste transfer stations.
Domestic waste of households and businesses is collected, transported to the waste collection locations and waste transfer stations, and then transported by waste collection units to waste treatment complexes.
However, in recent years, there has been a number of vehicles carrying waste from other localities and dumping it at the city's waste collection locations.
That makes the city's waste treatment system, which currently treats about 10,000 tonnes of domestic solid waste per day, become overloaded.
Tran Duy Long, deputy head of Natural Resources and Environment Sub-Department in Thu Duc City, said Thu Duc has eight waste transfer stations with a designed capacity of 725 tonnes per day, but is currently collecting about 1,200-1,400 tonnes per day.
"The reason for the increase is that many garbage trucks from other localities dump illegally at the waste transfer stations," he said.
It also found that some truck drivers illegally dump garbage in vacant land lots or places that are empty of people.
Last year, HCM City's management board for waste treatment complexes recorded four cases of garbage trucks from Tay Ninh and Long An provinces illegally transporting garbage to Cu Chi District.
The unit also prevented a case of garbage illegally transported from Long An Province to Vietnam Waste Solutions Inc (VWS) in Binh Chanh District.
From the beginning of the year until now, the city has discovered a number of cases of illegal dumping, mostly in suburban areas.
The authorised agencies are handling these violations according to current regulations and laws.
However, there are still many cases of illegal dumping that have not yet been detected because inspectors and patrol forces cannot cover all areas around the clock.
In addition, the city's camera system installed at waste transfer stations and the monitoring system (GPS) installed on the means of transport in some districts have been damaged, making it difficult to monitor illegal waste dumping.
Illegal waste dumping is also caused by a lack of waste treatment facilities in some neighbouring provinces, according to waste collectors in the city. In some cases, the waste collection units are located near the city and far away from the waste treatment facilities so they illegally transport the garbage to the city's border areas.
The city has to spend extra to transport and treat garbage illegally dumped, causing damage to the State budget.
In order to effectively manage the collection, transportation, and treatment of domestic solid waste, the municipal People's Committee has asked that the waste collection and transport units in the city are not allowed to receive any domestic solid waste transported from other localities without approval.
The city's Department of Natural Resources and Environment in collaboration with the management board for waste treatment complexes and relevant agencies have strengthened periodic and unannounced inspections in areas bordering other provinces and cities such as Binh Duong, Dong Nai, Long An and Tay Ninh provinces to promptly detect and handle violations.
The HCM City Urban Environment Company Limited (CITENCO) is responsible for transporting 53 per cent of the total amount of domestic waste in the city, and piloting sticking the company's logo on its more than 150 private garbage trucks.
Cao Van Tuan, head of CITENCO's Department of Environmental Technology and Quality Control, said only vehicles with the logo can enter the waste transfer stations managed by the company.
"This helps the company manage the vehicles coming in and out and control how much garbage is transported to the waste transfer stations," he said.
In the coming time, the use of logos is expected to be expanded in the city, especially in bordering areas, to better control illegal waste dumping, he said.
From 2025 onwards, the city will require all local waste collection locations and waste transfer stations to set up enclosed areas for receiving garbage collection and parking garbage trucks.
The waste transfer stations must be able to serve and receive all types of waste collection vehicles, and other types of household waste such as bulky waste and construction waste.
They must upgrade necessary infrastructure facilities, camera systems, and software systems to monitor domestic waste management.
Source: Vietnam News