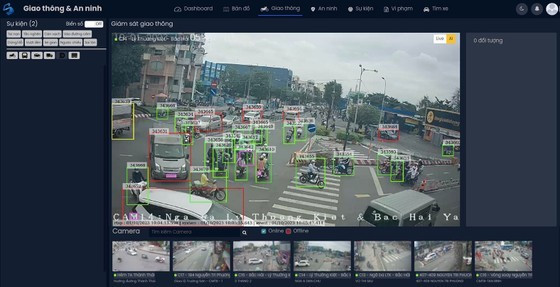 Smart Vehicle Management System is being integrated into the surveillance camera system of District 10's Police Department in HCM City. — Photo www.sggp.org.vn
After two years, the Computer Centre of HCM City University of Technology (HCMUT) under the Việt Nam National University-HCM City (VNU-HCM) has completed its Smart Vehicle Management System (SVMS) to enhance the use of existing surveillance cameras in the city.
Thoại Nam, director of the Computer Centre, said using AI or IoT to read and analyse camera data is an inevitable trend in the future to increase the operation performance and reduce manual work.
He proposed the city should soon develop a comprehensive architecture in this field for better integration and avoidance of loose connection when applying technology in management tasks.
In many neighbourhoods in the city, cameras have been installed by families to monitor activities in front of their houses.
However, since these are individual cameras, they are connected into one management system, leading to a waste of time and effort if the functional force needs to access data from them for investigation purposes.
It is estimated there are about 37,000 cameras in the city.
There are about 60,000 private cameras set up in various neighborhoods in the city, along with 2,000 cameras installed by the police to monitor public security and traffic status.
Most of these cameras are working independently in groups of different units or departments. Therefore, it is time-consuming for supervisors to process data when in need.
The city' Urban Traffic Control Centre is supervising more than 1,000 outdoor cameras, one-tenth of them are able to count the traffic density and vehicle speed.
Data from these cameras are sent to the Control Centre for manual monitoring, which is exceptionally challenging.
Therefore, it is essential to have general planning of the surveillance camera network to ensure a wider coverage, a better visibility and exploitation of camera images between state departments and levels as well as those in residential groups.
In 2020, scientists in the Computer Centre of HCMUT researched and developed an integrated management and data processing system called SVMS.
SVMS has been approved to be use in real life after being evaluated by the city's Department of Science and Technology.
Phan Tùng Lâm, deputy captain of the General Team under District 10's Police Department, said thanks to useful functions of SVMS, traffic congestion was discovered sooner while tracking traffic law breakers became more convenient.
It makes the use of AI technology in the tasks of data management, big data analysis via IoT, video management via its software VMS Client, installed on the server.
It allows camera data access to control security and order, monitor traffic status. The piloting scheme shows that SVMS can be integrated into most existing surveillance camera networks in the city and other regions in the country without a need to replace current cameras.
It can analyse received data and images in real time to categorise subjects, deliver warnings of crowds, identify vehicle licenses, detect traffic law violations, track criminals, detect fires.
When an abnormal activity happens, it immediately analyses images and sends warnings to the mobile phone of the people in charge.
It was also piloted in the provinces of Tây Ninh and Đồng Tháp. — VNS