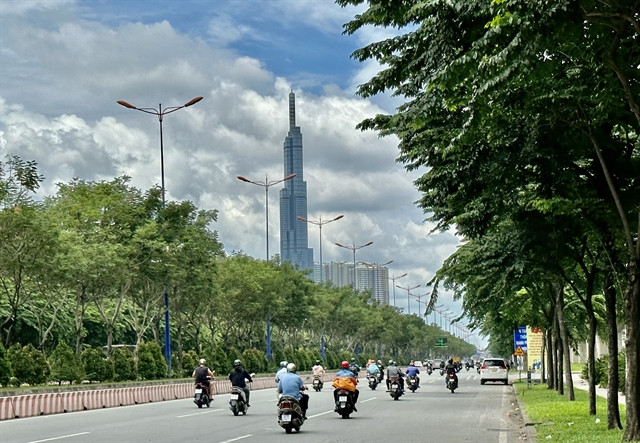 A section of the Hà Nội Highway in HCM City's Thủ Đức city. — VNS Photo Nguyễn Diệp
Speaking at a recent dialogue with officials and members of the city's farmer associations, municipal People's Committee chairman Phan Văn Mãi said the city's agriculture sector is heading towards high-tech agriculture development to enhance the material well-being of local residents in rural areas.
He reviewed the city's socio-economic situation from the beginning of the 2020-2025 term to the present.
The city has consistently kept updated of farmer associations at all levels and urban farmers while also actively receiving information and opinions from them.
This ensures that the city's socio-economic development planning and management always incorporate agriculture and rural areas, ensuring balanced development without creating a division between urban and rural regions.
"As a result, urban farmers enjoy a material and spiritual life that matches the city's overall development," Mãi said.
He said he seeks open and candid discussions among associations and their members to review recent achievements, helping the city reassess relevant policies.
Special attention is being given to the impact of the COVID-19 pandemic on the lives of urban farmers.
The city has identified the development of high-tech agriculture, clean agriculture, and agriculture focused on seed production, processing and export trade along with research in farming techniques as priorities for export promotion.
In developing new-style rural areas, Mãi confirmed the importance of ensuring the quality of the new-style rural areas.
"Both the economic and technical infrastructure, as well as the social aspects of rural areas should receive appropriate investments and attention," Mãi said.
He highlighted the need for restructuring the rural population based on population density. Therefore, the city's general urban planning should follow this direction.
He also emphasised the necessity of creating supportive infrastructure for agricultural activities and agriculture activities integrated with other sectors such as agro-tourism to enhance the added value of agricultural land.
According to the city Farmers' Association, rapid urbanisation has led to a reduction in agricultural land, resulting in a majority of small-scale and fragmented agricultural production by households.
This situation has adversely affected both production efficiency and product consumption.
The connection between agricultural production and processing industries, as well as among farmers, businesses, and scientists, remains weak.
The adoption and transfer of high-tech methods and technologies for agricultural development encounter several challenges. There are still limitations in expanding markets and accurately predicting market trends for agricultural production and consumption.
Since 2021, numerous programmes, projects, plans and policies aimed at supporting agriculture and farmers have reached their expiration dates, such as the policy that encouraged the transition in urban agricultural structure within the city during the 2017-20 period.
However, as of now, the city has not introduced any substitute policies, leading to challenges for farmers and cooperatives when it comes to investment and production development.
Nguyễn Thanh Xuân, chairwoman of the city Farmers' Association, said the city should undertake research and recommend to the central Government the amendment of regulations and the establishment of a legal framework.
"That would enable farmers to change the land-use purposes from agricultural land to other types of agricultural or non-agricultural land to facilitate the expansion of production scale," she said.
She also recommended the city develop strategies and policies aimed at enhancing the trade promotion of the city's agricultural products, creating showcase locations and distribution channels for outstanding agricultural products and products under the "One Commune One Product" (OCOP) programme integrated with the advancement of agro-tourism and eco-tourism in the city. — VNS