HCM City to seek upgrade of Food Safety Management Board

HCM City wants to upgrade its Food Safety Management Board into a department and plans to seek Government approval for it.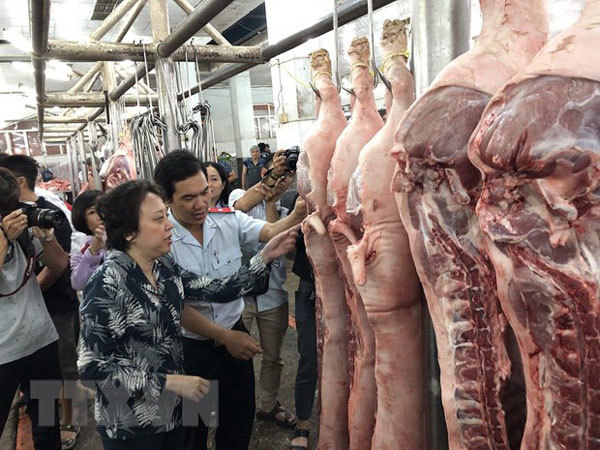 Pham Khanh Phong Lan, head of the HCM City Food Safety Management Board, inspects a slaughterhouse in HCM City. VNA/VNS Photo
Speaking at a conference on Friday to review three years of functioning by the board, Chairman of the city People's Committee, Nguyen Thanh Phong, hailed the tremendous work it had been doing.
According to Pham Khanh Phong Lan, head of the board, its efforts focus on strengthening inspections and tests and imposing stringent penalties to prevent unsafe food from being distributed.
Two teams of inspectors are assigned to check food safety at Binh Dien and Hoc Mon wholesale markets, and the remaining eight teams are in charge of inspecting traditional markets across the city.
The board has also strengthened linkages with neighbouring provinces to enhance quality supervision from the farming stage onwards.
The city has signed agreements with the provinces of Long An, Dong Thap, Soc Trang, Binh Thuan, and Lam Dong to ensure that agricultural and aquatic products are better managed before being transported to the city.
Although it has been operating on a pilot basis since inception, the board has played a vital role in preventing unsafe food, which is the biggest public concern.
Overlapping roles of three departments -- health, industry and trade and agricultural and rural development -- have hindered the board's functioning.
Upgrading it into a department would enable the board to perform its tasks optimally, she said.
In the first half of the year the board inspected more than 4,056 food facilities and uncovered 469 violations, the board reported.
They were fined a total of VND6.7 billion (US$288,600). VNS