VietNamNet Bridge – HCM City has approved an adjustment of master plans by the HCM City EPZ Authority (HEPZA) that will make its industrial parks (IPs) and Export Processing Zones (EPZs) more attractive to investors.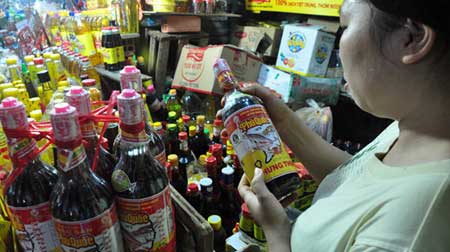 Fish sauce producers on Phu Quoc Island in Kien Giang Province are in desperate need for help as they are facing shortages of raw materials due to the acute competition in purchasing anchovies, the main material for the fish sauce industry.— File Photo
Under the plan, the Phong Phu IP would be developed into a hi-tech complex housing environmentally safe factories, while four other industrial complexes, Sai Gon Agriculture Corp (89ha), Da Phuoc (90ha); Bau Tran (95ha); and Pham Van Coi (75ha), will be turned into IPs.
In the final months of 2013, HEPZA will help companies gain access to sources of capital and to expand markets for their products, which will help create more jobs.
According to HEPZA figures, as of late September 3, HCM City's IPs and EPZs employed about 270,000 people.
In the first nine months of the year, investment flows into enterprises in HCM City IPs and EPZs amounted to US$480 million, accounting for 96 per cent of the year's target and up by 48.22 per cent compared with the same period last year.
These investments include foreign direct investment (FDI) of $341 million, with an additional investment of $95 million into Nidec Tosok's project and a capital expansion of $129 million for the Sai Gon Precision project.
As of September 30, the city's IPs and EPZs contain 1,263 investment projects with total capital of $7.5 billion, including 502 FDI projects capitalised at $4.526 billion and 761 domestically-invested projects with total investment of VND44.3 trillion ($2.95 billion).
Due to the economic crisis, 99 of these 1,253 investment projects in IPs and EPZs this year have suspended operations and 24 were dissolved.
Thirty-five others, mainly those specialising in textiles and garments, construction materials, interior decor and electrical equipment, cut back on production by 20 to 30 per cent.
According to HEPZA, the biggest problem facing companies is not capital but consumption.
There has been no sign of a recovery or increase in number of orders for IP and EPZ enterprises in HCM City, even though the State Bank of Viet Nam's HCM City branch has helped 28 IP enterprises get loans of a total of VND960 billion at lower interest rates.
In the first nine months of 2013, these enterprises attained export turnover of $3.4 billion, up by only 6.2 per cent compared with the same period last year.
A HEPZA representative said it would enhance its efforts to attract investment into IPs and EPZs, with a focus on attracting Japanese investment into hi-tech industries.
VN tourists head for Japan
Japan is expected to receive about 100,000 Vietnamese tourists this year, nearly double the figure last year.
Several travel firms will set up a business club for companies operating tours to this country to better cater to the fast-rising number of local tourists visiting Japan, according to Vu The Binh, deputy chairman of the Viet Nam Tourism Association.
Speaking at a meeting to establish the Sai Gon Japanese-speaking tour guide club recently, Binh said the number of Vietnamese tourists to Japan was not as high as that of other Southeast Asian markets but that growth was strong.
The association said it would establish a club consisting of companies offering Japanese tours and would open a representative office in Tokyo.
Japan's tourism organisations are also in favor of such activities to increase the number of tourists between the two countries.
Binh said the Viet Nam National Administration of Tourism (VNAT) has recently carried out many promotions in Japan.
According to VNAT figures, over 450,000 Japanese tourists came to Viet Nam in the first nine months of 2013, an increase of 5.1 per cent over the same period last year.
Japan is expected to receive 100,000 Vietnamese tourists in 2013, almost double that of last year.
Anchovy war on Phu Quoc
Fish sauce producers on Phu Quoc Island in Kien Giang Province are in desperate need for help as they are facing shortages of raw materials due to the acute competition in purchasing anchovies, the main material for the fish sauce industry.
Nguyen Thi Tinh, chairwoman of Phu Quoc Fish Sauce Producers Association, said the competition was waged by traders from other localities who had bought Phu Quoc anchovies at much higher prices.
Since October of last year, fishermen have been selling their catch right at the fishing grounds.
Traders have been sending their vessels to fishing grounds, and have offered prices two to three times more. They have bought most of the anchovy catch for Phu Quoc fishermen.
"Fish sauce producers can buy fresh anchovies at VND6,000 – VND7,000 per kg and salted anchovies for VND9,000 to VND10,000 per kg, while traders bought it at the fishing grounds for VND18,000 to VND20,000 per kg," said Tinh.
According to the association's figures, Kien Giang Province currently has some 230 anchovy-fishing boats with total capacity of 70,000 HPs. The boats caught about 100,000 tonnes of anchovy in the first nine months of this year.
The province also has 160 fish sauce processing lines which can produce from 36 to 43 million litres of fish sauce per year, including 81 with a combined capacity of 25 to 30 million litres on Phu Quoc Island District.
However, 200 tonnes of anchovies have been bought and transported off the island on a daily basis, making it difficult for local producers to buy enough raw materials for their fish sauce processing lines, said Tinh.
Notably, most of these anchovy drying lines are located on an area zoned for tourism development in Phu Quoc Island.
Under harsh competition from these anchovy drying facilities, six fish sauce production lines have suspended operations while the others were operating at 50 to 60 per cent of their capacity, said Tinh.
If the situation does not improve, other fish sauce manufacturers will face closure in a month, when the anchovy catch is over.
"Should this issue remain unsolved, in the next five to 10 years, the traditional craft of making Phu Quoc fish sauce will be lost in oblivion," Tinh said.
Huynh Quang Hung, deputy chairman of Phu Quoc District People's Committee, said that when the anchovy drying establishments were set up a year ago they offered jobs for unskilled labourers and raised fishermen's revenues.
However, the growth of so many anchovy drying facilities, which consume 150 tonnes of anchovies per day, have had a negative impact on the economic development of the island.
Hung said these anchovy drying facilities have caused environmental problems, affecting the island's tourism industry and causing losses of tax payments.
Under such a situation, the Phu Quoc District authority has asked agencies to launch a thorough inspection of anchovy purchases, processing and transport on the island.
"Facilities that cannot meet food safety standards and [labour] regulations must be closed," Hung was quoted by Tuoi Tre (Youth) newspaper as saying.
The Phu Quoc District authority has zoned a 100-ha area for seafood processing and fish sauce manufacturing that can admit anchovy processing facilities that meet these conditions, Hung added.
In August, Phu Quoc fish sauce received Protected Designation of Origin (PDO) from the European Commission's Department of Agriculture and Rural Development, thus protecting its name in all 28 EU countries.
The sauce, which officially received PDO recognition in 2012, has passed all EU food safety regulations and is also the first-ever Vietnamese product to be granted this status by the EU.
The EU PDO certification has helped raise the prestige of Phu Quoc fish sauce, creating favourable conditions in the battle against counterfeit products in the EU market and in the promotion of the product in both domestic and global markets.
Source: VNS