HCM City's District 3: 18th coolest neighbourhood in the world

UK-based entertainment magazine Time Out has ranked District 3 in HCM City as 18th on a list of the world's 50 coolest neighbourhoods.
HCM City's District 3 among '50 coolest neighborhoods in the world'
Visiting a 150-year-old pink church in Saigon
Touring the pinky church in downtown Ho Chi Minh City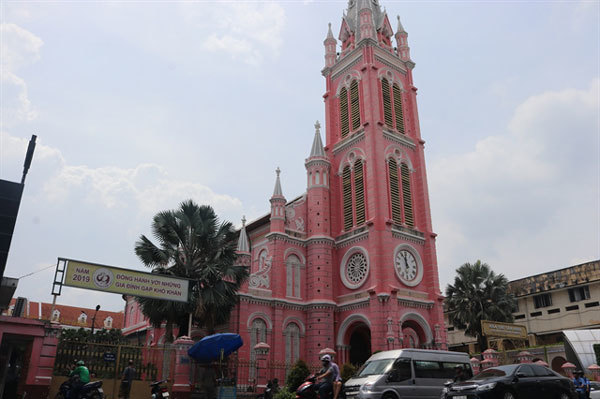 Tan Dinh Church's pink colour attracts photo lovers. — VNS Photo Viet Dung
As one of the city's 24 districts, District 3 is "a buzzing but less well-trodden neighbourhood where exciting new developments coexist with a sense of history", the magazine says.
The article drew attention to the area's "colonial-era churches and villas alongside Buddhist pagodas" and live music mainstays.
As part of Time Out's survey, around 27,000 city dwellers from around the world were asked for their opinions on their hometown's neighbourhoods. Time Out editors and contributing writers were also consulted.
The Arroios area of Lisbon in Portugal was ranked the coolest place followed by Shimokitazawa in Tokyo, Japan.
People who typically hang out in District 3 say they are not surprised that the area was regarded so highly by Time Out.
Sean Devereux, an expat teacher, says the appeal of District 3 is about getting lost and seeing what you can find.
For Sydney Crain, an English teacher who has been living in the district for three weeks, it's the abundance of good food and restaurants that stands out. The district's inclusion on the list "does not surprise me. It is very cool here", she says.
Some people believe one advantage District 3 has over District 1 is cost of living.
And there is even an old Vietnamese saying that backs this up: "Eat in District 5, live in District 3 and take part in luxury in District 1."
District 1 is well known for its abundance of malls, cinemas, bars, busy nightlife, and many other attractions, while District 5 has a high concentration of Chinese restaurants.
Meanwhile, District 3 contains beautiful villas, apartments and other buildings. Rows of green trees planted years ago help people deal with the heat, providing shade and fresh air as well as a sense of historical longevity.
Rich history
District 3 was formed in 1920 after the city expanded from its original two districts (districts 1 and 2), set up in 1889 by the French colonists.
While District 1 was made for work and luxury, District 3 was planned to be tranquil and quiet, making it different from other districts, according to Associate Professor Ha Minh Hong, senior lecturer in history at the University of Social Sciences and Humanities under Vietnam National University HCM City.
"It was planned to be peaceful as opposed to frenetic so that it could be a place to work, live, relax and have a good life," Hong says.
Over the years, the district's size shrank as parts of it formed nearby districts such as districts 10 and Phu Nhuan.
Buildings were expected to be tall, and roads nice-looking and reasonably sized, not big like boulevards in District 1, according to Hong.
The district has two distinct architectural styles: domestic which can include Vietnamese or Chinese-Vietnamese, and French, influenced by the French colonial period which lasted for 100 years.
Rich and powerful Vietnamese who could afford to build villas "used Western architecture while maintaining Vietnamese elements, gradually making the district a combination of two architectural styles," Hong says.
More and more people gravitated to the Western style due to its perceived beauty and practicality, such as thick walls which offered insulation from the heat and noise, and multiple-story buildings which created a sense of beauty and peace.
Most of the villas built from the colonial period in the city are in District 3.
"The two styles do not really conflict each other, but complement and highlight each other," Hong says.
Many places of historical, religious and cultural importance are also in the district, such as Xa Loi Pagoda, Turtle Lake and Thich Quang Duc monument (that memorialises the self-immolation of the Buddhist monk who protested the repression of Buddhists by the US-backed Sai Gon administration in 1963).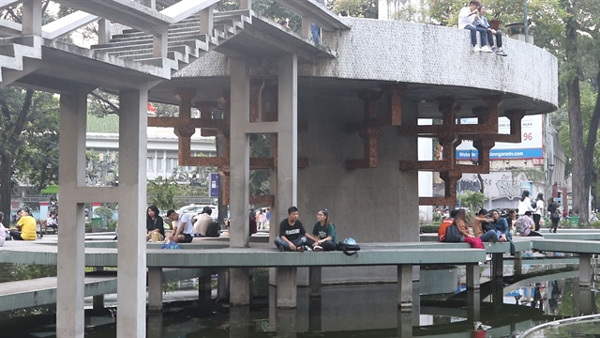 Turtle Lake in District 3 is a popular hang-out spot for young people in HCM City. — VNS Photo Viet Dung

Cool places to visit
Within the district, there are many cool areas to visit and places that are popular with young people. The Time Out list drew special attention to Tan Dinh Church, the second largest church in HCM City after Notre Dame Cathedral in District 1.
Built in 1876, Tan Dinh Church is one of the most well-known places in the district for photographers, and is beloved for its bright pink colour and architecture.
Two Japanese tourists, Hinako Nomi and Mai Tsuchiya, learned about the church after seeing it on Instagram.
Another tourist, James Allington, notes that "the church is beautiful and a nice place to visit", while Dinh Thi Thanh Tinh, a university student living in Go Vap District, is especially fond of its pink colour.
Besides the church, a giant man-made water fountain, stairs and surrounding walkway built at the end of 1960s, known informally as Turtle Lake, is a well-loved spot with a mysterious, and some say, mythical origin.
Among the most colourful "origin" stories is the one about a feng shui master who in 1967 was consulted on the location of the Independence Palace in District 1, a considerable distance from Turtle Lake.
The land on which the palace was to be built contained a dragon spirit, specifically the head of the dragon, which is believed to bring prosperity, according to the master. Because a dragon's tail moves erratically, which may signify instability, a construction resembling a turtle was suggested to keep the tail in check.
Nearly every afternoon, dozens of students and young people can be seen chatting at Turtle Lake along with families with kids and vendors selling street snacks. It is a great place to take photos because of the architecture and the busy roundabout where it is located.
"To Sai Gon locals, Turtle Lake is an irreplaceable site of our youth. Ever since we were kids, we have been visiting this place to play and hang out," Nhu Y says.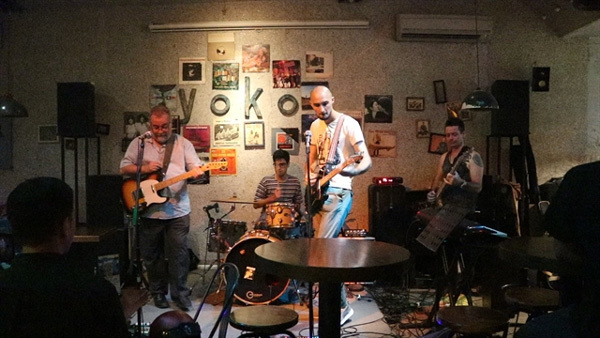 Yoko Cafe organises open-mic nights and musical performances almost every day. — VNS Photo Viet Dung

As for music and nightlife, District 3 has many cafes and bars that offer musical performances and open-mic nights. Every other night, the very popular Yoko Cafe offers band performances playing a wide variety of music such as jazz and rock.

Area: 4.9 square kilometres
• Population: Nearly 200,000
• 14 wards
• Located adjacent to Phú Nhuận District, Tân Bình District, District 1, District 10
• It is the location of Xá Lợi Pagoda, the largest in the city
A group of expat teachers who have performed here nearly every Tuesday for three months say they can easily meet new friends and musicians at Yoko, and that other similar venues exist in the area.
With its broad appeal, District 3 has been able to maintain its reputation for quiet fun and good cafes, while preserving its historical heritage and liveability. No surprise that it made it on the cool list.
-----
What do you think about District 3?
Abhijeet Sanyal, expat teacher
 Abhijeet Sanyal, expat teacher"It's an amalgamation of old and new. Besides that, there are a lot of nice places where you can meet and talk to people and us being musicians this place (Yoko Bar) in District 3 is more like a blessing, you can come and play just to let off some steam in the evening." 
Sean Devereux, expat teacher
"District 3 is a really cool neighbourhood, has a lot to offer, the people are very friendly and kind, the food is really tasty, and I feel that it has been really westernised lately. A big appeal of District 3 is just to get lost and just walk around and see what you find."


Lim Nhu Y, student

"If you do a bit of digging, you will find that District 3 is very peaceful. It's not as active and busy as District 1, but it has plenty of cool places to hang out, not unlike District 1. To Saigoneers, Turtle Lake is an irreplaceable place of our youth. Ever since we were kids we have been visiting this place to play and hang out."


 Cheo Leo Cafe's clay-pot brewed coffee: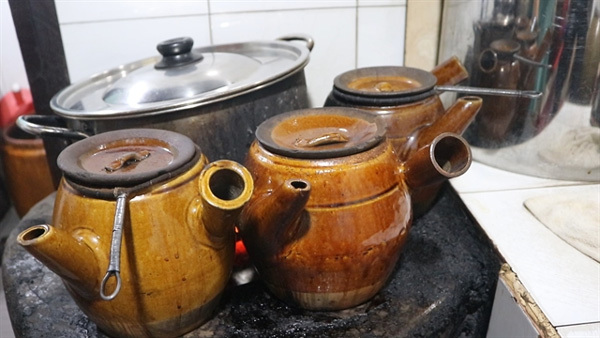 Cheo Leo Cafe makes coffee with clay pots and is the only one in HCM City maintaining this tradition. — VNS Photo Viet Dung

Lovers of coffee should head for Cheo Leo Cafe, which has been operating for 80 years and brews coffee in traditional clay pots. Nguyen Thi Suong, its owner, says: "Only my cafe has been able to completely keep the traditional Sai Gon way of brewing coffee.
"Foreign visitors also really like our coffee. I have been told they even enjoy it more than Starbucks.
"That makes me very happy. But I don't want to become arrogant because of that, because I think they probably said it to make me happy, and I don't think I can ever measure up to an international brand. I'm aware of that. But it's still a motivation for me.
"I'm selling my coffee at reasonable prices but receive positive feedback for its quality.
"Foreign and Vietnamese customers all like to drink coffee at their own tables. But foreigners also like to see the process of making the coffee and see what we do in our kitchen, so I let them in. And they are very surprised at Vietnam's traditional way of making coffee."
The traditional method involves a big charcoal oven, a steel pot for boiling water, and three clay pots for brewing coffee. Cloth filters containing ground coffee are also used to make the drink.
The 67-year-old owner says that her father moved to Sai Gon from Hue and opened the cafe in 1938, after which she took over. The cafe is highly popular thanks to the media and people who want to know how coffee was once made in then-Sai Gon.
Visitors and foreign tourists enjoy her coffee, and she sometimes gives a tour of the brewing process to visitors who contact the cafe beforehand.

Top 20 coolest neighbourhoods in the world, according to Time Out magazine:
1. Arroios in Lisbon, Portugal
2. Shimokitazawa in Tokyo, Japan
3. Onikan in Lagos, Nigeria
4. Wedding in Berlin, Germany
5. Historic Filipinotown in Los Angeles, US
6. The Waterfront in Hobart, Australia
7. Strasbourg-Saint-Denis in Paris, France
8. Astoria in New York City, US
9. Embajadores in Madrid, Spain
10. Pilsen in Chicago, US
11. Peckham in London, UK
12. Soi Pridi Banomyong/Phra Khanong in Bangkok, Thailand
13. Footscray in Melbourne, Australia
14. Zhongshan in Taipei, Taiwan
15. Kerem Hateimanim and Shuk HaCarmel in Tel Aviv, Israel
16. Kypseli in Athens, Greece
17. Jalatlaco in Oaxaca, Mexico
18. District 3 in HCM City, Việt Nam
19. Juárez in Mexico City, Mexico
20. Poblenou in Barcelona, Spain
VNS