HCM City's District 5 introduces delicious local cuisine to tourists

HCM City's District 5 has begun a project called the Cho Lon Food Story to promote the local culinary quintessence and culture.
Five markets in Saigon especially loved by foreign tourists
Saigon's ancient markets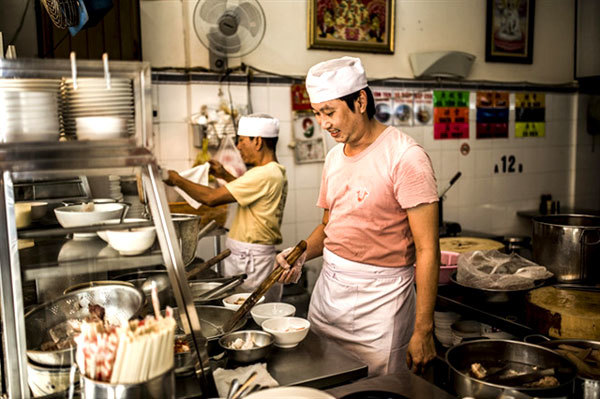 A Chinese-style restaurant at Cho Lon (Big Market) in HCM City's District 5. — Photo courtesy of Outbox Consulting
District authorities have hired tourism consulting firm Outbox Consulting to carry out the project with a focus on cuisine in Chợ Lớn (Big Market) to attract both local and foreign tourists and also the city's residents.
Known as a paradise for food lovers, Cho Lon is home to countless eateries that offer a bewildering range of foods bequeathed by local people's ancestors.
They range from eateries in small alleyways to luxurious settings.
In Cho Lon, visitors can enjoy unique Vietnamese and Chinese foods from early morning to late at night.
Hủ tiếu (noodle soup), mì vịt tiềm (stewed duck noodle soup), xá xíu (char siu pork), vịt quay (roasted duck), xôi gà (sticky rice chicken), dumplings, and chè (sweet soup) are among the most popular dishes here.
The project includes four main activities: food fairs, murals conveying stories about Cho Lon's cuisine, making a photo book, and shooting videos.
Intriguing stories about individual dishes and chefs will be narrated to visitors throughout the event.
Locals and culinary and cultural experts will vote for 10 typical dishes of Cho Lon.
The project is expected to go on until the end of this year. VNS