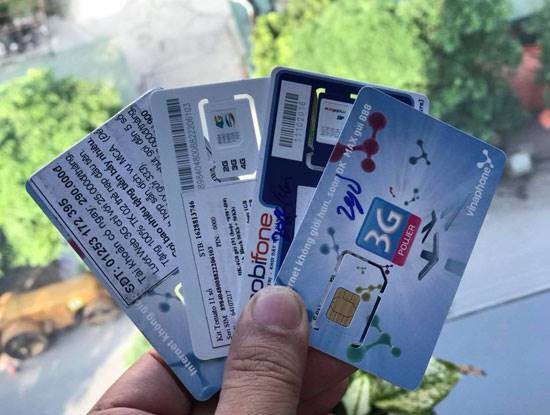 Deputy Minister of Information and Communications Pham Duc Long has told VietNamNet that the ministry inspected mobile network operators on implementation of regulations on pre-paid subscriber management and imposed fines on violating operators.
The Ministry of Information and Communications (MIC) also signed a document giving a second warning to violators.
"If mobile network operators still don't observe the regulations, MIC will issue a warning for the third time and will report the cases to the Prime Minister and the governing bodies," Long said.
MIC does not directly manage personnel of telecom carriers, but it will send documents to governing bodies and handle violations by disciplining the company heads.
Long said that mobile network operators are making efforts in this issue.
However, the problem is that agents exploit the law by arguing that individuals don't have restrictions in the number of simcards they can have, hiring students and freelancers to register simcards in their names to sell to the market.
The information provided to telecom carriers is true, but this is not information from the real users.
Long affirmed that MIC will take tough measures to eliminate junk simcards, spam calls and deceptive calls.
Since November 1, 2022, MIC has expanded receiving complaints about spam and deceptive calls. People can report the cases by calling to the prefix 156.
After suspicious subscribers end their calls, it will be the user who determines if a subscriber makes a spam call. Mobile network operators will handle the cases on existing regulations.
After MIC took measures to tighten control over subscribers to prevent spam calls and provided more channels for people to make complaints, the number of spam calls decreased.
In September, MIC publicized conclusions after inspecting seven telecom carriers which had violations in subscriber management.
The total fine was VND3 billion, including VND1.155 billion on telecom carriers and their branches, nearly equal to the total fine imposed in the last five years, since 2017 (VND1.378 billion).
Previously, inspectors did not impose fines on agents and authorized telecom service units, but in the latest inspection, it imposed a total fine of VND1.77 billion.
Van Anh