Health ministry asks for strengthening COVID-19 diagnosis and treatment
The Ministry of Health has ordered local health departments to strengthen diagnosis and treatment of COVID-19 in the context of new variant emergence.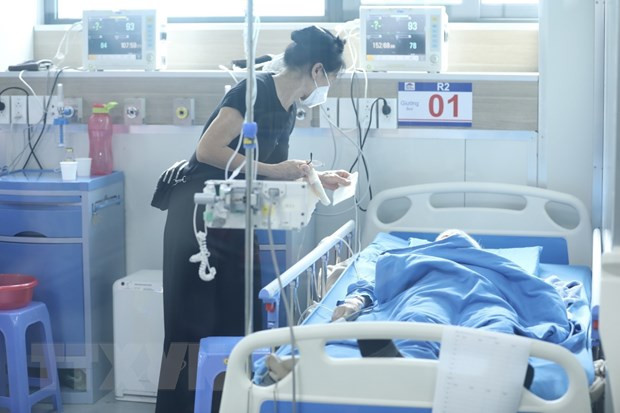 A COVID-19 patient under treatment. — VNA/VNS Photo
According to the ministry, the XBB variant with the ability of immunity resistance and rapid spread has appeared in 70 countries.
The Ministry of Health requested hospitals with beds under the ministry's management to make preparations to receive and treat COVID-19 patients and make use of all available resources.
Health facilities need to arrange human resources to monitor, care for and treat COVID-19 patients in order to early detect severe conditions and minimise mortality.
The healthcare centres have also been asked to review and provide a sufficient number of drugs, equipment, and medical supplies to meet the needs of COVID-19 treatment.
The Ministry of Health recommended healthcare units strengthen consultations at hospitals and with higher levels to get professional advice and minimise patient transfer to higher levels.
Healthcare centres must carefully make consultations on cases beyond their professional capacity and contact facilities at higher levels before transferring patients and ensuring the patients' safety.
Treatment facilities must strengthen infection prevention measures to minimise the virus spread at hospitals, especially focus on the protection of patients in high-risk groups, intensive care, cardiovascular and kidney units and operation areas.
It is recommended to perform Realtime RT-PCR tests to diagnose COVID-19 to avoid missing infections.
Provincial and highest-level hospitals need to monitor and clinically assess severe cases during this period and conduct tests for gene sequencing for infection level assessment and professional guidelines. — VNS