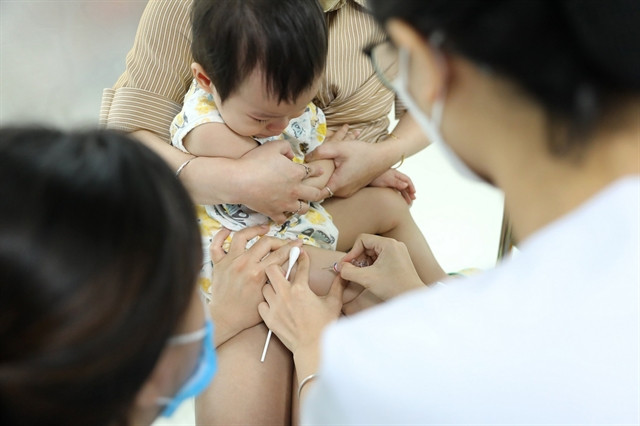 A baby receives an influenza vaccine at a centre in Hà Nội. — VNA/VNS Photo
Priority mechanisms will be granted to the research and production of vaccines for emerging, dangerous and highly infectious diseases and new types of vaccines in Việt Nam, according to the health ministry.
The ministry recently issued a plan to implement a programme on ensuring vaccination supplies until 2030.
It will establish a steering committee in May led by the Drug Administration of Việt Nam to take responsibility for the programme.
Specific priority mechanisms will be also given to combined vaccines and vaccines that have not been rolled out in the national expanded vaccination programme during the 2023-25 period.
The Drug Administration has been assigned to work with agencies to propose related regulations on granting licenses and supplying vaccine in the 2023-25 period.
Health ministry departments and National Institute for Control of Vaccine and Biologicals as well as other vaccine research and production facilities have been asked to apply new advanced technology in anti-cancer vaccinations.
They have also been assigned to combine various types of vaccines to meet demand in the 2023-25 period.
The International Cooperation Department under the health ministry has been tasked with expanding bilateral and multilateral relations with other countries and international organisations in research and production.
The national programme on ensuring supply for vaccination until 2030 also focuses on human resource training.
It looks to provide training to local experts and attracting foreign experts to aid with research and production.
The expanded vaccination programme has been applied in Việt Nam since 1981. The programme was initiated by the Ministry of Health with the support of the World Health Organization and the United Nations Children's Fund (UNICEF).
During the first time, the new national expanded immunisation programme is applied to children under 1 year old, who are at high risk of disease and need to be protected.
The programme has been expanded with 12 free vaccines applicable to children from 0-10 years old.
According to the latest data, Việt Nam has injected nearly 266 million doses of the COVID-19 vaccine.
The Ministry of Health plans to continue to promote COVID-19 vaccination, especially for high-risk cases, children from five to under 12 years old, those in big cities and areas regarded as key tourism spots with high number of international visitors. — VNS