VietNamNet Bridge – The Ministry of Health will make the decision to use Quinvaxem or replace it by another vaccine in late June, said Professor Nguyen Tran Hien, Chairman of the National Immunization Program.
WHO experts assess vaccine quality in Vietnam
Vaccine banned after triggering adverse reactions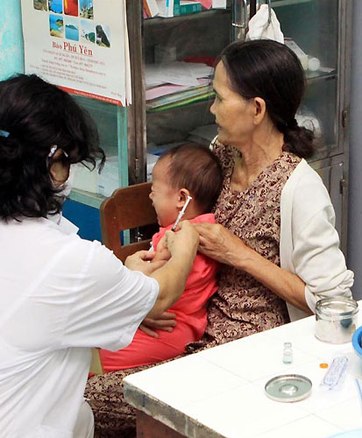 "The interruption of the injection during two months does not affect the child's immune response if they have been vaccinated with one or two doses. In fact, countries have different vaccination schedules on the distance between the injection of diphtheria-pertussis-tetanus with 2-4-6, or 3-5-12 months rather than 2-3-4 months as in Vietnam," said Professor Hien.
In early May, the Ministry of Health decided to stop using 5 in 1 Quinvaxem vaccine in the expanded immunization program, after five children died, with four of them determined to not die by the vaccine. Prof. Hien said the suspension of the vaccine is for caution, not due to the vaccine quality.
The Scientific Advice Council on the Use of Vaccines and Medical Biologicals of the Ministry of Health proposed to not use a new vaccine during the pause time (about two months).
The plan was made: If there is no evidence of an association between cases of severe reactions following immunization with vaccine quality shown by the end of June, the vaccine should be used again, otherwise it will be replaced with domestic vaccines, which were used previously (diphtheria-pertussis-tetanus and hepatitis B vaccine, without the Hib component.) In the long run, the Ministry will draw up plans to replace by other new generation vaccines of less on-the-spot reactions.
Quinvaxem vaccine was added to the expanded immunization program in Vietnam from June 2010. Its quality was tested by the World Health Organization and the National Institute for Vaccines and Medical Biologicals. The vaccine has been used in more than 90 countries with a total of over 400 million doses.
Le Ha