Foreign firms in Vietnam face skilled workforce shortage amid FDI wave
Securing workers on all skill levels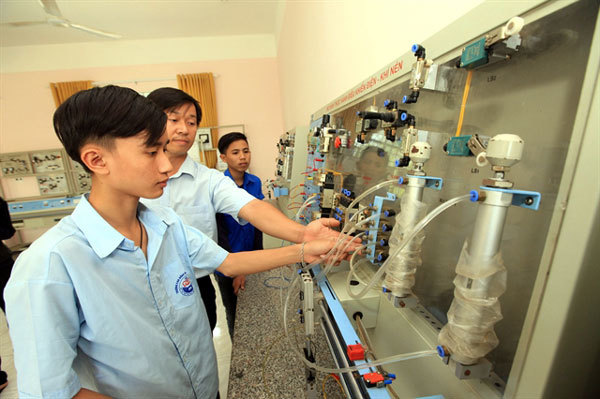 Students training at the Binh Phuoc Province Vocational College. More career guidance will be given to schools to help students pursue the occupations they want. VNA/VNS Photo Anh Tuan
How do you respond to a report saying that only a third of high school graduates will enroll in university of the 2019-2020 academic year?

The report tells us two different stories and two different figures.
The first group is about the students who only sit the high school graduate exam to get their certificates.
The second group, they want to have both their high school graduate certificates and then to apply for university.
This is a common tendency for Vietnamese students in the last few years. In my opinion, the main reason is that more high school graduates want to join the labour market rather than to go to university. However, in the long run, if we want to raise Việt Nam's labour productivity and improve the quality of our workforce, either high school graduates or students, they all have to attend occupational training courses.
Regarding occupational education, the Ministry of Labour, Invalids and Social Affairs has worked with the Ministry of Education and Training and other ministries and localities to launch communication campaigns and give job guidance to secondary and high school graduates to help them pursue the occupations they want. We should convey a message that university is not the only way forward.
Can you share with us some of the successes you have gained in giving careers guidance?
Many enterprises have gone to high schools at the end of the school year for their human resources development. In certain occupations, enterprises have gone to high schools/universities to give talks to students about their plans to recruit new workers.
In 2017 alone, up to 80 per cent of graduates from education and training occupation centres got jobs immediately following graduation. And then in 2018, the percentage jumped to 85.
Another reason that causes many high school graduates to join the labour force instead of going to university is the demand for skilled workers is high. This was why in 2018 and 2019 the number of students enrolled in technical and further education has increased considerably.
What should the General Department of Vocational Training do to raise the quality of occupational training?
There are two things they must do. First, they must do well in the communication campaign on occupational training. Second, they should focus efforts on improving the quality of occupational training. Some occupational training centres have performed well. However, generally speaking, vocational schools and colleges have faced many challenges, including low enrollment and a lack of opportunities for jobs following graduation.
The General Department of Vocational Training should focus on the two most important things.
First, to develop a set of criteria and training programmes based on job demands from enterprises.
Second, the Department should develop policies supporting graduates from secondary and high schools who want to improve their occupational knowledge and skills.
Does the General Department of Vocational Training advise vocational training schools to work with enterprises?
The Law on Educational Training and Occupation has stated clearly the rights and responsibilities of enterprises in vocational training. Meanwhile, the Ministry of Labour, Invalids and Social Affairs has also issued Circular No.29 on training co-operation between the enterprises and the schools. The circular stated clearly that the enterprises should be involved in up to 40 per cent of the teaching programme.
More recently, the General Department of Vocational Training has organised meetings with enterprises to get to know the enterprises' needs in occupational skills and workers' career plans.
VNS