VietNamNet Bridge – Dao Thi Lien has spent more than three decades offering help and free treatment to traffic victims at Kim Thanh crossroad in Phuc Thanh District, called the "crossroad of death".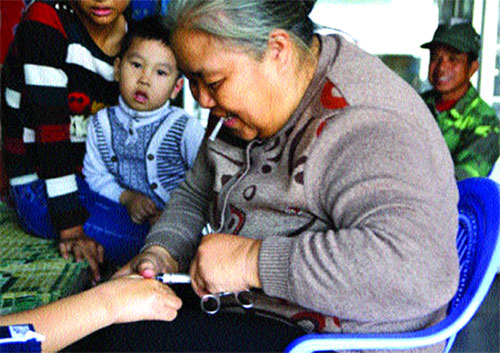 Selfless act: Dao Thi Lien voluntarily helps local people who need medical assistance. — Photo laodong.com.vn
Many serious traffic accidents have taken place at this crossroad in the district in the northern province of Hai Duong, earning for it this dubious epithet.
Every day, irrespective of the weather, many locals usually drop by Lien's small house near Highway 5 to have a health check-up or get the medicines.
"She is very kind-hearted, enthusiastic and industrious. She is always willing to help whenever there is a traffic accident," Nguyen Thi Minh Thu, a resident living nearby says.
"She does not mind even if vehicles are on fire. She has saved many lives and all the villagers have tremendous trust and respect for her."
Despite being born into a family of farmers in 1946, Lien nurtured a dream of becoming a nurse from the time she was a young girl.
In 1971, after graduating from Ha Bac Medical School, she worked as a nurse for a battalion fighting on Quang Tri Battlefield during the resistance against the Americans.
When the war ended in 1975, Lien was assigned to work in Ha Noi, but aspiring to contribute to her hometown, she returned home and lived near Highway 5 with her family.
There, she witnessed many heart-breaking traffic accidents on the crossroad, which aroused her compassion as a nurse. Therefore, she converted a space in her small house into a first aid station near the highway.
Even Lien's two sons and grandchildren have joined her to help traffic victims. Whenever there are accidents they hurriedly bring her the medical instruments and rush the victims to hospitals.
Doan Ngoc Quy, her second son, is a driver. However, whenever he sees an accident, he always puts aside his work to administer first aid to victims and drives them to the hospital for further treatment.
Lien's pride now is her granddaughter, who is studying medicine to follow in her grandmother's footsteps.
"She will replace me to do this voluntary job when I get older and weaker," she says.
The 68-year-old keeps a small handbook in which she carefully notes down every victim she has helped.
Till now, she has saved more than 900 people from the jaws of death. There are many stories that overwhelm Lien with emotion as she recalls them, such as the story of 26-year-old Nguyen Thi Thuy and her six-year-old daughter Do Thi Ngoc Anh in 2013.
They were hit and dragged by a car when Thuy was riding a motorcycle. While the mother was thrown off, the little girl was trapped with her legs stuck under the vehicle which burst into flames.
Despite the blaze that could have led to an explosion, Lien and her son still rushed to the spot immediately and pulled the child to safety.
"I could not think of anything else. Helping her was the most important thing at that time," she recalls.
The local people still clearly remember the time when Lien helped 37-year-old Nguyen Khac Hung, who got an accident near her house in 2006. His leg was broken and Lien rushed him to the hospital after administering first aid.
His blood test showed that he was HIV positive. As many people avoided contact with him, she did not have the heart to leave him untreated. She, therefore, took him home and took great care of him until he could walk normally again.
Not only did Lien save his life, she also saved a soul who was in complex situation with the mistakes in his life, apart from the social prejudices he faced. Hung burst into tears on receiving her sincere care and later called him his mother.
"He often visited me after that until his disease got worse and he passed away in 2011. I feel great pity for him," she said sadly.
In the past 30 years, Lien has worked as a voluntary doctor helping traffic victims without any complaints or expecting any remunerations, but purely out of her sincerity.
She does not mind if relatives forget their life saver after rushing their kin to the hospital. However, whenever they offer money as a means to thank her, she refuses, though all the medical devices have been purchased through her own pension. Many people consider Lien as a member of their family and visit her regularly.
Lien's contribution has been recently recognised by both, local and state Red Cross organisations, who have presented her with merit certificates.
"Vice President Nguyen Thi Doan visited me last year, and I told her that I would manage this voluntary job as long as I could," she says.
by Phan Xam
VNS