Historic first goal in France for Quang Hai
Nguyen Quang Hai made history as the first-ever Vietnamese player to score in a professional European football league on Saturday, salvaging a point for his club Pau FC in the process.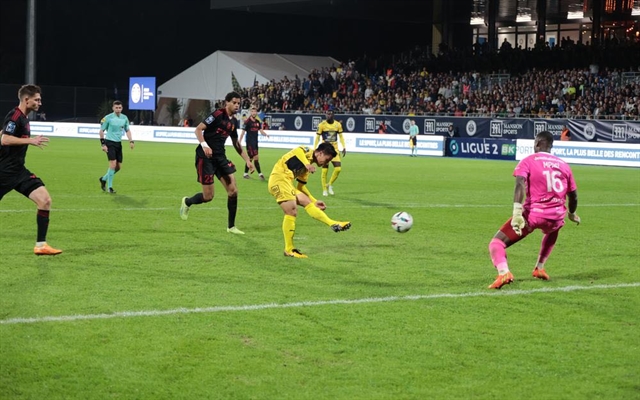 Quang Hai scoring the first ever goal by a Vietnamese in Europe on Sunday. Photo Jean-Philippe Gionnet/La Republique Des Pyrenees
Pau FC was trailing 1-2 against Rodez AF before Hải was subbed in. The Dong Anh-born midfielder made an impact just minutes later with the equaliser.
Pau's manager, Didier Tholot, opted to begin the game with a defensive 5-3-2 formation against Rodez, a formation that is not suited to attacking-minded players such as Quang Hải.
Tholot's change in formation brought stability for Pau after a dismal start to the season that has mainly relied on a 4-2-3-1 formation. However, the change relegated Quang Hải, a 'number 10', to the bench again.
Pau opened the scoreline in the last minute of the first half when Papa Ibnou Ba headed in a great cross from Evans Jean Lambert.
In the second half, Rodez scored two goals in the space in seventeen minutes by exploiting weaknesses in Pau's defence.
Andy Pembele equalised for Rodez in the 50th minute with an easy tap in, before Nassim Ouammou scored from just inside the box. Both goals come from great wing play on the left by Rodez.
Just five minutes after Ouammou's goal, Tholot switched back to 4-2-3-1, bringing on David Gomis and Mayron George. However, the changes were not immediately effective, so Quang Hai was brought on to replace Ibnou Ba in the 78th minute.
Hai did not wait long to make his mark on the game. From a counterattack in the 86th minute, Hải saw a gap between Rodez's centre-backs and moved in to collect Xavier Kouassi's through ball.
The Vietnamese star was thought to have been offside, even by his teammate Kouassi, but Rodez's last man was down injured. Hai capitalised with a simple left-footed strike that sent the home crowd at Nouste Camp wild.
This is Hai's first goal in Ligue 2 and the first-ever goal by a Vietnamese player in a professional league in Europe.
"This was a very important goal for me," said Quang Hai in a post-match interview with La République des Pyrenees. The French newspaper also hailed Hải "Pau's saviour" in their match report.
After Hai's goal, both teams looked for a goal that would give them victory but could not find the target. The match ended with a 2-2 draw.
With this result, Pau is still not clear of the relegation zone, sitting 16th out of 20 and behind Rodez.
Pau will visit 13th-placed Annecy FC's Parc des Sports in their next match on October 15. — VNS