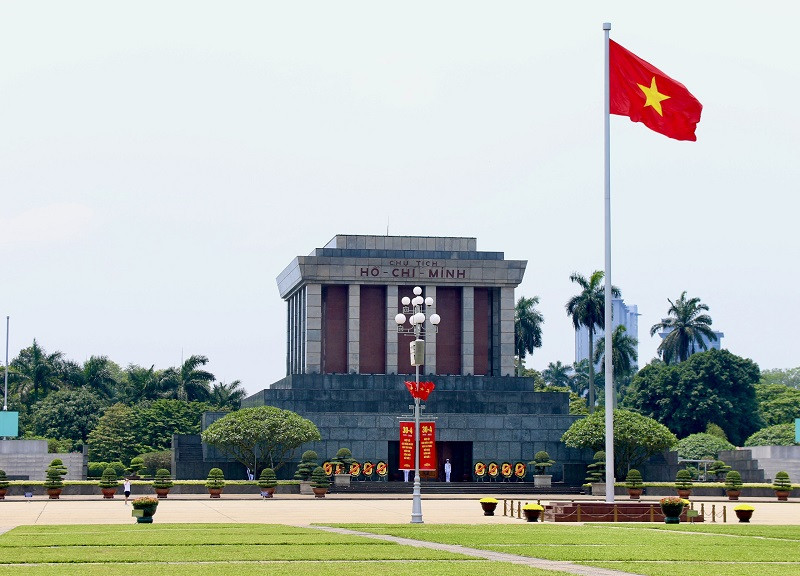 Visits to the Ho Chi Minh Mausoleum will be temporarily suspended for annual maintenance and renovation work, according to the management of the historic relics site.
From June 12 to August 14, the presidential mausoleum will be temporarily closed. However, local and international visitors can still lay flowers at the mausoleum, attend daily flag-raising and -lowering ceremonies, and visit other works and tourist attractions at the Ho Chi Minh Mausoleum Relic Sites Complex.
Activities in honor of President Ho Chi Minh and the heroic martyrs will resume on August 15.
The Ho Chi Minh Mausoleum Guard Command said the renovation includes the reception areas, panels, posters, and slogans to ensure the best conditions for compatriots and international visitors visiting "Uncle Ho".
Located at No. 2 Hung Vuong Street, Ba Dinh Street, the facility is usually open to the public from 7:30 am to 10:30 am, except on Mondays and Fridays.
Opened in 1973, the monument was built on the spot where President Ho Chi Minh read the Declaration of Independence on September 2, 1945, establishing the Democratic Republic of Vietnam.
The remains of President Ho Chi Minh lie in the central hall of the mausoleum, which is visited daily by thousands of Vietnamese and foreign guests.
Together with the sacred mausoleum, some nearby religious and historical relics such as Ba Dinh Square, President Ho Chi Minh's stilt house and fish pond, a museum in his honor, and the One Pillar Pagoda, among others, form a must-see cluster of tourist destinations in the capital.
Source: Hanoitimes