Hoan Kiem District is an integral part of the capital's creative center, possessing cultural, historical, architectural and scenic advantages, which are significant to the development of local cultural industries.
Hoan Kiem authorities have focused on preserving and promoting cultural values and encouraging commerce, helping preserve heritage and boosting tourism activities.
Cultural center of the capital
Compared to other districts in the city, Hoan Kiem is the place where the earliest and most creative spaces appear. Among them, community creative spaces have left a special mark and are even considered a model for building creative spaces in Hanoi.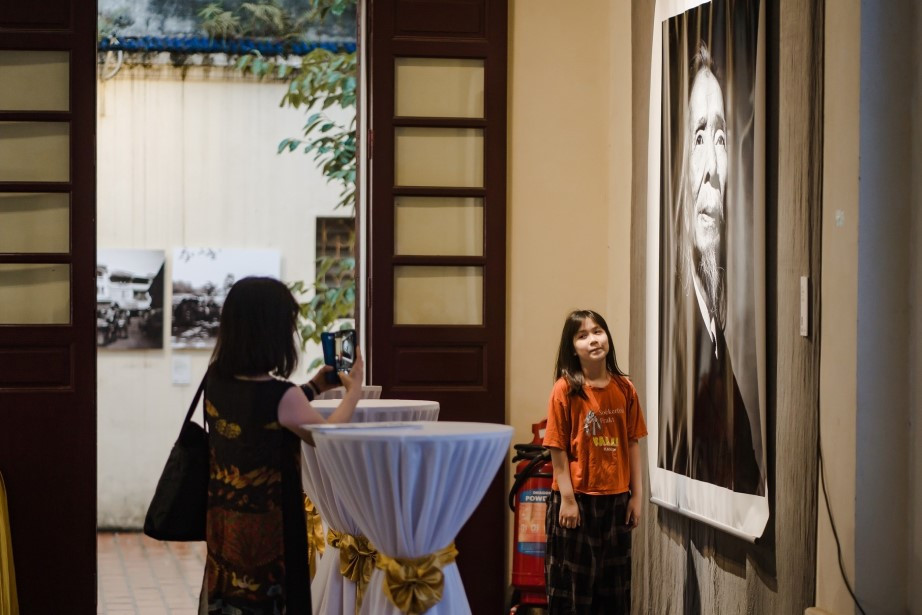 Photo Hanoi'23 biennale took place at the Art Center at 22 Hang Buom, Hoan Kiem District. Photo: Ngo Minh/The Hanoi Times
The pedestrian zone along Hoan Kiem Lake, Phung Hung Mural Street, Phuc Tan Public Art Space, Hang Buom 22 Art Center, and 19/12 Book Street have brought new color to Hoan Kiem District, becoming a place of leisure for local people and attracting a large number of domestic and foreign tourists.
According to Hanoi's Department of Culture and Sports, the pedestrian zone around Hoan Kiem Lake hosted over 200 events on weekends and attracted more than one million visitors in 2022.
On Phung Hung Street, visitors can see 19 large murals depicting memories of contemporary city life. This area will be widened to become an artistic space at the service of the community.
Phuc Tan Public Art Space has added a new attraction for young people to snap pictures, enjoy the artworks, and learn about the city's history through art. This project is an outdoor gallery and focuses on environmental and community values. Once it comes into being, it will create a cleaner and more beautiful space for residents.
Hoan Kiem is home to the Center for Film Talent Development and Assistance (TPD), Six Space, AGO Hub, and The Learning Hub, the creative spaces that fuel creativity through training, workshops, exhibitions, and support for creative projects.
Since the adjustment of administrative boundaries 15 years ago, Hanoi has incorporated numerous cultural institutions such as the Lai Xa Museum of Photography (Hoai Duc District), the Phan Thi Ngoc My Museum of Art (Quoc Oai District), the Vun Art Space (Ha Dong District).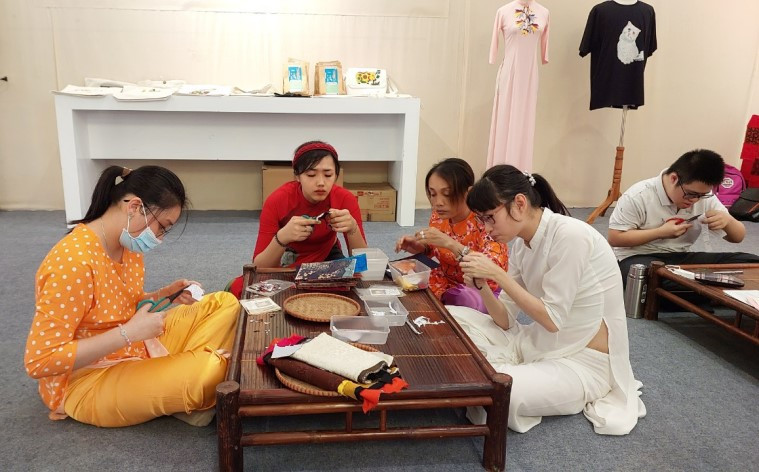 Skill demonstration by members of Vun Art Space at Hanoi Museum. Photo: Ngo Minh/The Hanoi Times
Connecting Hoan Kiem District's cultural spaces with suburban areas helps boost the city's cultural industry, as demonstrated by the Photo Hanoi'23 biennial in June. It combined main activities in Hoan Kiem District with side activities in many cultural spaces around the city.
Pham Tuan Long, Chairman of the Hoan Kiem District People's Committee, said the authorities always give priority to organizing community activities in public spaces for the fact that they both preserve heritage values and help boost the local economy.
Boosting the cultural industry
Associate Professor Bui Hoai Son, a standing member of the National Assembly's Committee on Culture and Education, said Hoan Kiem is becoming an arts and heritage center with a focus on cultural industries.
"Positioning cultural industries as the main development policy is an important initiative based on the strengths of cultural values, landscapes and many other advantages of Hoan Kiem District. By sticking to this direction, Hoan Kiem will become the center of art, creativity, heritage and events that honor these values," Son said.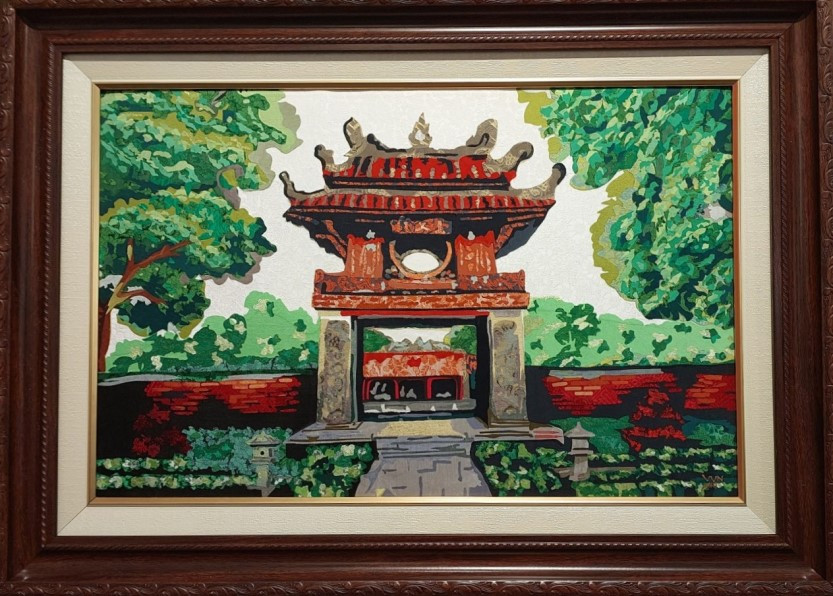 An artwork depicting Temple of Literature by Vun Art Space.
In order to achieve Hanoi's goal of developing the UNESCO Creative City brand, Chairman of Hoan Kiem District People's Committee Pham Tuan Long affirmed that the authority utilizes the advantages of creative spaces for industrial development.
The district is exploring and developing the alluvial island on the Red River into a multi-purpose cultural park to capitalize the potential and advantages of the natural beauty of the Red River.
Along with organizing more walking areas and public art spaces, Hoan Kiem District continues to coordinate with artists and craftsmen to organize regular cultural space activities.
According to Dr. Dao Ngoc Nghiem, Vice Chairman of the Vietnam Urban Development Planning Association, the Red River Urban Subdivision Planning will tap the resources and advantages of the Red River to meet the needs of the capital's residents and tourists. At the same time, it will make full use of the ecosystem's potential in the area, in line with practical conditions and current development trends.
Source: Hanoitimes