Hoi An seeks ways to handle overtourism

Policymakers, tour firms, and relevant parties in Quang Nam Province have jointly sought effective solutions to ease the excess of tourists seen in the center of Hoi An Ancient Town, especially at night.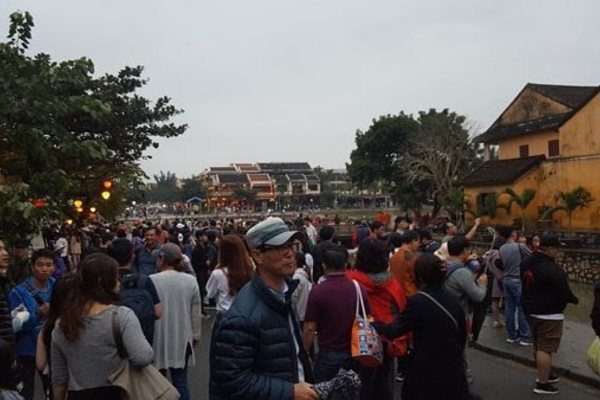 Tourists hustle at Japanese Bridge area in Hoi An Ancient Town
At a conference, entitled "How to make Hoi An tourism better?", many participants mentioned many adverse impacts of overtourism on the ancient city.
A few years back, tourists to Hoi An would have a feeling that they were visiting a certain European country, as the ancient town boasted poetic sceneries easily seen through narrow pathways and alleys which were adorned with banks of flowers, coupled with century-old vintage houses.
But now, those images hardly exist any more.
At the present, many tourists seem to be overwhelmed with the overtourim. Such negative images as street vendors or brokers keep harassing tourists, passers-by litter, or local residents hang out their clothes disorderly were featured in a video at the event, prompting nearly 150 participants to add their opinions about what they watched from the video.
Nguyen Tan Van, chairman of the Vietnam Architect Association, said he did not dare to visit the city center as it was too crowded now.
"An Hoi Bridge suffers tourist overload and has no ample space left," commented by Luu Cam Anh, owner of a restaurant in Hoi An.
Meanwhile, as stated by a tourism agency director, many trash bins in public places are surrounded by huge amounts of garbage and used plastic bottles.
According to Vo Dang Phong, deputy director of Hoi An Center for Cultural Heritage Management and Preservation, the upgrade from old-fashioned houses to modern ones has destroyed the ancient beauty of Hoi An.
Nguyen Phuong Dong, deputy director of the Center for Culture, Sports, Radio and Television of Hoi An City, said that the ancient town has been negatively affected by the growth of tourism.
"It is necessary to find ways to regulate the number of tourists instead of blocking it," Dong said.
He also proposed adjusting upward ticket prices and charges of services, depending on time frames, as a way to balance the number of visitors.
In addition, Dong suggested widening the area of the ancient town to ease the overload facing the famous tourist site.
Dong cited statistics as saying that the center of the ancient town, which is 10 square kilometers wide, has to accommodate up to 7,000-10,000 people at night.
Luu Van Anh, owner of a Hoi An-based firm, proposed investing in services in the surrounding areas of the center of the city to thin out the number of tourists in the central area.
The move will create motivation for tourists to take sightseeing tours to other places apart from the ancient town.
Meanwhile, to preserve the structure of Hoi An City, Vo Dang Phong said that it was necessary to review and remove business activities at risks of catching fire or spoiling the landscape of the heritage site out of the ancient town.
Bui Huu Dung, Party Secretary of Minh An Ward in Hoi An City, said that a parking lot should be built far from the ancient town. Tourists should be guided to visit the town in groups to ease the crowd in the town.
Apart from this, Pham My, a tourism expert from HCMC, said that entertainment programs should be organized at many places in Hoi An City.
Nguyen Su, former secretary of Hoi An's Party Committee, said that new solutions should be worked out for the development of Hoi An City. Su proposed the government impose a regulation on structure of the ancient town to preserve its landscape, image and culture as the "spirit" of the town.SGT
Trung Chau - T.Nguyen

With the rustic beauty of the landscapes as well as friendly people, An Bang Beach in the ancient city of Hoi An, the central province of Quang Nam, has emerged as an attractive destination for foreign visitors.

The ancient town of Hoi An in Vietnam's central province of Quang Nam has topped the list of the 13 most beautiful towns throughout Asia compiled by CNN travel.