Hopes gaining ground for 5G commercialisation in 2023
With 5G commercialisation in the gun barrel for 2023, the road for tech players to expand in the market is around the corner, but more favourable conditions may be required to make the most of the situation.
Vietnam is in the final stages of preparation to make commercialisation of 5G a reality this year. According to the Ministry of Information and Communications (MIC), Vietnam will commercialise it this year, partly using domestically produced equipment and devices.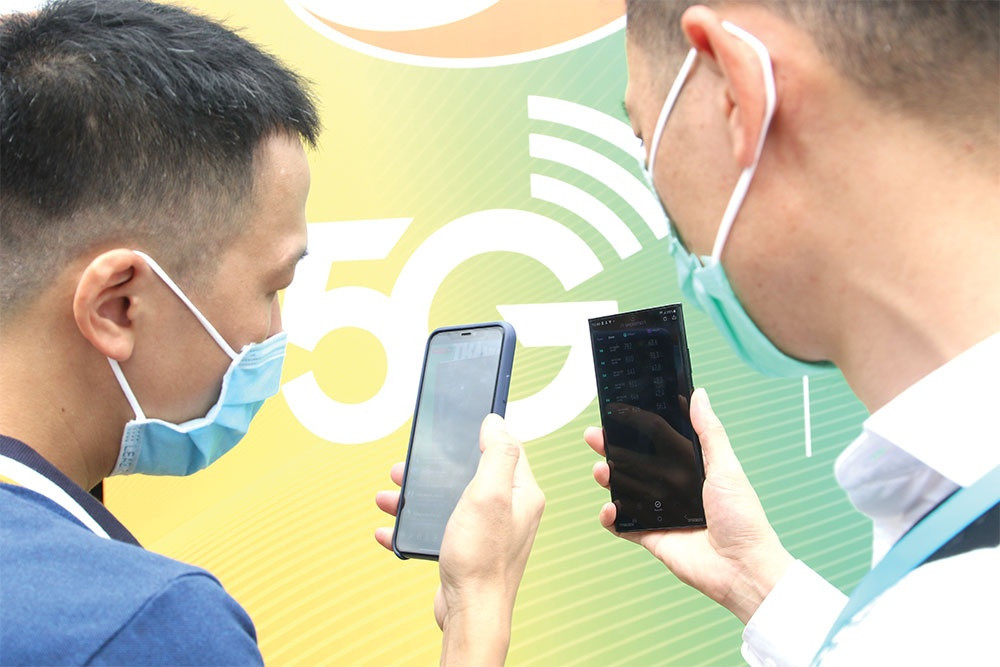 Large investment is still required to ensure 5G commercialisation reaches its potential, Le Toan
MIC Deputy Minister Pham Duc Long said, "Under the rollout plan, 5G has been in trial at provincial scale with 300 base transceiver stations since December, and will be commercialised nationwide in June 2023 when the devices are available."
"Vietnam began developing 5G devices in 2019. So far, locally made devices are installed to provide network services for people in some areas, with download speeds of 15Gbps and uploads of 60Mbps."
To support commercialisation, the MIC created Decision No.1856/QD-BTTTT governing the collection of the base rate for band 2300-2400 MHz, while continuing to study the plan to adjust the frequency band planning of 2.6 GHz and 3.5 GHz to meet the requirements of new development and rapidly grant band frequency licensing for businesses.
The country granted band frequency licensing for more than 23,000 devices and testing over various operators and bands.
In 2023-2025, it will work on the national radio frequency spectrum planning and auctioning 900 MHz band and 700 MHz band for international mobile telecommunications. The country will also build 6/7 GHz and over 40 GHz frequency band planning for such telecoms in Vietnam based on the radio frequency spectrum planning. It will also promulgate the plan for developing a radio frequency control technical system for 2026-2030, while matching border frequency with Laos, Cambodia, and China across various bands.
New hopes
According to experts, band frequency auctions are significant to the commercialisation of 5G, and to facilitate players to make the next steps in the market. Such moves are good, but there are more factors to make the rollout successful.
Shah Zeb, senior director of Business Development of Qualcomm Technologies, told VIR, "They are still in early trials and an early licensing period. For Vietnam to be ready for 5G, there should be spectrum options such as mid-band and mmWave in place and combining them in strategic locations, choosing suitable options for population density, and traffic. The underlying infrastructures are critically important."
Rollout should align with Vietnam's vision for digital transformation, and modernising the system. By enabling 5G communications, Zeb added, it can help Vietnam accelerate towards its goal. Devices also need to be available to facilitate it for individual users and systems.
"One factor is that the pricing for 5G should be lower, encouraging the ecosystem to come and build upon the pre-existing infrastructure," Zeb said. "Another factor is that policies will help accelerate it, and Qualcomm is working with policymakers to create and facilitate more favourable policies for deployment and commercialisation."
Denis Brunetti, president of Ericsson in Vietnam and Myanmar said, "Vietnam needs to continue to invest in 4G networks to enhance the experience of customers. And we will continue to work with service providers in Vietnam towards providing coverage. Beyond that, 5G will also enable Vietnam to unlock the potential of Industry 4.0, and will be the foundation on which it can build on its digital transformation journey and realise the government's vision."
Since 2020, Viettel, Vinaphone, and MobiFone have trialled services in 35 cities and provinces. The country aimed to commercialise 5G in 2022. However, the plan failed due to issues related to frequency band, investment, and delays in the manufacturing of related devices due to disruptions in the global supply chain.
According to the MIC, the disruption in the global supply chain and a lack of semiconductor chips have lengthened the research and manufacturing of devices by 10-12 months.
Vietnam has invested about $70 million in 5G, while some groups have poured in $2-10 billion. It is estimated that to launch on a large scale, it requires 30,000-70,000 5G base transceiver stations, with each costing over $43 million.
According to the Global System for Mobile Communications, investment in 5G will make up a large proportion of the total investment of mobile operators by 2025. Funding in this period will account for 85 per cent of the $620 billion that mobile operators are expected to invest in developing their networks.
Growing interest
2022 marked a busy year for the ICT market as it welcomed growing interest among international groups. Late last year, Samsung opened a new research and development (R&D) centre in Hanoi to strengthen its hand in ICT training, illustrating its strong attention and long-term investment strategy in the country.
In December, Samsung Electronics Vietnam and the Post and Telecommunications Institute of Technology signed an extension to a cooperation agreement to train high-quality human resources to meet the requirements of enterprises, focusing on R&D of mobile and telecommunications networks.
According to the MIC, last year marked growing interest among foreign-invested enterprises (FIEs) in Vietnam, as well as the shift of investment from manufacturing outsourcing to investment in R&D. Samsung, Qualcomm, Panasonic, Intel, and Synopsys lead such activities.
At a meeting with the MIC last November, South Korea's ACE Technologies also expressed its plan to open an R&D centre in Vietnam. Also last year, STE Infosec under Singapore's ST Engineering met with the MIC to seek cooperation opportunities with state and government agencies, as well as businesses in Vietnam in information security.
Nguyen Huy Dung, MIC Deputy Minister, said, "Vietnam is accelerating digital transformation and developing towards a digital government, economy, and society. Therefore, information security plays an increasingly important role. The MIC creates favourable conditions for FIEs to do business in Vietnam to ensure cybersecurity in Vietnam."
Seeing the growth potential in Vietnam, a group of Swiss and German businesses have made similar moves and discussed cooperation opportunities in digital technologies with the MIC and Vietnamese firms.
The MIC is chairing the development of 35 digital platforms to accelerate transformation in the country, of which there are many Swiss and German companies that have advantages, such as on platforms in education, tourism, administration, e-commerce, agricultural data, and others.
Moreover, Vietnam is building a legal framework for digital economy development, thus facilitating businesses in innovation and development, including in fintech.
Source: VIR