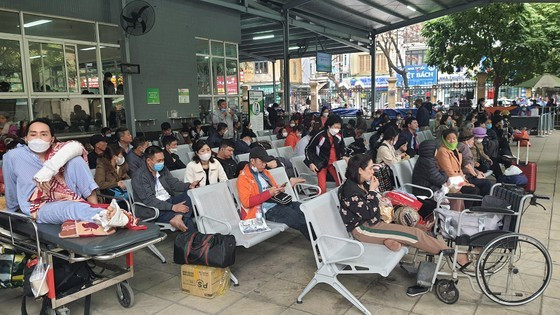 A large number of patients coming to Viet Duc University Hospital on March 1

While having lunch, D.T.L from Vinh Long Province was still closely looking at the electronic notice board in Cho Ray Hospital (Ho Chi Minh City) to check information of her husband, who was undergoing a CT scan for his tumor. Since this February, it has taken 3 days to receive results of such scans owing to serious shortages of chemicals and medical supplies. The treatment regimens of many patients have had to prolonged correspondingly.
Doctor Nguyen Van Do, Head of the Radiation Therapy Department in Cho Ray Hospital, shared that his hospital has four radiotherapy machines, but only two are working now to serve nearly 400 patients a day on average. In 2018, this hospital is the first in Vietnam to introduce such a useful machine in treatment regimens. After five years, two have expired and are waiting for the renewed maintenance service package, which is delayed due to bidding issues. This results in ineffective disease control as the treatment time is unwantedly prolonged.
Viet Duc University Hospital in Hanoi is facing yet another problem – drug and medical equipment shortages. Since March 1 this year, it has limited the quantity of regular surgeries to save precious medicine and supplies for emergency cases. Each day, it serves over 2,000 patients coming for X-ray tests, ultrasound tests, and clinical diagnosis, not to mention a large number of inpatients waiting for their turn of surgery.
Director of Viet Duc University Hospital Tran Binh Giang said that the hospital still prioritizes emergency cases even with such a low of medical supplies and drug. Others who can wait will be scheduled for a surgery when the hospital obtains more chemicals and supplies. This is an unwanted solution, but it is more acceptable than the case of patients themselves buying supplies or chemicals from other unreliable sources and taking to the hospital for their own surgery.
Director of Cho Ray Hospital Nguyen Tri Thuc explained that he has voiced the difficulties in gaining chemicals, medicine, and medical supplies that his hospital is confronting, yet no satisfying responses are given.
What is more, when adopting Decree No.98/2021/ND-CP, effective as of January 1, 2022, it becomes even more challenging to buy necessary medical machine parts and drugs as the regulation requests at least three different price reference sources. Meanwhile, it is nearly impossible for buyers of advanced medical machines such as CT scanners, MRI scanners, or doppler ultrasound machines to seek that many sources, for machine manufacturers are usually the only one. Hence, the maintenance or repair tasks for these machines cannot be done timely for them to operate, gravely affecting disease treatment quality to the extent that only seriously ill patients are cared for.
Director of the HCMC Department of Health Tang Chi Thuong also informed that at many healthcare facilities in the city, about 10 percent of medical supplies and equipment are specific goods or non-consulting services (repair, maintenance) that cannot enter the bidding process because there are not enough three price reference sources as stipulated. In addition, the publicly declared prices of these items on the e-portal are not detailed enough for hospitals to use to prepare an estimated price for the bidding package.
Moreover, many test chemical, hi-tech medical supplies need either an import permit or a circulation certificate, issued by the Health Ministry. When these papers expire, it is impossible for hospitals to buy those machines for treatment purposes.
Finally, the regulation states that bidding processes must be done online, yet the infrastructure for this task is not satisfying enough to carry out. For instance, when the quantity of bidding packages in HCMC passes 300, it is nearly improbable to post them onto the national bidding network.
"If this situation continues, after 2-3 months, there will be a serious lack of medical equipment citywide, which is extremely dangerous", said Director Thuong.
Minister of Health Dao Hong Lan informed that her Ministry is urgently working with relevant ministries and agencies to devise feasible solutions for this matter. It has proposed that the Government review and ask the National Assembly for adjustments in the Pharmacy Law, for the development of a special mechanism to store rare and vital medicines in disease treatment. As to medical equipment purchases, the Government is proposed to introduce amendments or supplementation to Decree No.98/2021/ND-CP on managing medical equipment as well as Circular No.58/2016/TT-BTC on purchases using state budget.
"The Health Ministry has completed collecting opinions from relevant ministries and functional agencies about the draft to adjust Resolution No.144 by the Government about ensuring sufficient drug, medical equipment, and treatment expenses covered by health insurance. When becoming effective, the resolution is expected to address current trouble of the healthcare sector in disease treatment", said Minister Lan.
Deputy Director Le Van Bac of the Thua Thien – Hue Province Department of Health reported that the hospitals under the charge of this department still have sufficient medicine and medical supplies to answer the demands of local patients. Central healthcare facilities sited in the province are now collaborating with local ones to avoid shortages like other regions in the country.
Source; SGGP