The medical equipment shortage has affected K Hospital for months, seriously undermining treatment.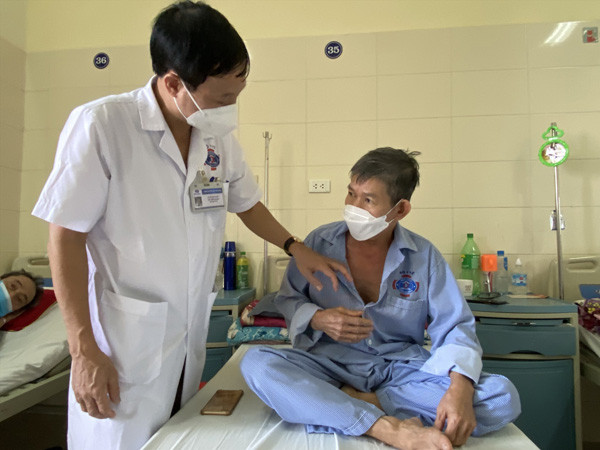 A patient from the northern province of Hai Duong, said that over the recent months, she has often had to queue up quite long, even overnight, for radiotherapy.
Another patient, Phan Dinh Thu, 53, from the Central Highlands province of Dak Lak, said he is used to staying overnight to wait for radiotherapy.
Nguyen Dinh San, 73, from Lang Son Province, said that during the time waiting for radiotherapy, he can't sleep as his room is very noisy when other patients have to go back and forth to the radiotherapy room.
Dr. Vo Van Xuan, head of the hospital's Radiotherapy Ward 5, said that he and other colleagues feel totally powerless in the current situation. They can't see any way of providing more rapid treatment to patients.
"Patients have to suffer from great pain because of not being provided with the treatment on time. The efficiency of their treatment will also be badly impacted. Many people who have to wait for so long have seen worsened problems," Xuan added.
Patients who have money choose to use private health services. Meanwhile, those who are poor try to wait for radiotherapy machines paid by their health insurance.
K Hospital's branch in Tan Trieu has seven radiotherapy machines, including three paid for by health insurance. However, two of three state-owned machines are facing technical problems, so only one is being operated. Each machine of this kind can serve 240 - 250 patients per day compared to the 2,300 patients who need the treatment every day.
According to Professor Le Van Quang, director of K Hospital, over the past two years, the hospital has piloted financial autonomy, but it coincided with the Covid-19 pandemic, resulting in temporary shutdowns. This created financial difficulties for the hospital.
State-owned radiotherapy machines are old and reaching the end of their service, Tuan added, noting that the hospital needs at least 10 more radiotherapy machines to meet demand. Each machine costs around VND130 billion (USD5.24 million), but the hospital can't afford the investment.
The medical equipment shortage has affected some other hospitals in Hanoi, including Bach Mai Hospital.
Source: Dtinews