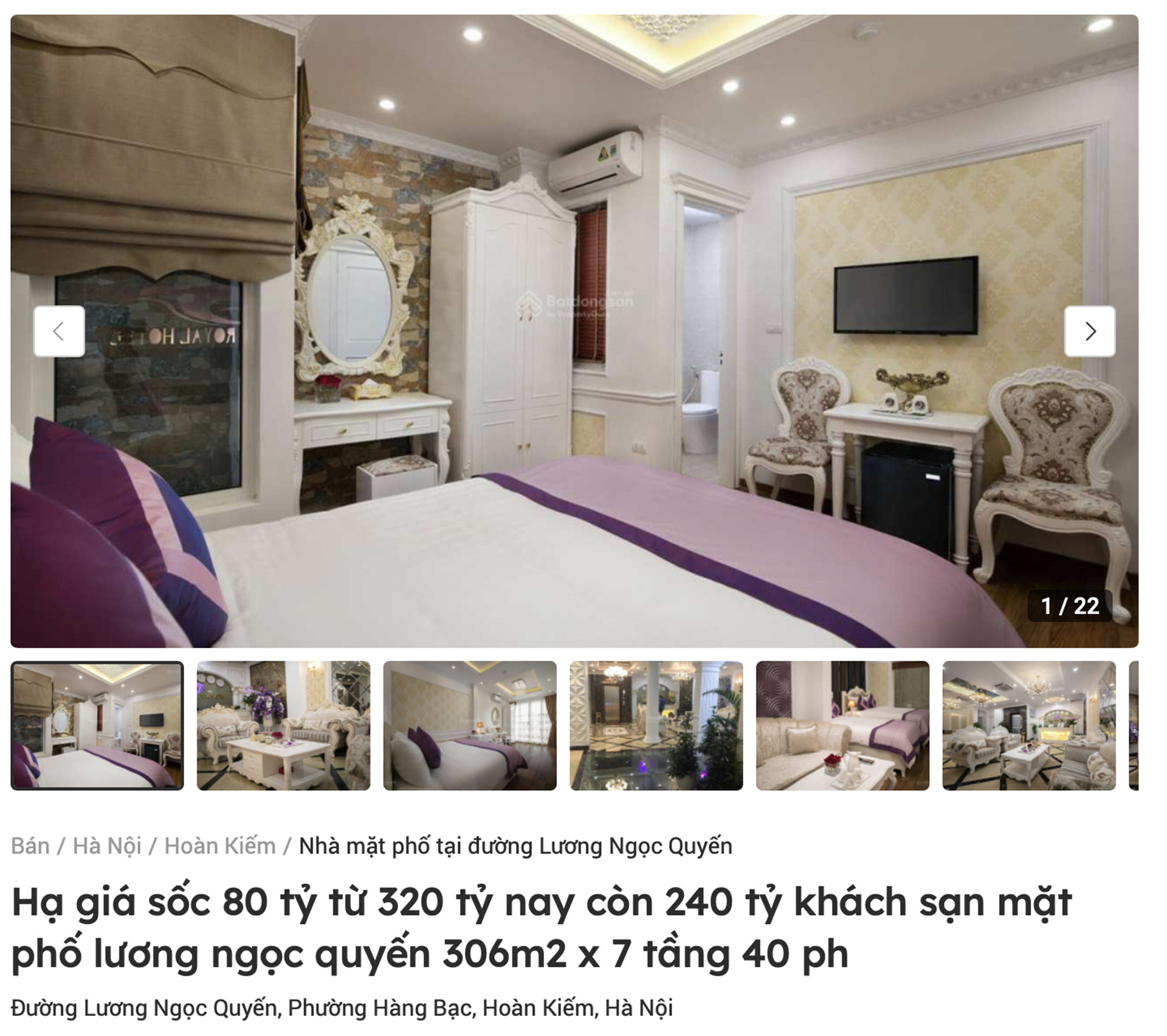 Nguyen Minh Duc, a broker, said a hotel in the central business district of Hoan Kiem in Hanoi has been offered for sale. He said the conditions of the hotel are 'ideal': a 13-storey building on an area of 300 sq m, comprising 91 rooms, gym room, spa, restaurant and swimming pool. The price offered by the owner is VND600 billion, but it is negotiable. The hotel has good legal status and promises high profit as it is located in the central area of Hanoi.
Hoan Kiem is believed to be the 'golden land area' of Hanoi. Analysts believe that the land price there is priced at VND1.5 billion per sq m.
However, the broker said that it is not easy to find buyers for the hotel, because economic conditions are not good in the context of the impact of the Covid-19 pandemic.
Duc said another hotel in the same district is offered at VND280 billion. The hotel, covering an area of 300 sq m, comprises six stories and 40 rooms.
Showing the list of the hotels in the Old Quarter, Duc said all the hotels are 4-star or higher, and are priced at no less than VND100 billion per hotel.
Most of them target foreign travelers. Some of them have just been built, but their owners have had to sell them at a loss because they needed money to pay bank debts.
Trang, a real estate broker in Hoan Kiem district, is selling a hotel on Luong Ngoc Quyen street. The street-facing hotel covers an area of 300 sq m, comprises seven stories and 40 rooms, and has a luxurious interior. At first, its owner offered the price of VND320 billion, but later lowered it to VND240 billion.
According to Trang, in the pre-pandemic period, it was not easy to buy a hotel in the central area as hotels were performing very well thanks to high numbers of foreign travelers.
But things changed in 2021 when Covid became worse in Vietnam and hotels lost their sources of revenue.
On real estate websites, one can read that privately owned hotels in the Old Quarter are being offered at VND100-500 billion, mostly 4-star or less and self-managed. The hotels are mostly located on the central streets of Le Ngoc Quyen, Hang Chieu, Hang Thung and Hang Trong.
In neighboring areas, many hotels are also on sale. The owner of hotel Dolce by Wyndham Hanoi Golden Lake is now offered a starting price of $250 million. The hotel was inaugurated in July 2020 with investment capital of $100 million.
Financial burden
According to experts, owners have had to sell hotels because of financial problems. They have had to pay higher financial costs while the room occupancy rate is low.
The common characteristic of the hotels in the Old Quarter is that they target foreign travelers. But because of Covid-19, the number of foreign travelers has dropped dramatically. Chinese travelers have not returned yet, while the number of South Korean travelers remains modest.
That is why many hotels in Hanoi still have not reopened after the pandemic. The prices offered by hotel owners, in the eyes of investors, are overly high, therefore, there have been very few successful transactions. For the time being, some hotels have been leased to be used as offices or serviced apartments.
According to Do Thu Hang from Savills Hanoi, the travel demand of domestic and foreign travelers is still not high enough to increase the hotel occupancy rate to 100 percent right now. Hotel owners need to have reasonable operation strategies to step by step increase the capacity, improve the hotels in accordance with periods and take full advantage of the current time to upgrade hotels.
GSO reported that in 2022, Vietnam received 3.7 million foreign travelers, or 3 percent of travelers, which was far below the 17 percent seen before the pandemic (2019). Most of the travelers were from South Korea (26 percent). 1.5 million foreign travelers came to Hanoi.
The hotel room occupancy rate has increased, but it is still far below the pre-pandemic moment. The occupancy rate at 3-4-5 stars reached 49 percent in Q4 2022. In the whole year 2022, the occupancy rate of the entire Hanoi market was 39 percent, while the average room rate was just VND2.2 million.
According to Do Tuan, the manager of a hotel in Old Quarter, the maximum occupancy rate of his hotel was 45 percent, thanks to the discount programs. Most hotels there are only crowded on weekends.
Duy Anh