In recent years, the famed Bodhi tree from the land of Buddha (India) has been widely planted and the people of Ninh Binh have grown close to it. Not only at Bai Dinh pagoda but also on both sides of the road of the Trang An cultural site are thousands of Bodhi trees planted.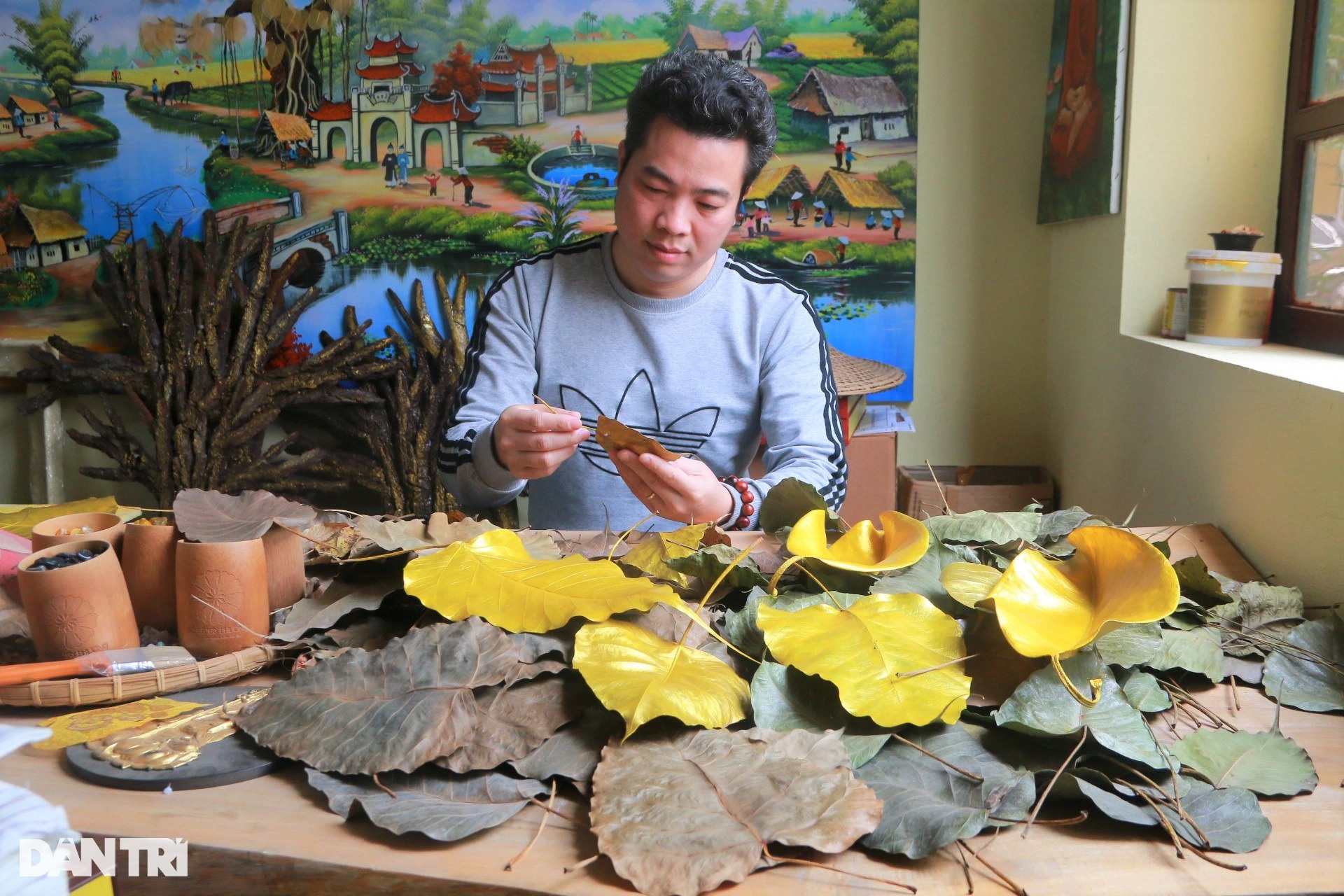 As a business administrator, Mr. Phuong has a soft spot for the leaves of the Bodhi tree.
Mr. Hoang Thanh Phuong, 38, a business administrator, has a soft spot for the leaves of the Bodhi tree (aka Sacred fig tree). For more than four years, he recalled working in a store selling specialties where tourists patronised and couldn't find any Ninh Binh products to offer to them.
"Tourists from all over the world flocked to Ninh Binh at the time. Besides local delicacies like charred goat flesh, shrimp paste, and Kim Son wine, Ninh Binh did not have any souvenirs of culturally specific value. As a result, I am constantly concerned about producing Ninh Binh-specific goods."
Phuong frequently found himself in a stalemate because he was unable to come up with a solution to a product. At some point, his loving friend gave him some Bodhi leaves with only the leaf bone left, as a recommendation. Phuong awakened up in his thoughts at that point when he realized that the leaf he had long come to know and love had now taken on a deep and profound significance.
After that, Phuong spent a lot of time researching the Bodhi tree and its history. This is when the "enlightenment of the Buddha" that is linked with the Bodhi tree comes into focus. The leaves from residents in Gia Sinh commune, Gia Vien district, were requested by him as he experimented with research in order to transform them into a typical Ninh Binh tourism product.
Mr. Phuong offered each customer a Bodhi leaf as a keepsake when they came to the shop to buy something, explaining the significance of the leaf. "The Sacred fig leaf was my sole purchase for more than a year, after which I raved about it and distributed it to everyone I knew. As soon as I saw how enthusiastic everyone was about it, I became even more determined to find a means to turn the leaves into a successful development."
Transformation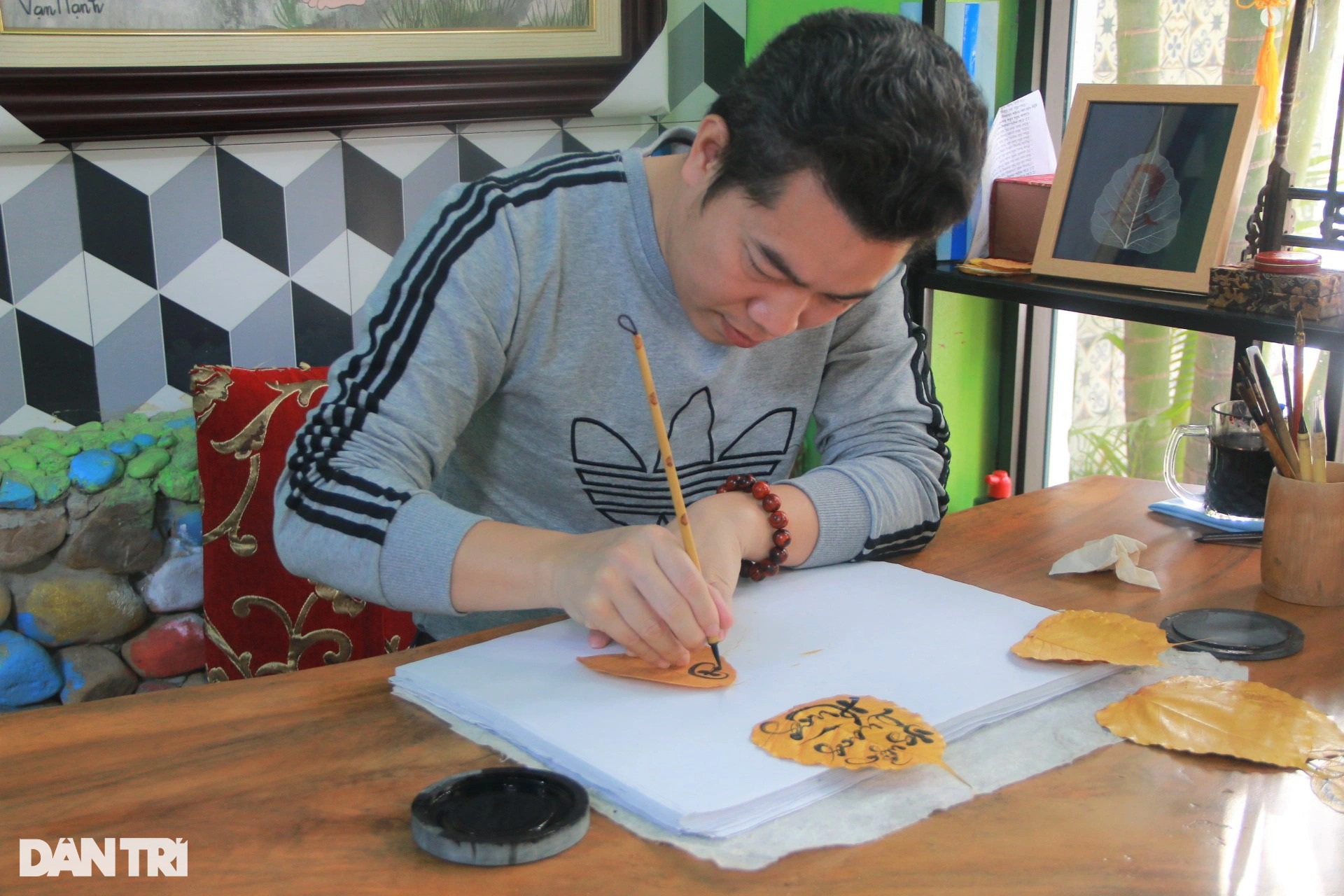 Mr. Phuong has experimented with Bodhi leaf products.
Mr. Phuong thought that each leaf is more important while giving or receiving, seeing that providing only one Bodhi leaf is too simplistic, aimless and not communicative enough. Ninh Binh's iconic tourist sign was then printed on a crystal Bodhi leaf that he studied and constructed. Since then, his items have been given as presents and souvenirs by a large number of individuals.
Mr. Phuong uses the inert Bodhi leaves to make paintings of the leaves that tell stories about the life of the Buddha.
Mr. Phuong isn't content with what he has, so he keeps looking for new ways to improve the creative value and brand recognition of his Bodhi leaf art goods. It's been a long time since Phuong's Bodhi gallery has produced artistically valued trinkets, such as the gilded Bodhi leaves, crystal cups crafted from dried Bodhi leaf, Bodhi leaf calligraphy...
As a reminder of the paintings' high value, a few examples include a thousand-year-old Bodhi tree, Bodhi mind... Their value is based on the art of Bodhi leaf paintings. These valuable items fetched VND tens of millions.
Mr. Phuong stated: "There is a wide range of meanings and artistic values associated with the Bodhi leaf. To truly grasp the deep significance of this Bodhi leaf, one must first have a thorough understanding of the Buddha's life and teachings, regardless of how much money is in the work."
Bodhi leaf items made by Mr. Phuong's factory have a distinct brand and market presence. This product has not only been designated as a typical product in the province, but the provincial government has also filed a dossier asking the central government to recognize it.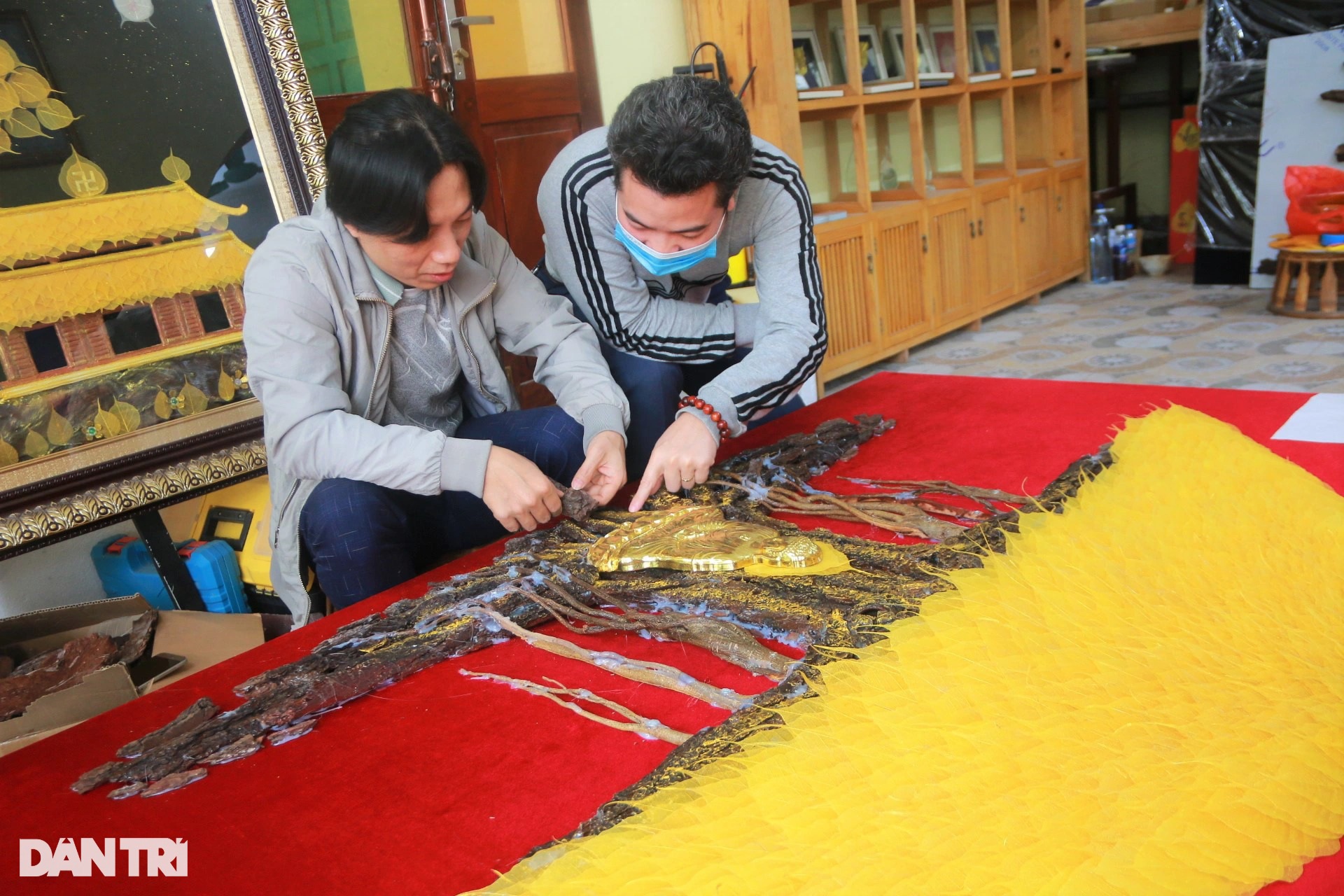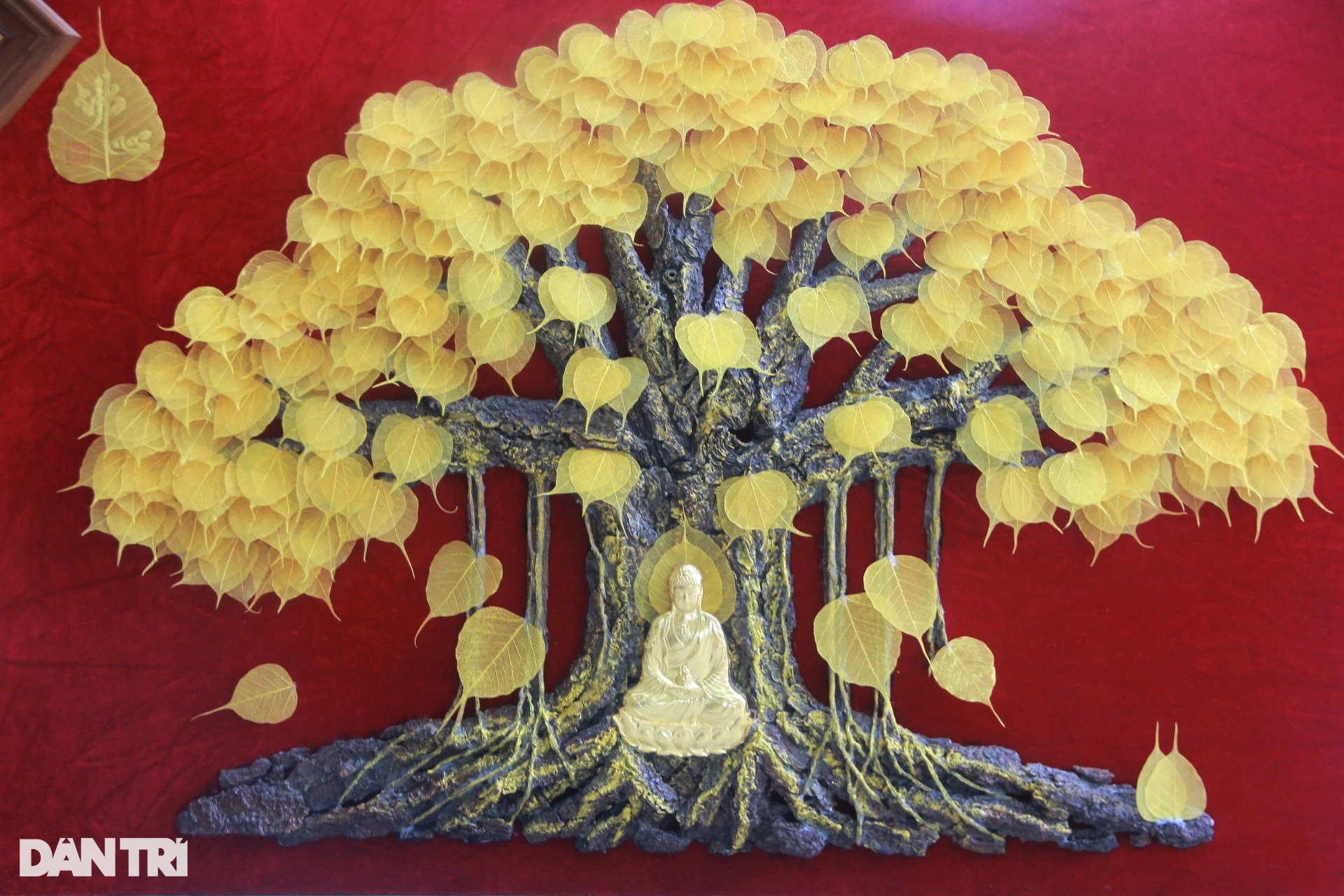 Mr. Phuong makes Bodhi leaf paintings with relevant narratives about the Buddha's life.
According to Mr. Phuong, he makes a sizable profit every year from his gallery. There are hundreds of individuals who have work and a steady income thanks in part to the leaves of the Bodhi tree.
"Gia Sinh commune has roughly 40 to 50 persons who pick Bodhi leaves and bring them back to the cooperative for early processing into basic materials. About 10 individuals are constantly working at the gallery… It has offices in Hanoi, Ho Chi Minh City, Da Nang and many other cities. All of us get paid at least VND 5-7 million a month, some earn up to VND 10-20 million."
"With my job at the Bodhi painting studio, I not only earn more money to support myself, but I also have the opportunity to pursue a lifelong love. For good things to spread, I want every work I create to have the profound significance of the Bodhi tree and its leaves in it."
Hopefully, the items made from Bodhi leaf are due to be known as a specialty of Ninh Binh Province in the future. Upon becoming well-known across Vietnam, Ninh Binh will become the land of the Bodhi tree. As a result, workers will be paid more consistently, allowing Mr. Phuong to carry out his next objectives, such as establishing an exclusive Bodhi grove in Ninh Binh.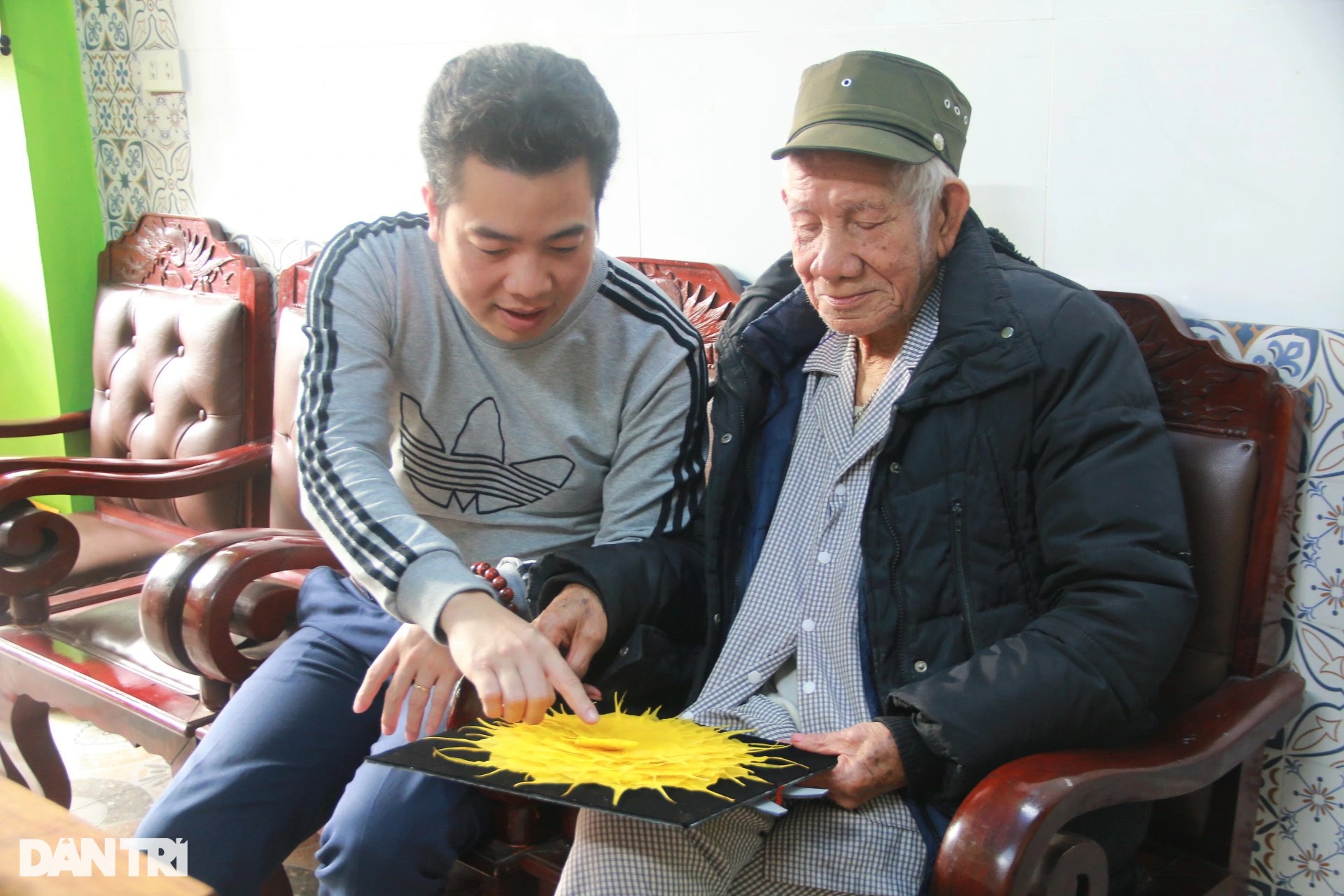 Phuong explains to a guest the meaning of the Bodhi leaf narrative from Buddha's life.
Collected at Bai Dinh pagoda, bodhi leaves are pre-processed into raw ingredients for crafting expensive paintings.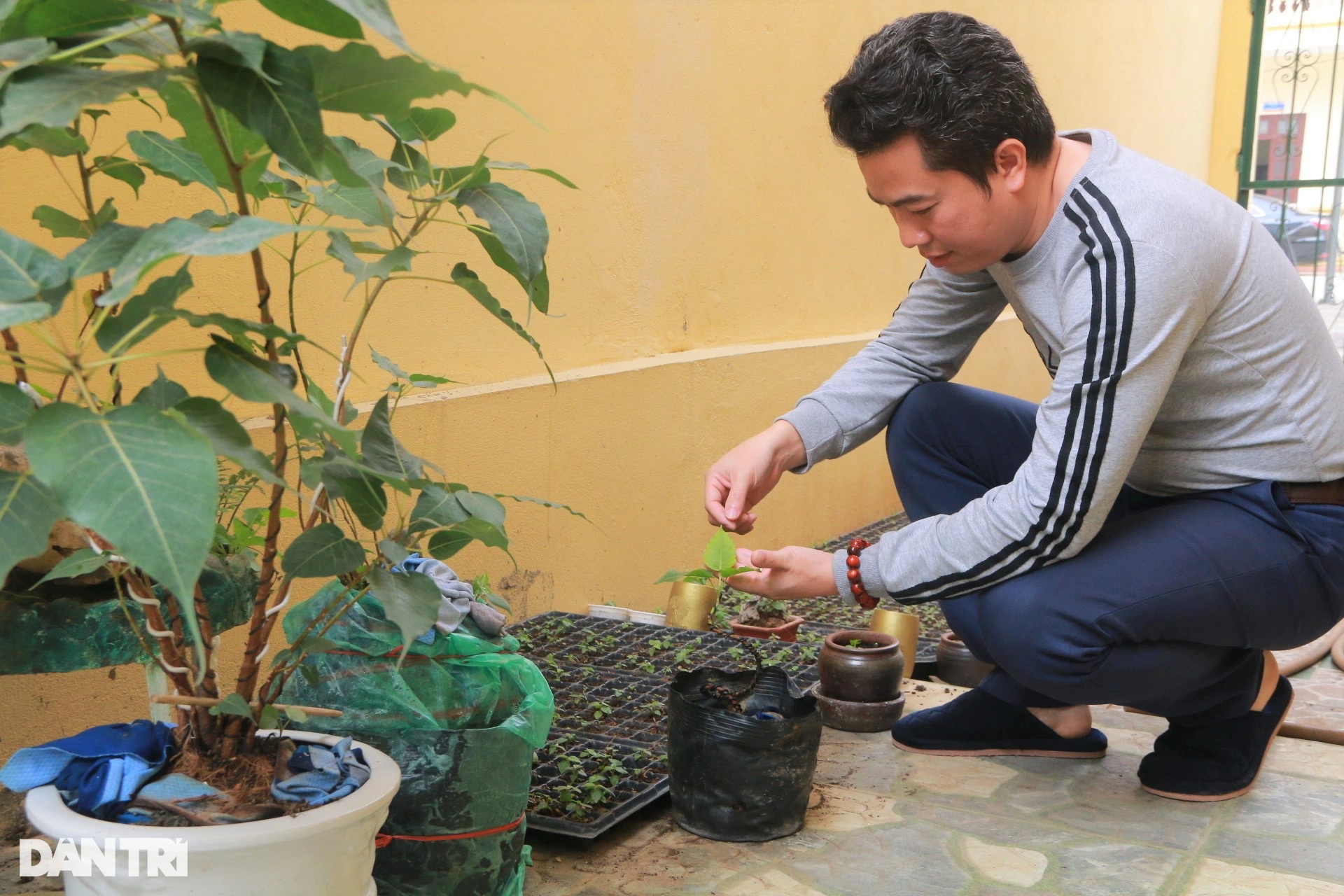 Mr. Phuong cares for Bodhi trees with the hopes that the city of Ninh Binh will one day be known as the center of Bodhi cultivation in Vietnam.
Le Ha
Photo: Dan Tri
Having only one arm has never prevented Mr. Phan Van Chanh, 57, from pursuing his passion to make distinctive household items and earn tens of millions of VND each month.

Co bang (Lepironia), a kind of sedge, is no longer just a wild grass but is being turned into artistic items of beauty through the ingenious hands of local artisans and a passionate businesswoman.