Failing to grasp chance
Vietnam reopened its borders on March 15 to become one of the earliest places in the region to resume tourism services. The World Tourism Organisation also acknowledged that the country had the highest level of tourism openness in the world.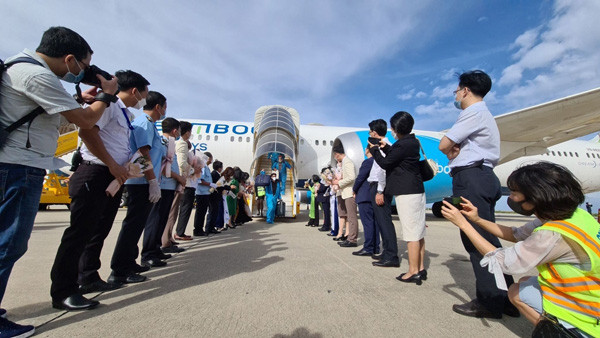 However, by the end of December Vietnam only received approximately 3.6 million foreign visitors, thereby failing to meet the target of welcoming five million visitors in 2022. Meanwhile, other countries in Southeast Asia have either completed or even exceeded their target. In addition, Vietnam is also among the group of countries with a slow recovery index in terms of international tourism.
Many experts attribute this failure to the country's visa policy, general quality of tourism products, and level of readiness to welcome visitors. It is worth noting that the visa policy for international visitors remains inadequate, particularly as only a small number of countries enjoy visa exemptions for a short amount of time. This is considered as a barrier for international visitors to the nation compared to other countries throughout the region.
Currently, Vietnam exempts visas for visitors from 25 countries and territories, with the majority being between 15 days and 30 days for some Southeast Asian countries. Meanwhile, Thailand grants visa exemptions to visitors from 65 countries for a period of 90 days. Indeed, many regional countries have started implementing the 'Golden Visa' mechanism with a stay of up to 20 years along with many benefits as part of efforts to attract visitors.
Cao Thi Tuyet Lan, sales director of Viettours, wonders why Vietnam has been hesitant to reinstate its visa policy. "We want to make a visa for a foreign partner to come to the meeting, but we have to register online on the Immigration Department website but still wait to submit the application the following week," informed Lan.
Pham Ha, chairman of Lux Group, recalls immediately after Vietnam reopened its borders, Lux Group planned to receive its first group of foreign visitors. The travelers were scheduled to tour Ha Long, then travel to Cambodia before returning to Vietnam.
"The problem is that they had to apply for visa twice with complicated procedures, and we some time feel as if we failed," says Ha.
Chris Farwell, member of the Travel Advisory Board (TAB), also says that some visitors complain that they often need to apply for a visa through agents with fees rising up to between US$200 and US$500, while the official fee is just US$25. In addition, visitors from several countries are not eligible to apply for an e-visa, with the waiting time being from 30 days and the cost up to US$800.
Another reason lies in the low level of readiness to welcome international visitors after the country spent more than two years combating COVID-19. This has led to a general lack of both human and financial resources, as well as degraded facilities. More than 90% of tourism service establishments, including travel agents, hotels, restaurants, and transportation, almost had to start again from scratch, meaning it took time, capital, and human resources to build and establish connections.
From another perspective, aviation economist Luong Hoai Nam frankly points to the fact that international tourism has yet to meet expectations. According to the expert, domestic tourism has grown so strongly this year as there are no barriers and no competition. Meanwhile, international tourism must face both of these challenges, which the country has yet to find a solution for.
Many experts believe that solutions to attract tourists are not synchronised and not closely associated with other industries. Many issues related to mechanisms and policies to remove difficulties for tourism businesses have been discussed at conferences, although these events were held without the presence of leaders of related industries such as diplomacy, the police, and finance.
How to achieve this target
Many experts and tourism managers believe that it is not overly important to complete the set target, but instead it is key to find out causes and solutions to develop the tourism industry in a sustainable manner.
It's worth looking at Thailand's tourism development policy as an example. By mid-August they only welcomed about 3.7 million international visitors, roughly one third of their annual target. However, they quickly took measures to iron out snags by implementing a visa-free strategy for visitors up to 45 days, with visitors allowed to enter Thailand multiple times.
"We just need to compete with Thailand, for example in terms of the free-visa strategy for visitors," suggested economist Tran Dinh Thien. "Vietnam has beautiful landscapes that are not inferior to other countries in the region. If the visa policy is further expanded, it is certain that more and more foreign tourists will come to Vietnam".
One of the causes of why the tourism industry failed to meet its target of receiving international visitors is the overall quality of products.
Nguyen Ngoc Bich, CEO of Mekong Rustic, says that tourist attractions are currently only focusing on building hotels instead of paying attention to developing unique products. Major cities like Ho Chi Minh City and Hanoi do not boast good urban tourism products that are capable of attracting tourists. Visitors enjoy going to Hanoi and Ho Chi Minh City, and they mostly just visit available tourist sites.
Tran Le Bao Chau, chairman of the Vietnam Small and Medium Tourism Business Forum, says it is time for Vietnam to change its messaging to international friends as a means of making it more suitable and close to the current trend.
"Vietnam needs to promote potential markets with a new message, for instance 'Vietnam with many experiences' instead of the slogan 'Vietnam – timeless charm' as before," suggests Chau.
Overall, the most important factor is expanding the list of visa-free countries, especially with potential markets such as Europe, Australia, New Zealand, and Canada, while simultaneously increasing the length of stay to 45 days, as well as expanding the issuance of e-visas.
Pham Ha, chairman of Lux Group, agrees that instead of simply focusing on completing the figure, the tourism industry must act to make visitors spend more, stay longer, make them feel happy after the trip, and give them a desire to come back or recommend a visit to Vietnam to their friends and relatives.
Moving ahead into 2023, the tourism industry should devise strategies to attract visitors, such as loosening visa regulations, promoting the destination to international friends, and managing tourist attractions competently to create a beautiful image of Vietnam, suggests the CEO.
Source: VOV