How will telecom carriers fare in a highly competitive market?
The traditional telecom market is getting saturated and facing upheavals, including a drop in revenue from traditional calls and SMS, a tighter management policy and changes in technology.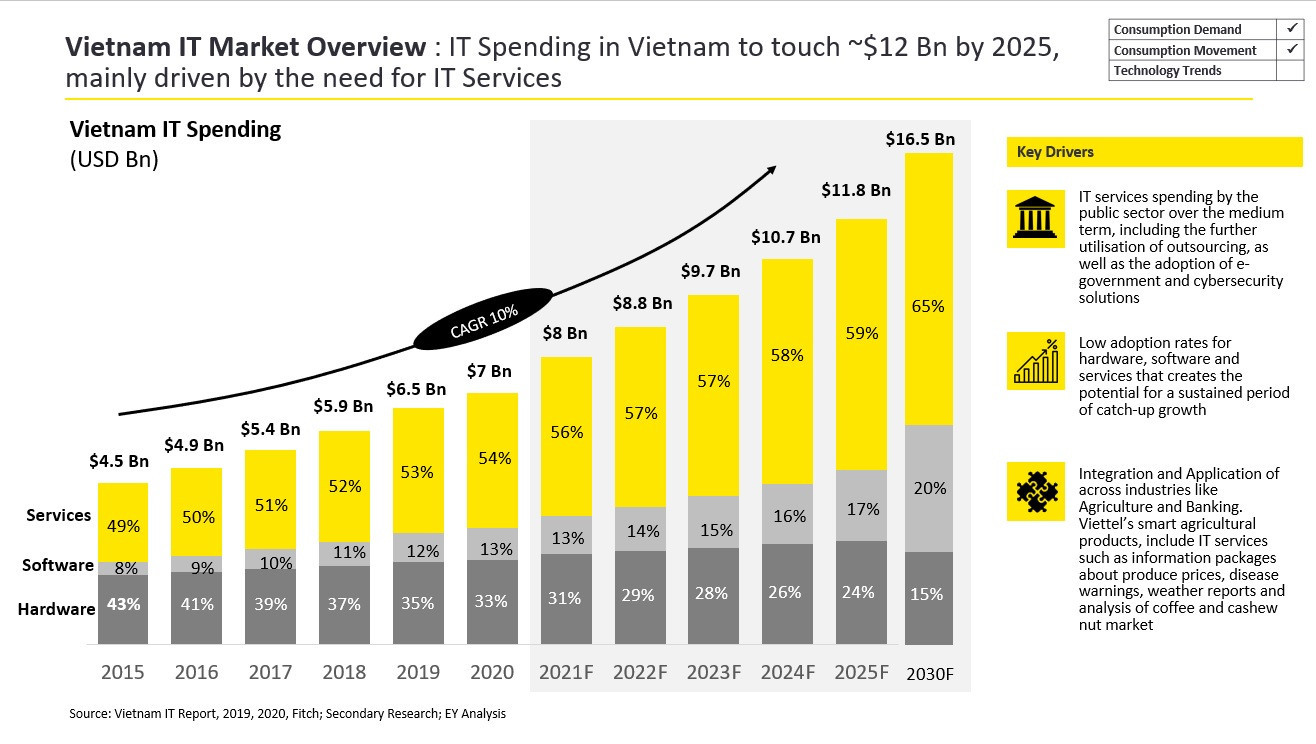 The revenue of the entire telecommunication industry was VND156.5 trillion in H1 2022, according to the Ministry of Information and Communications (MIC). The figure was higher than that of the same period last year, but just 0.6 percent. The core business field – telecom – has dropped dramatically. The Covid-19 crisis changed the market and forced telcos to expand their business into other fields, such as digital services, and sale of products and equipment, to ensure growth.
What is happening all over the globe and the development of technology show that call and SMS services have been decreasing rapidly, by 10-15 percent per annum to make room for data and OTT services.
The data capacity used has increased significantly, but the unit price has been decreasing. Data revenue in Vietnam just accounted for 23.4 percent of total revenue (the average figure in the world is 43 percent), which is not enough to offset a drop in revenue from calls/SMS.
According to E&Y, the Vietnamese mobile market is highly competitive and is becoming saturated with the SIM use rate reaching 137 percent in 2020.
The competition in prices and the low charges have led to profit decreases. Moreover, the reliance on pre-paid services has put pressure on ARPU.
The mobile market can be divided into three types – SMS, voice and data. Voice and SMS are among traditional telecom services which accounted for 90 percent of revenue from mobile services in 2016.
However, services supporting mobile data such as fast messaging and VoLTE quickly lowered the contribution of services to 60 percent by 2020.
Meanwhile, market growth has been slowing down because of the presence of too many mobile network operators as most of the market share belongs to the three largest telecom carriers - MobiFone, Viettel and VinaPhone (combined 90 percent).
The data consumption boom, together with the development of 4G/5G technologies, have put pressure on mobile network operators when balancing investment to expand wave coverage and growth targets (revenue, profit).
At the same time, the state management agency has applied policies to make the market healthier, such as tightening management over users' information, carrying out mobile number portability (MNP), adjusting the connection policy, and activating 5G, Mobile Money, M2M and IoT. These all have forced telecom carriers to change their strategies, and gather strength to build a technological platform to become digital firms.
A representative of a telco told VietNamNet that the signs of market saturation first appeared several years ago. This forced enterprises to expand their operation scale to digital services and digital infrastructure development to adapt to the new circumstances.
According to External Market Report - International Assessment, digital services will be one of the major activities that help the global telecom value chain grow, possibly reaching the $18 trillion threshold by 2025.
Of these, digital services accounting for a large proportion includes mobile payment ($5 trillion), e-commerce ($2.5 trillion), IoT ($510 billion), digital ads ($180 billion), digital content (462 billion), transactions on apps ($335 billion), digital communication ($195 billion), digital education ($156 billion), online game ($90 billion), digital music (37 billion) and digital healthcare ($27 billion).
With the boom of digital services, telcos will have opportunities to provide infrastructure, and connect and join the digital service supply chain. EY predicted that global telecom carriers have increased revenue from digital services by 10.2 percent per annum, while the figure is expected to reach 15.2 percent by 2025.
Vietnam's IT industry is forecast to witness strong growth in scale, from $4.9 billion in 2016 to $7 billion in 2020 (7.4 percent per annum). It is expected that the figure would be $11.8 billion by 2025 (16.5 percent per annum) and $16.5 percent by 2030 (6.9 percent).
In recent years some initial results have been gained, which shows a shift to the digital environment.
Digital transformation
In such conditions, enterprises have no other choice than expanding ecosystems and switching to a digital environment.
Analysts point out that Mobile Money, 5G network, AI and IoT will impact the shaping of the new telecommunication industry.
Of these, Mobile Money and 5G network have created positive influences to the domestic telecom sector. There were 1.7 million Mobile Money accounts from November 2021, when the trial began, to the end of June 2022, accounting for 97.3 percent of total clients registering and using services.
Payment services via mobile accounts have given a push to telcos to join the digital economy. In the future, all transactions, including small ones, will use the service.
Vietnam is one of the first countries that deployed 5G and is among the top 10 countries with the highest level of global deployment of new generation Internet addresses.
It is expected that 5G subscribers will account for 5 percent of total mobile subscribers by 2025.
As for cloud computing, the growth rate of the Vietnamese market is 26 percent, the highest in Southeast Asia, and 10 percent higher than the world's average level.
Thai Khang