HSBC economists report on Vietnam's prospects during 10-day visit

Limited land and labor resources, increasing wages and a lack of local suppliers in Vietnam could make the cost/benefit equation less attractive for FD) firms in the foreseeable future, HSBC said in its latest Asia Frontier Insights report.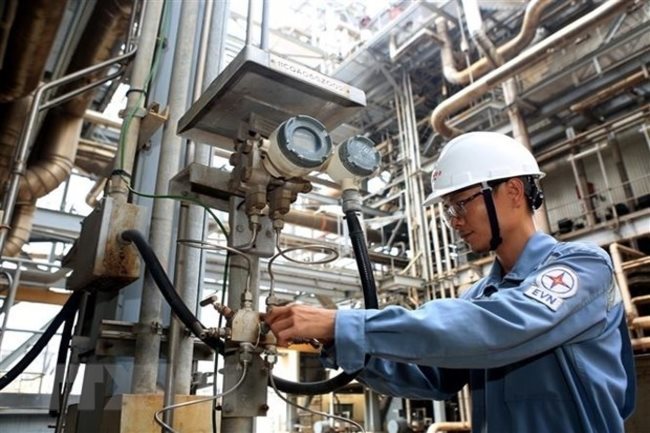 A worker operates equipment at the Phu My 1 thermal power plant in the southern province of Ba Ria-Vung Tau. Vietnam's manufacturing worker wages are among the lowest in Asia, but the growth rate is high 
During their 10-day visit to Vietnam, HSBC economists found that rising land costs and the availability of appropriate land were some of the key issues facing FDI firms.
For example, an industrial park developer indicated that land prices have moved up over 20% from a year ago. Most of the factories in popular industrial areas in Vietnam have already been taken. Also, it is difficult to find large parcels of land in HCMC and Hanoi. On average, the cost of land is US$100-US$250 per square meter.
Many companies with low margins that cannot afford a high cost base are considering moving to central Vietnam and further afield to find more affordable land, the economists noted.
They added there has been a surge in demand for land from ecommerce companies. Ecommerce warehouses have to be in or near the city, so this will further increase demand.
They quoted industrial park developers as saying that their current land bank will last some two or three years. Besides this, land reviews and audits have become stricter, leading to a slowdown in approvals for new projects.
The second issue concerns the labor crunch. "Vietnam has some of the lowest manufacturing wages in the region. However, the growth in wages has also been among the fastest, behind only China. This could gradually erode its cost advantage," said the economists.
With more companies moving to Vietnam, wage pressures are likely to persist. Anecdotally, the experts have seen examples of labor shortages affecting firms.
In one case, a garment company started preparing to open a plant in a new province, even though it had land at the existing plant, because of the shortage of labor, the economists said, adding that to continue its current operations, the company would have to organize job fairs regularly in nearby villages.
Companies are also having difficulty finding and retaining workers. Unskilled workers are available, but it takes time to train them. For skilled labor, such as manufacturing engineers, salaries are still lower than in most Asian markets.
"Vietnam has one of the highest growth (rates) in salaries in Asia over the past five years, behind only China. An electronics company we met said wages were rising sharply and one automaker said it was even considering hiring more expats to fill the gap," said the economists.
They stressed that attrition levels are very high in Vietnam, at more than 60%. This increases the cost for companies as they have to keep spending on training new workers. This also causes disruptions to their production as new workers take time to learn the job.
Vietnam is also facing the issue of an aging population. The working age population is set to decline over the coming years. This could put an additional strain on the availability of workers if productivity does not rise quickly enough.
"Overall, we got the sense that costs are rising more than productivity. Companies have had to lower their standards and increase wages to find skilled workers," explained the experts.
To address the labor issues, companies are increasing automation, hiring expat workers and setting up their own vocational facilities to train the labor force.
Better infrastructure is needed to cater to Vietnam's growing manufacturing industry, and electricity is an important resource.
"Local experts believe that electricity production will probably be sufficient for two or three years. Companies also pointed out that logistics costs are increasing. Port congestion is high, and it is taking companies longer to ship products," noted the economists.
The economists said that Vietnam does reasonably well on logistics performance overall, but it still lags behind when it comes to cross-border trade. While several major port projects are in the pipeline, they have yet to take off.
Companies moving to Vietnam find it difficult to source local suppliers of goods and services. For instance, one large electronics manufacturer has had to import semi-finished goods from China and expects this to continue due to the lack of local suppliers.
The key reason is that both State-owned enterprises (SOEs) and private companies have not been investing enough. A large part of the economy is still dominated by SOEs.
The Government, as part of its economic reforms since the 1990s, has created larger entities by combining smaller SOEs. The intention was to create economies of scale.
However, according to the economists, the SOEs functioned like conglomerates and diversified into unrelated areas with the help of easy access to land and credit, and focused more on short-term profit rather than on building economies of scale in their core businesses. SGT
Thanh Thom

A report on Vietnam energy prospects was announced by the Ministry of Industry and Trade (MOIT) in collaboration with the Danish Ministry of Energy, Utilities and Climate.

Vietnam's real estate market continues to attract foreign investors because of its growth potential, especially Korean investors, according to real estate consulting companies.