Hue eyes vegan cuisine for tourism boost

Researchers and chefs in the central province of Thua Thien-Hue believe vegan cuisine could help local authorities boost tourism.
VN cities experience a vegan surge
Ringing the bell of awareness for vegan food
Must-try dishes in Hue imperial city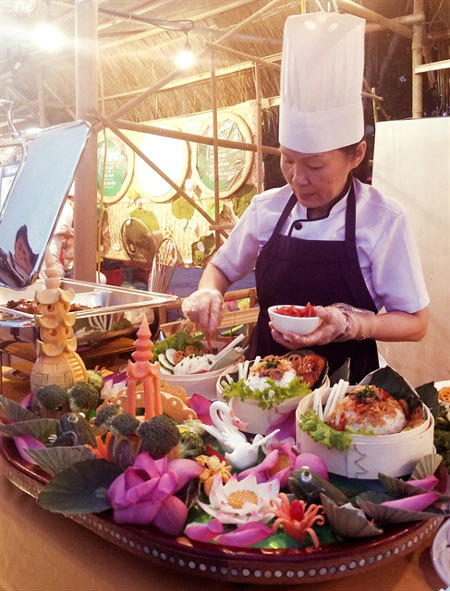 A chef prepares vegan dishes at a local restaurant. — VNS Photo Xuan Dat
According to researcher Nguyen Xuan Hoa, residents of the province have had a vegan diet for centuries, after Buddhism rooted and flourished in the locality. Today, the presence of nearly 500 Buddhist pagodas, mainly in Mahayana Buddhism, has kept the tradition going.
Hoa said residents of old Hue were the pioneers of the land. They wished for peace and believed a vegan diet could help them achieve it.
"Hue has numerous vegan dishes thanks to this tradition. Using vegan food in new tourism products could be a smart move by the local tourism sector," he said.
Monk Thich Hue Phuoc said various vegan dishes were created by local followers depending on their regime of prayer. They would use different ingredients to meet their nutritional need during periods of fasting, the monk said.
Chef Ho Dac Thieu Anh, a well-known chef in the province, said the integration of local vegan culture into the development of tourism was a good idea.
"Local vegan food is delicious, nutritious and matches trends of green lifestyles. More people around the world are becoming vegetarian," she said.
Anh said the tourism sector should have develop programmes with a focus on vegan gastronomy.
"Once we have streets with restaurants and eateries serving Hue's authentic vegan food, it will attract visitors to the province.
"Travel agents should encourage visitors to spend more time in order to show them unique local vegan dishes."
However, she highlighted the importance of quality and hygiene standards.
Recently, several travel agents in the province have provided tours offering vegan lunches at local Buddhist pagodas. In Hue, vegan food is available in 40 restaurants around the city, with a variety of styles on offer.
Researcher Hoa said local vegan food is different from dishes prepared in other regions of the country thanks to the abundance of ingredients, the dedication of local women in cuisine and the complicated cooking process.
He warned not all local dishes will suit the palates of foreign visitors, suggesting food is chosen wisely.
Veteran chef Hoang Thi Kim Cuc, in one of her cookery books, made a list of 120 popular vegan dishes from Hue that could be delicious for foreigners. Those dishes could be categorised in 22 menus, each with at least five dishes – from starters and main courses to desserts.
Dinh Manh Thang, chairman of the local tourism association, said local vegan cuisine could prove popular with visitors. He said there have been several drives to encourage veganism, including eating vegetarian food for good health, a vegan diet for environmental reasons, and vegan food among activists against animal cruelty.
He said the tourism sector has eyed the exploitation of local vegan food and it is time to put the ideas into practice. VNS
Phuoc Buu