Hue physician in the US shares her experiences with online Vietnamese medical community
When she just came to the US, Nguyen Ngoc Trang was surprised when realizing her English pronunciation was not correct. But four years later, she was the best student at her high school.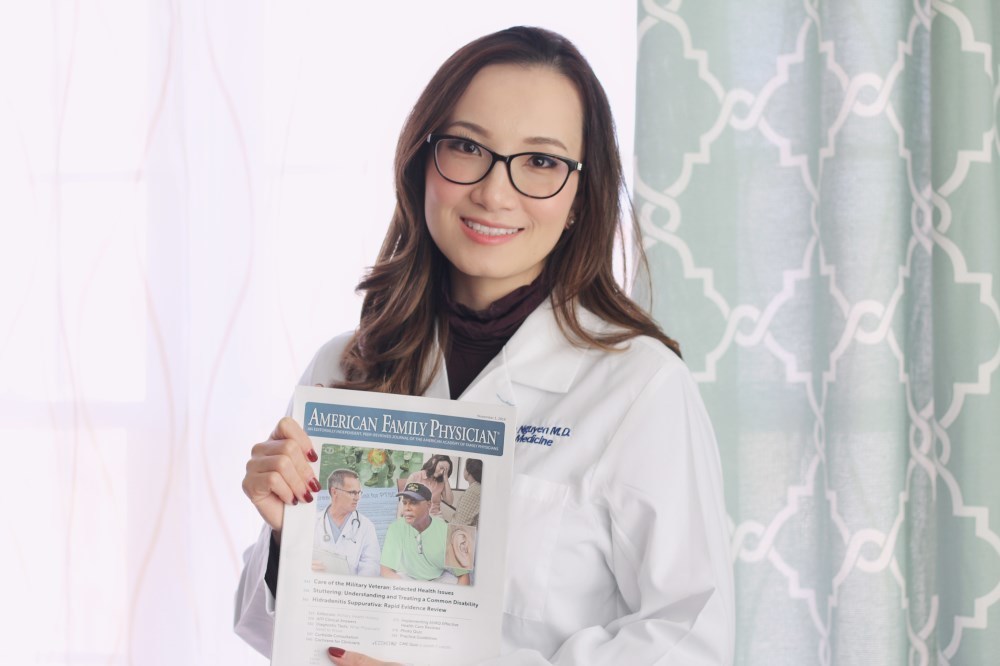 Nguyen Ngoc Trang of Common Spirit Health
Dr. Christina Nguyen (Nguyen Ngoc Trang) is well known in the community of medical practitioners and students in Vietnam for her articles and videos sharing her experiences of living and working in the medical environment in the US.
The Vietnamese born physician was mentioned in the Wichita Eagle newspaper in the US for winning two prestigious scholarships in the US - the Gates Millenium Scholarship and Dell Scholarship.
Before Trang, her mother and younger sister went to the US 20 years ago, she had been an eighth grader at Nguyen Tri Phuong Secondary School in Hue City.
Though Trang always got high scores in English, she could not communicate in English on her first days in the US. She had to spend one year learning English before joining the classes of native students.
"I was taught how to pronounce every syllable, every word, to correct all my mistakes. Every day when I got home from school, I had to open the book and practice pronunciation like a child," Trang recalled.
She set a goal to obtain scholarship for tertiary education, so that" my study won't be a burden on my family," she recalled.
She finished high school as a valedictorian and was offered a lot of scholarships, including two prestigious ones worth over VND5 billion.
She remembers that while applying for the Gates Millenium scholarship, she had to write eight essays to answer the questions raised by the selection board. The aim was to better understand candidates and their ways of solving problems and conflicts, their spirit of devotion to the community, their resilience to overcome difficulties, and their ways of facing failure.
New way to follow
At high school, Trang decided that she would carry out research in laboratory majoring in chemistry and biochemistry. The decision was made when she witnessed a friend of hers struggling from blood clotting disorders.
When she was studying biology at Creighton University, Trang contacted a professor at the school and began working at a laboratory.
However, a turning point in her career path occurred after she participated in a voluntary campaign at the school's hospital.
"I realized that I wanted to work face to face with patients, listen to their stories and help them relieve pains," she said.
Trang had to decide either to continue to follow the research path or become a practitioner.
Before making a final decision, Trang worked at many hospitals and observed physicians working in their clinics. The experience helped her understand that she would be more suited to clinical medicine rather than scientific research.
After graduating from college summa cum laude, she continued studying for a doctorate at the University of Nebraska Medical Center.
Trang now works as a doctor at Family Medicine, for Common Spirit Health, a leading medical organization in the US, and as a clinic instructor.
Overcoming language and cultural barriers, she is beloved by many patients in America.
A patient wrote in a local newspaper that the main doctor treating him in the emergency room was Dr. Christina Nguyen, and he couldn't have asked for better care than that.
Helping Vietnamese physicians become self-confident
Trang has been working in the US for a long time, but she always remembers Vietnam. She set up a YouTube channel and Facebook to connect to the community of Vietnamese doctors.
While talking with Vietnamese colleagues, Trang realized that the doctors want to practice English, especially medical English.
Almost every day, she posts something on Facebook - an idiom, a medical English term, English communication, and study and work experiences in the US.
She has organized free workshops with different themes, from the art of communicating with patients in English, to the experience of registering for medical residency courses.
She has also compiled an ebook of 100 idioms that help people communicate in English, for free download.
To succeed in the US medical environment, professional knowledge alone is not enough. Doctors also need to have patients' confidence and establish good relations with them. This is a difficulty for doctors trained in Vietnam who want to work with foreign patients.
Trang embarked on The Phoenix Medical Academy project to provide medical English skills to Vietnamese doctors, for free.
"Vietnamese doctors are very good, both at professional knowledge and learning and working behaviors. I firmly believe that if they can overcome the language barrier, they will be in no way inferior to doctors trained in other countries," she said. 
Phuong Chi

All eight Vietnamese students participating in the 2021 Asian Physics Olympiad (APhO) have won prizes, bringing home two golds, one silver, three bronzes and two certificates of merit, reported the Ministry of Education and Training on May 23.

Graduating from Harvard University with a master's degree in Public Policy, Tran Ha Duong said that he thought the prestigious school was "completely beyond my reach".