Hue preserves Ruong houses, an ancient beauty

Hue's ancient Ruong houses have contributed to the former imperial city's architectural beauty.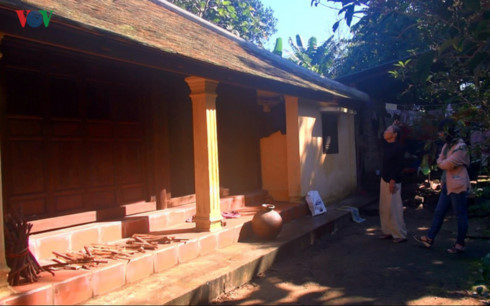 Many Ruong houses in Phuoc Tich village have been restored and used for tourism purposes. 
But over centuries of war and natural disasters, the houses have become seriously degraded. Thua Thien-Hue authorities have recently adopted a policy of restoring and preserving Ruong houses as part of a larger effort to preserve Hue culture.
The Ruong houses in Hue's ancient Phuoc Tich village typically stand on a large piece of land surrounded by many lush, well-trimmed trees.
There are several types of Ruong house. They can be classified either by roofing materials: wood, bamboo, thatch, and tile, or by the house's structure: one compartment with two lean-tos, three compartments, three compartments with two lean-tos, and five compartments.
The house foundation is typically made of many layers of compacted soil mixed with lime and ash to resist termites and moisture. The roof usually has a steep slope to allow Hue's famously heavy rains to run off quickly.
A popular style of Ruong house has four roofs covered by thatch or yin-yang tiles or "liet" tiles – a type of handmade clay tile often seen in Hue. Jackfruit wood is most commonly used to make pillars and roof frames of a Ruong house.
Nguyen Hong Thang, Director of Phuoc Tich Village's Relic Management Board, said "A typical Ruong house has three compartments with two lean-tos. The center compartment is for worship ceremonies. The wing rooms are for the family's daily activities. When all of a clan's members gather for an ancestor's death anniversary, the Ruong house becomes a worship hall."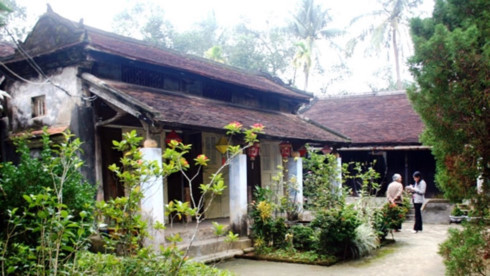 A newly-repaired Ruong house in Phuoc Tich village (Photo: baovanhoa.vn)
Recognized as a national relic in 2009, Phuoc Tich village in Phong Hoa commune, Thua Thien-Hue province, has 30 Ruong houses that are hundreds of years old. 24 of them are still used as family residences and the other 6 serve as worship halls for local clans. Measures have been taken to prevent further degradation of the houses, and three have recently been restored.
In 2016, after the provincial People's Committee approved a project to protect and promote Hue's iconic garden houses, the owners of 25 Ruong houses in Phuoc Tich registered to participate in the project. More than a year later, three seriously degraded houses had been restored at a cost of about 82,000 USD.
72-year-old Le Thi Hoa, the owner of one of the restored houses, said her 120-year-old house has been preserved through four generations.
"Thanks to financial support from the provincial government, my leaky ancient house has been restored. Making it a tourist attraction has given us additional income," said Hoa.
Doan Quyet Thang, Deputy Director of Phuoc Tich Village's Relic Management Board, said that last year the People's Committee of Thua Thien-Hue province approved the restoration of eight more Ruong houses at a total cost of about 300,000 USD. Hue authorities intend to restore 25 Ruong houses by 2020.
Thang said "We have asked the provincial People's Committee for enough money to restore five more Ruong houses. We are preparing to submit a detailed restoration plan to the Ministry of Culture, Sports, and Tourism for approval."
He added that once it was decided to open the Ruong houses to the public, the management board began working with the owners to clean them up and improve their landscaping. The wooden houses will be used for homestay services, Thang added.
VOV5
The Hue Kite Festival 2019 officially began in Tu Tuong park on the morning of June 8 featuring a wide range of activities to honour the traditions of kite making.

An audio guide is being installed at the Complex of Hue Monuments in Hue city and will be available for visitors from the beginning of June, the Hue Monuments Conservation Center announced.

As the spring slowly turns to summer the sight of flowers such as the red shining of flamboyant flower and the yellow of golden shower flowers can be seen in full bloom, creating romantic scenery throughout Hue city.