Huynh Thuy Le ancient house, a national relic site

 The Huynh Thuy Le ancient house on Nguyen Hue road, Sa Dec town, in the Mekong Delta province of Dong Thap, was recognized as a national relic site in 2009.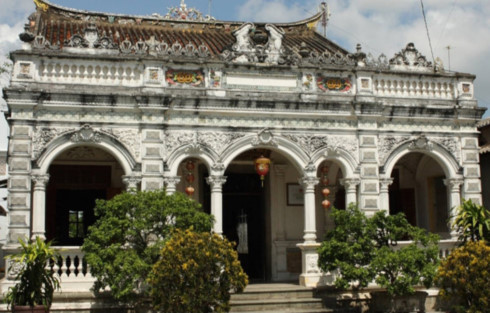 The Huynh Thuy Le ancient house looks like a French villa from outside. 
It is famous for a unique mixture of East-West architecture. The house was the setting of a passionate love affair between its owner Huynh Thuy Le and Marguerite Duras – a well-known French writer who penned the famous novel L'Amant (The Lover).
The ancient house was built by Huynh Cam Thuan – Huynh Thuy Le's father – in 1895 at a busy trading hub on the Sa Dec riverfront. Back then Mr. Thuan was a famous Chinese merchant. When his father died, Le inherited the house and renovated it in 1917.
After Le's death in 1972, his wife and children settled overseas, leaving the house unused. It became an administrative building in 1975 and a tourist destination in 2007.
The house has three chambers, in the typical architecture of Vietnam's Southwest, with the outer chamber serving as a guest room and worshipping area while the remaining chambers are used as bedrooms.
It looks like a French villa from the outside but inside it has the signature Chinese architectural style. Its roof is curved at its corners, resembling the design of temples in pagodas in the Northern region. The house is not large but has luxurious furniture.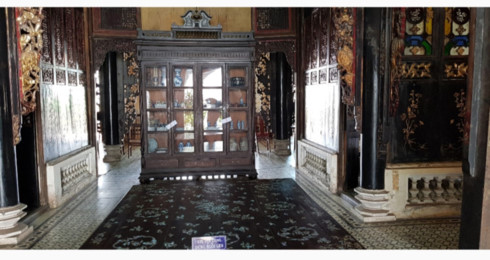 The Huynh Thuy Le's interior decors reflect Chinese architectural style.
Lam Thi Hong Diem, a tour guide at Huynh Thuy Le ancient house, said, "All the bricks were imported from France while the wood was imported from Cambodia. The floor of the central area is a bit lower to allow water to flow in, because according to Chinese feng shui, wealth is symbolized by water which always flows into a hollow. The house owners are Chinese so they honored Zihuang, a prominent military general in Chinese history."
"Le's father ordered artists in Fujian, China, to come here to paint a Zihuang portrait, which is placed at the center of the house. It is considered one of the best paintings in the Mekong Delta region. There used to be four bedrooms but only two of them remain today and are used for homestay services," she added.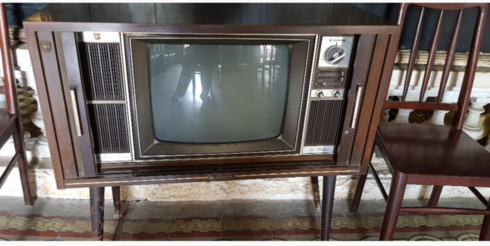 The TV and other furniture remains almost intact. 
The 2,000-square-meter Huynh Thuy Le ancient house used to include a main building, a garage, a kitchen, and a garden, with two sides looking to the streets: Nguyen Hue and Tran Hung Dao, but urbanization destroyed everything except for the main building of 258 square meters.
The balconies were in red lacquer trimmed with gold with carved details similar to those commonly seen on Chinese pagodas, which represent wealth and nobility.
The large front balcony was engraved with a pair of phoenixes, a symbol of "happily ever after", while other balconies were carved with different species of birds to highlight great wealth.
All wooden furniture like wardrobes, beds, and altars were delicately carved. The liquor cabinet, tea sets, vases, gramophones, and TVs still remain intact.
Xavier Lloansi from Spain said, "This house features a harmonious combination of western and oriental architecture. It's totally different from any other house I've been to. I was really interested to learn that the house belonged to a rich merchant. I love its elegant architecture and enjoyed the opportunity to learn about local life."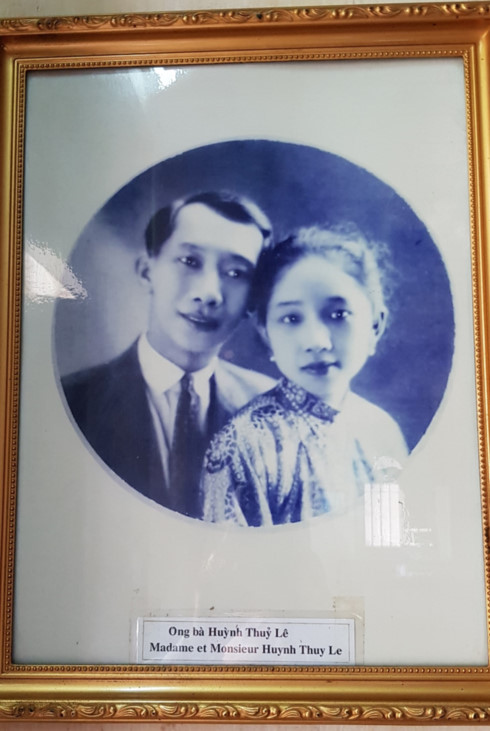 Mr. Huynh Thuy Le and his wife 
The Huynh Thuy Le ancient house is associated with the famous novel L'Amant and a film of the same name, which is all about the heartbreaking real-life  love story between writer Marguerite Duras and Le, whose father strongly opposed their affair due to misalliance and cultural differences. They broke up after 18 months.
L'Amant was written 50 years later and won the 1984 Prix Goncourt, the most prestigious literature award in France.
Tour guide Diem said, "The novel was translated into 43 languages and adapted into a movie directed by Jean Jacques Annaud and released in 1992. Some scenes were shot in Sa Dec but not this house. Instead, the film crew took another ancient house in Can Tho for the setting. After breaking up with Duras, Le married Nguyen Thi My of Tien Gian province at his father's arrangement. They had a happy marriage with five children who all studied in France."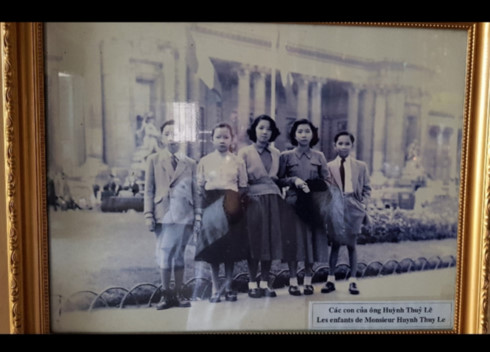 Mr. Huynh Thuy Le's children 
The Huynh Thuy Le ancient house is now a popular tourist destination in Dong Thap province. VOV5/VNN