Illegal fishing tackled with drastic measures to remove 'yellow card'
The Government, ministries and local authorities have been improving legal enforcement, supervision on the implementation of the law and traceability requirements through heavier fines on illegal fishing.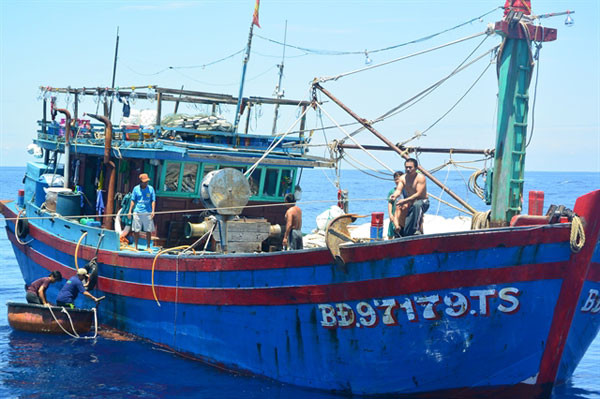 The fishery industry in 28 coastal provinces has taken severe measures to address illegal, unreported, and unregulated fishing, with the goal of removing the 'yellow card' warning issued by the European Commission in 2017.
The Government, ministries and local authorities have been improving legal enforcement, supervision on the implementation of the law and traceability requirements through heavier fines on illegal fishing, Deputy Minister of Agriculture and Rural Development Phung Duc Tien said at a conference on the EC's delegation assessment of anti-IUU fishing measures in Vietnam.
Tien said the ministry asked local authorities and fishery agencies to clarify the responsibilities of fishing boat management, reporting on the punishment of IUU-violated vessels and sharing information and data on fishing boat registration and catch among local authorities.
"It's a big challenge for Vietnam's fishery. Stricter regulations and supervision on fishing have been implemented since the country's fishery received the 'yellow card' from the EC in 2017, and the latest recommendations by the EC's delegation last October," Tien said.
"The government, ministries and local authorities are determined to implement anti-IUU fishing measures to affirm Vietnam as a 'trust and responsibility' partner. The positive involvement of communes, fishing communities, border guards and fishery surveillance units will help improve management more transparency and sustainably," he said.
He noted that other major markets like Japan, the US and other countries would ask Vietnam to ensure IUU fishing prevention in the near future.
The vice minister said a report on illegal swordfish trading was unveiled during the EC delegation's visit.
Vu Duyen Hai, an official from the directorate of fisheries, said positive targets had been reached in efforts to remove the 'yellow card'.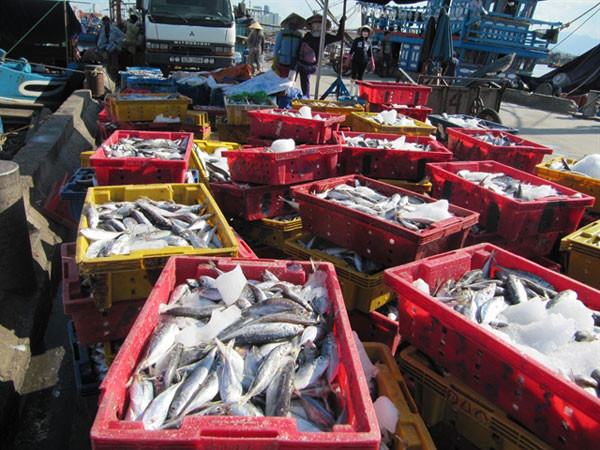 Hai said 11 out of 28 provinces now monitor fishing boats of more than 6m in length, while 28,739 out of 29,827 fishing vessels (96.35 per cent) have installed vessel monitoring systems (VMS).
The number of fishing boats on the National Fisheries Database (Vnfishbase) was identified at 74,521, down 14,024 boats since September, 2022, and 86.7 per cent of fishing vessels are officially registrated.
However, six fishing boats, of which three were from Binh Dinh Province, were detained in Malaysia in January. Hai said five of them did not have the VMS installed.
Hai said 28 provinces must complete the installation of VMS and 24-hour tracking equipment on all fishing boats over-15m in length by May 15; boats of less than 15-m still require VMS at a later date.
He urged all provinces to boost supervision and control on fishing boat numbers and wharves, as well as illegal transhipment at sea.
Deputy director of Scientific Technologies and International Co-operation Department under the Directorate of Fisheries Nguyen Thi Trang Nhung warned that the difference in fishery management among provinces should be synchronised. At the same time, reports on fish traceability must be cleared.
The EC delegation warned about a possible fake Bill of Lading for swordfish exports to the US, not Taiwan as stated.
Two vessels of Hai Vuong Company docking at Hon Ro Port were found to be using fake registration certificates. The two boats were listed as IUU-violator by the International Ocean Tuna Commission in 2014.
The EC's delegation also investigated a vessel that recorded an 800kg swordfish catch, suspecting that, in reality, it caught seven tonnes over a 25-day trip.
She said more work is needed in fishery management, certificate, and reports on fish hauls. Local authorities should strictly implement boat tracking systems, legal enforcement forces, and State agencies to remove the 'yellow card'.
Vice chairman of Quang Ngai Province's People's Committee, Tran Phuoc Hien, said it should be managed with a one-stop-shop that all provinces send reports on fishing boat fleets and catch to the directorate of fishery each day.
Hien said management ability and infrastructure must be improved for sustainable development.
Le Ngoc Linh, head of the Quang Binh sub-department of fishery, said all boats that disconnected their VMS hours must be investigated by local authorities, while communal authorities will give strict fines.
The EC's delegation plans further checks on Vietnam's IUU prevention measures in 2023, Nhung said.
Source: Vietnam News