With a policy of putting citizens first and leaving no one behind during the COVID-19 pandemic, the Government has continuously made drastic instructions to support labourers with relief packages with widespread coverage, along with pandemic control measures.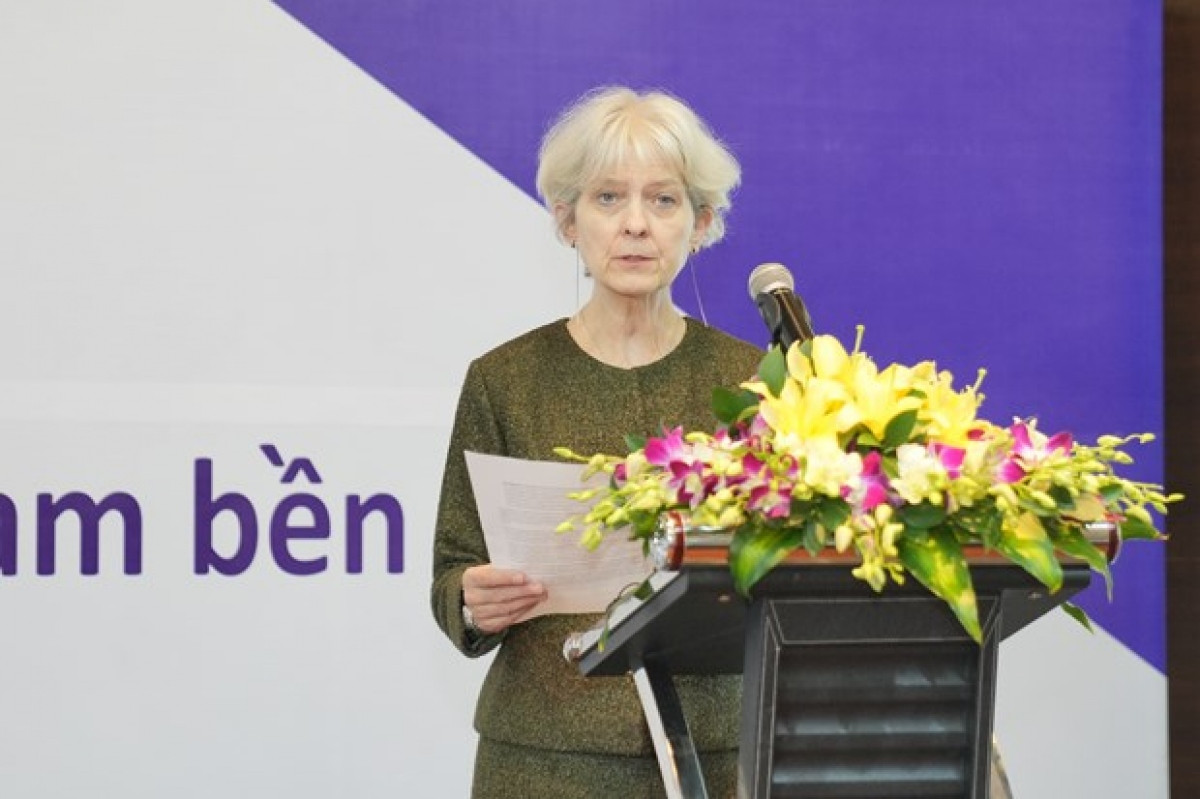 In a recent media interview given on the occasion of the New Year, Ingrid Christensen, director of the ILO Country Office for Vietnam, remarked that the Vietnamese Government has made significant efforts to mitigate the negative impacts of the COVID-19 pandemic within its national resources and context.
"In parallel with the prevention and control of COVID-19, we are aware that in consultation with the Vietnam General Confederation of Labour (VGCL), Vietnam Chamber of Commerce and Industry (VCCI), and the Vietnam Cooperative Alliance (VCA), the Government has extended various relief packages through different policies including on tax, capital, credit, and social security to retain jobs and to support businesses and workers," Christensen said.
She was highy appreciative of the support given by the Vietnamese Government through the relief packages, citing the example of adjustments made in tax regimes for businesses which enabled enterprises to continue operations and retain workers at a difficult time. The Government's support package also gave businesses access to loans in order to pay salaries to employees, providing them with deferral in paying social insurance, unemployment insurance, and trade union premiums.
According to the Ministry of Labour – Invalids and Social Affairs, the Vietnamese labour market has leaped in both size and quality, whilst gradually modernising and integrating into the world. Specifically, the size of the workforce is increasing with the supply guaranteed at over 51.6 million people, whilst the overall quality of workers is improving with the rate of trained workers rising each year.
However, the COVID-19 pandemic has revealed several shortcomings, such as the pressure of job creation for the nearly two million workers who were forced to leave the labour market, as well as a general shortage of workers in some fields. This situation therefore requires the labour market to shore up its ability to cope with internal and external influences to develop sustainably.
Christensen said that due to efforts to protect the population throughout the COVID-19 period, the nation has seemingly been recovering well. But with new potential crises on the horizon, economic and labour market challenges could still confront the country, meaning they require attention now.
According to Christensen, to meet the goals of becoming a high-middle-income country by 2030 and a developed, high-income country by 2045, the nation may need to accelerate social upgrading, together with economic upgrading.
"Strengthening the macroeconomic foundation and maintaining adequate and regular investment in social protection is one of the key factors for Vietnam to pass through the challenges and sustain its inclusive and sustainable development," she went on to say.
With regard to vocational training for rural workers in localities nationwide with the goal of helping them to get new jobs and enjoy a better income, Christensen cited statistics of the General Directorate of Vocational Training (DVET) under the Ministry of Labour, Invalids and Social Affairs, which shows that 4.57 million rural workers were supported in vocational training. Of the figure, approximately four million, or 89.3%, had jobs after vocational training, during the 2016 to 2020 period.
She said that these figures provide a promising scenario for further investment in DVET for rural workers. Furthermore, upgrading workers' skills should be a core element of enterprises' long-term development strategy, whilst workers should also pursue lifelong learning principles to gain more knowledge, improve skills, and enrich their work experience.
"In the coming years, ILO is committed to continuing working with DVET to support this important skills development and capacity building for rural workers through our development cooperation projects," she stated.
Source: VOV