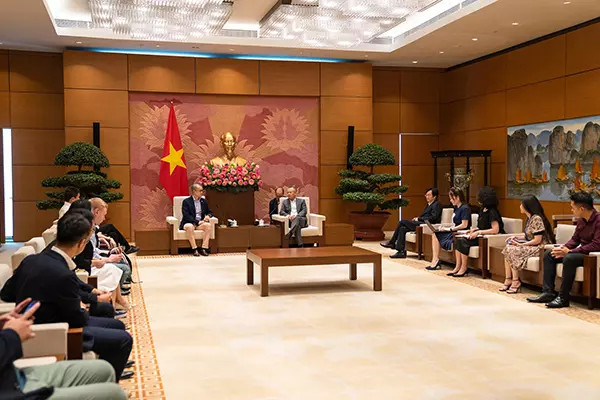 He attended the Vietnam NFT Summit 2022 organized by the Vietnam Blockchain Association with hundreds of participants, including representatives of many agencies, ministries and branches related to digital assets.
Changpeng Zhao, the founder of Binance, affirmed that Binance will put users at the center so that Vietnamese users and all the over the world believe that Binance is one of the safest and most reliable platforms in the world.
To realize the commitment, Binance and the Vietnam Blockchain Association announced cooperation on research exchange, Blockchain technology application and human resource training in Vietnam.
At another event, when asked about the matter, CZ said the blockchain sector has legal problems, including assets, derivatives trading and security.
He said each country has its own problems when building up the legal framework. Different countries will set different levels of regulatory controls.
CZ hopes government will facilitate Binance's business in Vietnam
The aim of CZ's working visit to Vietnam was to meet the leaders of ministries and branches. After committing to observe Vietnamese laws, he greeted the Deputy Chair of the NA's Committee for Foreign Affairs Nguyen Manh Tien at the NA Building.
CZ said he was learning about the Vietnamese market and expressed his hope that Vietnam will create favorable conditions for Binance to expand its operations here.
Showing his perspective about the future of Blockchain technology in global digital transformation and opportunities for Vietnam, CZ said Binance wants to exchange research with Vietnam in utilizing Blockchain and training workers in Vietnam, as well as learn about policies and laws.
NFT and Metaverse to develop in next 10 years
This was the prediction released by CZ at an informal meeting with the Vietnamese technology community.
He said NFT is not a short term trend but will continue to develop in the next 10 years. However, the Binance CEO thinks it is difficult to predict which NFTs will exist and what people will use them for.
In the short term, both NFT and metaverse are new concepts, so there are risks. How the metaverse and NFT will fare will heavily depend on businesses in this field.
He repeated this at the Vietnam Gaming Industry organized by VnExpress and AdTrue. Metaverse will help people interact more, instead of just looking at photos on Facebook and clicking on likes.
Trong Dat