Improving human resources – top factor for Vietnam's growth: JICA specialists

There remain problems concerning human resources and Vietnamese businesses should focus on what Japanese experts have addressed.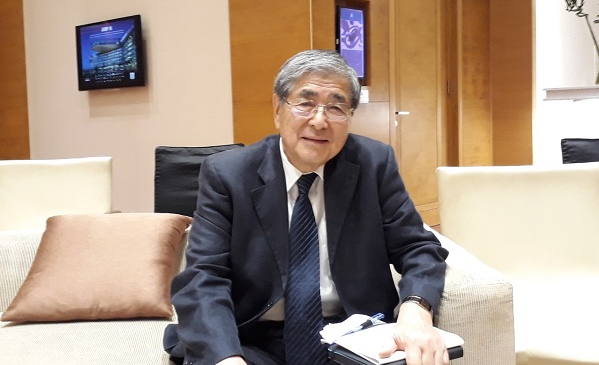 JICA expert Toda Chosaku, former CEO of US Market Director of the Panasonic Group. 
Improving human resources must be regarded crucial for the operation of Vietnamese companies, enabling them to raise their capabilities amid fierce competition, specialists from the Japan International Cooperation Agency (JICA) have said.
Human quality must be the most important factor for a business and corporate governance, JICA expert Toda Chosaku, lecturer of Keieijuku program, former CEO of US Market Director of the Panasonic Group, said in an interview on the occasion of the 10th anniversary of Keieijuku Vietnam held in Hanoi last weekend.
Keieijuku course is a Japanese-style training program for businesspeople provided by the Vietnam – Japan Institute for Human Resources Development (VJCC) backed by JICA following an agreement signed between the governments of Vietnam and Japan in 1998.
VJCC, which operates under the cooperation between JICA and Foreign Trade University (FTU), focuses on training corporate leaders and bachelors in international business based on Japan's philosophy and advanced methods.
Human quality must be understood in terms of knowledge or technical qualifications/skills and worldview including morality or a code of ethics, Mr. Toda Chosaku said.
Before finding factors which include updated facilities, high technologies, and the structure of rules, practices, and processes used to direct and manage a company, human resources must be the factor to be given the most care.
It's time to thoroughly improve human resources which are viewed as the core of the business, according to the expert.
Sharing the same idea, Nakamura Toshiyuki, Director General of JICA's Industrial Development and Public Policy Department, said that human resources become one of the factors that JICA has set the focus on.
Accordingly, JICA has conducted different approaches with general solutions including in making policies and efforts to improve the business environment and human resources, in supporting the operations of vocational training schools, in establishing specialized industrial parks, and if possible, independent agencies valuating local firms.
Mr. Nakamura highlighted the inspiration of good models. He said a good company could result in numerous impacts on the business community.
Breakthroughs ahead
Keieijuku is a Japanese-style business management program covering a wide range of aspects regardless of personnel, business philosophy, business strategy, and production management.
JICA-supported Keieijuku programs have trained more than 600 business executives for Vietnam during a decade of operations since 2009.
Although the results are tremendous, JICA could do more and make breakthroughs by working with the Vietnamese Ministry of Education and Training (MOET) to have a master plan that points out general solutions to thoroughly tackle problems which have been already addressed, Mr. Toda Chosaku emphasized.
In his personal opinion, it's time for JICA to increase the support and lever up the training course for business executives. This is of course subject to official discussions with the MOET.
In this context, it will be considerable to have a 2-year program in addition to the existing Keieijuku (10-month course).
For Keieijuku, it is really necessary to select the candidates who are really needed to be trained in Vietnam, especially in the field of supporting industries, Mr. Toda stressed.
Mr. Toda noted that Vietnamese businesses should pursue their own philosophy and have long-term vision which is consistent, continuous, and sustainable.
He pointed out that a number of Vietnamese companies tend to obtain short-term profits without vision and social corporate responsibilities.
He said Japanese people attach importance to the mindset of the manager which always follows a clear business philosophy partly through specific questions "What was the business born for?"
Having a clear vision is considered the basis for corporate governance and enable companies to continue their goals, he added.
Japanese companies had the same problems as Vietnamese ones are facing with. Therefore, Vietnamese firms should focus on their own problems and thoroughly solve them together with pursue Japanese-style business management philosophy which set human the center of operations. Hanoitimes
Linh Pham

The Vietnamese government gives priority to the Vietnam – Japan strategic partnership.

The Politburo's Resolution No 52 set a goal that Vietnam's digital economy would make up 20 percent of GDP by 2025.