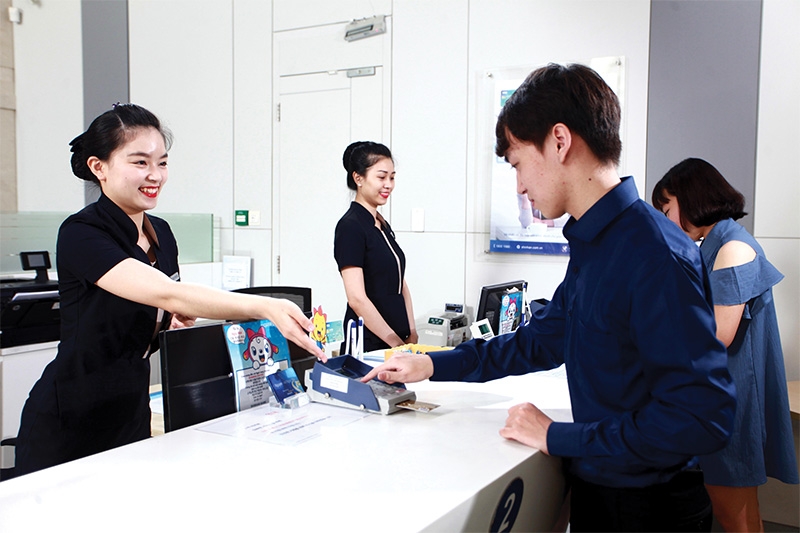 Cashless and cardless payments are the first step for transformation Vietnam into a digital dragon 
Ousmane Dione, country director for the World Bank in Vietnam, writes about the importance of such an economy to future growth.
Those who love Vietnamese street food can now try out the experience of going cashless at some of the authentic local places like those on Nguyen Huu Huan Street in Hanoi, where you can get an egg coffee and pay with your smartphone.
In the past year, consumers in Hanoi have gone cashless, and even cardless – meaning that sometimes you do not even need conventional bank cards. Bills can be settled using e-wallet apps or by scanning QR codes.
Hundreds of thousands of small merchants across the country have joined the network of major fintech companies looking to capture Vietnam's ever-growing market of young and tech-savvy consumers.
In 2018, a report by Google and Temasek referred to Vietnam's digital economy as a "dragon being unleashed."
Last year, the same report put Vietnam and Indonesia at the forefront of Southeast Asia's digital economy growth, with Vietnam's digital economy in particular expected to top $43 billion by 2025. Investors have also been pouring money into the country to fuel growth across many sectors.
Despite much fanfare, there are still significant obstacles to harnessing the power of digital technology and increasing digital inclusiveness so that people outside the large urban centres can also benefit.
As described in our recent regional report "The Digital Economy in Southeast Asia – Building the Foundations for Future Growth", the main building blocks for any thriving digital economy are connectivity, payments, skills, and logistics, as well as policies and regulations.
Vietnam's performance
Connectivity: Affordable, high-speed internet is the backbone of any digital economy. Vietnam has made great strides in expanding the reach of the internet from virtually zero in 2000 to 64 per cent of the population today.
The next challenge is to get the majority of people connected to 4G and 5G mobile networks, and further expand broadband fibre optic networks, particularly for businesses, schools, and large institutions.
Payment: While more people are embracing cashless payment methods, the majority of transactions are still cash-based. Access to cashless payment methods is particularly limited among the population living outside cities.
According to the World Bank's financial inclusion survey in 2018, only 22 per cent of Vietnamese made or received digital payments in the previous year. And last year, only 41 per cent of adults had a bank account.
While the usage of digital payments is growing, including through non-traditional providers, the limited usage indicates that people still lack trust in these options.
Banks and regulators will need to work together to develop this enabling environment, including regulations on consumer protection, interoperability of different digital payment systems, and using secure digital payments for government services.
Logistics: Vietnam's logistics cost is among the highest in the world, taking up 25 per cent of GDP. Seamless logistics services are a major enabler for the growth of trade and commerce.
The rise of e-commerce has led to a growing need for new types of logistics services, including door-to-door and last-mile delivery, particularly for low-value and small parcels.
In the World Bank's 2018 Logistics Performance Index Rankings survey, Vietnam performed relatively well, rising by 25 places to the 39th spot. It is close to catching up with other countries in the lead time for import and export indicator.
However, there is significant room for improvement in the quality, efficiency, and cost of logistics services, not only cross-border services but also last-mile delivery.
Labour: A study by the International Labour Organization estimated that about 56 per cent of all employment in five ASEAN countries including Vietnam is at a high risk of displacement by technology over the next decade.
How Vietnam prepares its workforce now is absolutely crucial for its next stage of growth.
Skill development is needed on multiple levels, particularly for advanced technical skills, soft skills, and generalised computer literacy.
This will require a better understanding by policymakers of the dynamics of the digital skills labour market, and closer collaboration between the private and public sectors for lifelong learning.
Solutions
So given these challenges, what are the steps for Vietnam to ensure that the growth of its digital economy can benefit all, and what should the Vietnamese government do to facilitate a conducive environment for all stakeholders to participate?
First and foremost, policies and regulations to protect and thereby promote trust among internet users in the digital space must be established.
The cross-cutting legal and regulatory framework should cover electronic transactions, cross-border data flows, cybersecurity, data privacy, and consumer protection.
The country has enacted a cybersecurity law and drafted legislation on data privacy. In this area, Vietnam and other nations will benefit from regional co-operation and harmonisation.
Expanding coverage and improving the efficiency of connective infrastructure in Vietnam would be impossible without market-based regulatory reforms.
To bring broadband internet to everyone, for example, Vietnam needs to promote competition along the broadband value chain and facilitate infrastructure sharing within and across sectors.
Further modernisation of the regulatory framework for logistics also enables faster, cheaper, and more reliable shipping.
The Vietnamese government should invest heavily to prepare citizens in various stages of their careers to adapt to new challenges of the digital age.
This is where the private sector should be engaged closely given the rapid pace of change for relevant skill sets.
While Vietnam already has developed a master plan for the digital economy, it should consider broadening the scope and coverage to go beyond the development of the e-commerce sector towards the whole economy.
There is also a need to translate the plan into detailed, time-bound action plans, with adequate oversight over implementation and effective intersectoral co-ordination.
The government can lead by example by becoming more digital itself.
Vietnam is on the right track by launching numerous initiatives towards building a digital government.
The rollout of an e-cabinet to streamline government business processes and a national e-services portal for public service delivery in 2019 are encouraging moves in this direction.
The country is also planning the introduction of a digital ID. At this stage, the proposed digital ID scheme is to enable electronic transactions with government agencies only.
But in the longer term, the national digital ID system should be expanded to facilitate greater financial inclusion (enabling people to open bank accounts with much easier know-your-customer requirements), and more efficient delivery of social services through effective targeting and information management.
Digital transformation holds tremendous potential for Vietnam to achieve not only sustained but also inclusive economic growth.
To reap the full benefits while managing the associated risks and vulnerabilities, Vietnam should prioritise investment and regulatory reforms to reinforce these six building blocks.
The World Bank has been a partner on Vietnam's journey to reduce poverty and build infrastructure and we are ready to support this exciting new phase of growth and ensure that new achievements in the digital economy will not leave anyone behind.
Vietnam must better prepare for, and adapt to, the impact of Industry 4.0 on drivers of growth and job creation.
Accelerating Industry 4.0 offers both opportunities and risks in terms of future employment creation, as Vietnam embarks on new growth pathways.
It is anticipated that automation and AI will displace jobs in several sectors that have been driving Vietnam's growth.
The International Labour Organization 2016 report "The future of jobs at risk of automation", suggested that 70 per cent of jobs in Vietnam were at risk of automation.
Sectors with a very high proportion of jobs at risk of automation include: agriculture, forestry, and fisheries (83.3 per cent at risk), manufacturing (74.4 per cent), food and beverages (68 per cent), garments (85 per cent), electronics (75 per cent), wholesale and repair of motor vehicles (84.1 per cent), the service sector (approximately 32 per cent), retail (70 per cent), and hospitality and banking (slightly above 40 per cent).
The Oxford Economics and Cisco 2018 report "Technology and the future of ASEAN jobs: The impact of AI on workers in ASEAN's six largest economies" projected that 7.5 million jobs (largely in agriculture, manufacturing, and wholesale and retail) would be displaced by AI in the next 10 years in Vietnam.
At the same time, the report anticipated that millions of new jobs with different functions in mostly the same sectors would be created through what the report called the "income effect".
Thus, the net job loss is about 1.7 million, 90 per cent of which will be in the agricultural sector.
Source: United Nations Development Programme - VIR