VietNamNet Bridge – Experts are worried that websites violating copyright are killing the country's cinema industry.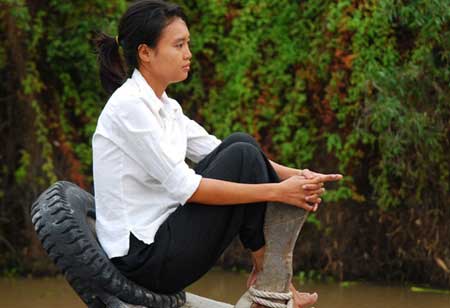 Floated too early: A scene from Floating Lives by director Nguyen Phan Quang Binh, which was illegally printed in VCDs and broadcast on the internet before its official screening in 2010. — Photo yume.vn
"Internet is the quickest way to spread works of cinema to the audience," Director Dang Xuan Hai, Chairman of the Viet Nam Cinema Association, told Viet Nam News.
"Yet, the net has also caused major losses to the cinema workers," he pointed out.
Hai further explained that the works of cinema have been illegally copied and printed on CDs and VCDs, used to produce other works and upload on the net for deriving profits through downloads or from advertising.
"The copyright violators include both individuals and organisations," he claimed.
"The problem has continued for a long time and is not yet under control," he emphasised.
Most importantly, film investors are finding it difficult to recover the capital that they had invented, he said.
Recent cases included the movie Canh Dong Bat Tan (Floating Lives) being printed on VCDs and broadcast on the internet before its official screening could take place in October 2010.
"The illegal broadcasts of the works of cinema are always of poor quality, both in terms of soundtrack and images," complained Director Nguyen Phan Quang Binh of the Floating Lives.
"We have worked very hard to create beautiful and touching scenes of the Mekong Delta. The illegal VCDs have marred all our efforts," he noted.
Last year, the draft version of Bui Doi Cho Lon (Chinatown) was illegally broadcast on the web and then sold in the form of VCDs even before its screening was prohibited in Viet Nam due to its violent content.
During the same year, the Investigation Department from the Ministry of Culture, Sports, and Tourism found out that three websites with their hubs based in Viet Nam such as pub.vn, phim7.com, and v1vn.com had violated copyright laws as they had broadcast films owned by various American film companies represented by the Motion Picture Association.
The websites were fined in cash and ordered to remove all stolen content. Yet, hundreds of websites continue to offer free movies or charge a minimal amount for downloading.
"The problem is that no websites offering online movies announce that they are broadcasting movies for which they have the required copyright," Hai remarked.
At the end of January this year, phim.soha.vn online film website suddenly announced that they had to stop their service, effective on January 29, as they had not reached a deal with some film producers and providers.
The site had offered online film service for the past two years. By the end of last year, the site owners (VCCorp) had basically reached a deal with domestic film companies, yet encountered difficulties during their discussions with foreign companies.
"The site is the first of its kind to stop its service in order to follow copyright laws," Hai confirmed.
Source: VNS