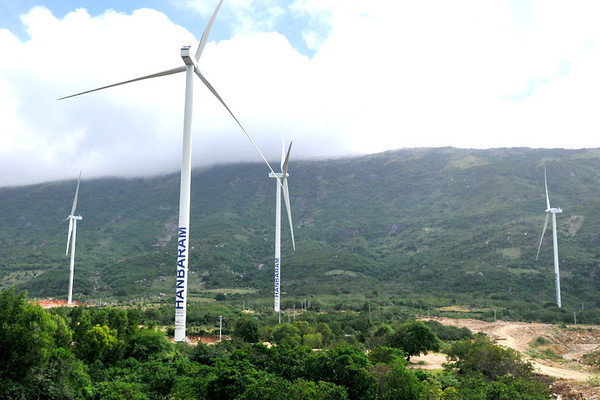 The investors complain that, after the FIT (feed in tariff) applied to wind and solar power projects expired, no new pricing mechanism for the projects has been created. As a result, other projects are in standby mode.
For a variety of reasons, 84 renewable energy projects with total capacity of 4,676.62MW, including 4,184.8MW wind power and 491.82MWac solar power, have been late in COD (commercial operations date) in comparison with the plan.
Of these, 34 transitional projects with a total capacity of 2,090.97MW (28 wind power, 1,638.35MW and 6 solar power, 452.62MWac) have completed construction and testing.
The tests proved that the projects can satisfy requirements to provide electricity to the national grid, according to information in March.
The investors have been waiting a long time for the government's new electricity pricing mechanism which will serve as a premise for Electricity of Vietnam (EVN) and electricity generators to negotiate electricity prices.
The policies applied to the recent transition by the Ministry of Industry and Trade (MOIT) are in Circular 15/2022 dated October 3, 2022 (Circular 15) about building the electricity generation price framework for transitional solar and wind power projects; Decision 21 dated Jan 7, 2023 (Decision 21) on the price framework for transitional solar and wind power projects; and Circular 01/2023 dated Jan 19, 2023 (Circular 01) on removing regulations in Circular 02 and Circular 18 on the development of solar and wind power projects, and a sample power purchase agreement.
However, the provisions stipulated in Decision 21 and Circular 01 worried investors because of legal problems and the financial impact, which could result in losses or bankruptcy.
The investors said these documents adversely affect the investment environment, and reduce the capability to attract foreign investment capital because of the instability of policies on clean power development, and will also affect the financial and banking system.
If the new mechanism is applied, the 34 completed projects with total estimated investment of VND85 trillion, including VND58 trillion of capital from banks may see financial plans broken, investors may not take back investment capital and banks may not be able to collect debts.
As electricity generation frame for transitional projects in Decision 21 doesn't fit Circular 15 and relevant documents, investors have proposed that the Prime Minister instructs MOIT to set a new electricity price frame.
They also hope that MOIT would promulgate new circulars on sample power purchase agreements to be applied to transitional wind and solar power projects. The agreements need to retain the policies on encouraging renewable energy, for example, the time of applying the power purchase price for transitional projects is 20 years.
Luong Bang