VietNamNet Bridge - Some scholars, who believe the celebration of both solar and lunar new years is unnecessary as it causes a waste of resources, have suggested merging the two celebrations.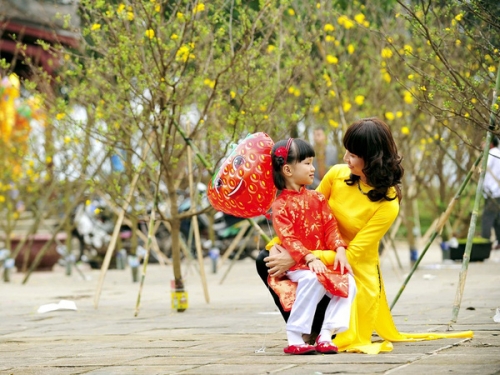 Nguyen Minh Phong, a renowned economist, said that removing traditional Tet celebration for the sake of 'global integration' and to save resources was 'narrow minded'.
The idea was proposed after some foreign investors in Vietnam complained that the long Tet holiday upset their business plans. Some analysts commented that while Vietnam is a poor country, Vietnamese spend too much time and money celebrating Tet.
When asked if he thinks Tet celebration affects production and businesses' operation, Phong said: "There are always two sides of a coin. In all countries, businesses pay the 13th monthly salary and give bonuses on the New Year occasion. Therefore, businesses will still have to pay to workers if we merge solar and lunar new year celebrations".
Phong also said no one can say for sure that the holiday will be shorter if Vietnamese celebrate solar new year and Tet at the same time.
"If businesses pay workers well and offer good allowances, workers will stay at enterprises and work through Tet," he said.
Another economist, agreeing with Phong, said he does not think removing Tet holiday would benefit the national economy.
"Tet holiday is an opportunity to develop economy because it helps boost spending and stimulate tourism," he said.
Tet holiday is an opportunity to develop economy because it helps boost spending and stimulate tourism
He cited a report of Ramasamy, Yeung, Au in 2008 on the impacts of holidays on domestic consumption in Hong kong showed that the increase of one holiday day helps the private spending increase by ¼ and GDP increase by 0.34 percent. In China, 40 percent of retail turnover is from lunar new year holiday.

A lot of National Assembly's deputies have expressed protests against the idea of removing traditional Tet holiday.

"It is a quibble to say that long Tet holiday is the reason behind the stagnation," said Bui Sy Loi, a National Assembly's deputy. "One should ask himself why many other countries still have developed economies though they also have long holidays."

"The key lies in productivity, not on the working hour extension," he said.

Luu Binh Nhuong, a National Assembly deputy, also said he doesn't think a long Tet holiday affected the economy. Tet, in fact, is the opportunity to stimulate spending.

"We have to fix the existing problems, but we must not merge solar and lunar new year. It is unreasonable," he said.
Mai Chi