Is it time to retire the school uniform?
School should be fun and encouraging to students, though some find it hard getting through the entire day, particularly while they're locked into a tight, constraining set of clothing called a "school uniform".
VietNamNet Bridge – School should be fun and encouraging to students, though some find it hard getting through the entire day, particularly while they're locked into a tight, constraining set of clothing called a "school uniform".
And then the story began.
It was a scorching summer afternoon, and I looked up to see how tired my 16-year-old cousin's face was when she came home from a long day at school and extra classes.
"Why are you sweating so much?" I asked her.
"I was stuck wearing these clothes all day, both in class and while playing sports," she said. "I really cannot stand wearing them anymore. I want to tell my teachers, but they are adults and they will never listen to kids."
My cousin reminded me of a similar incident that occurred recently, when a student was almost suspended from school after his mother complained about the tie sets he was made to wear on Facebook.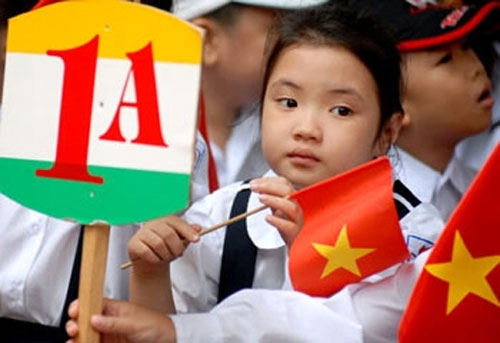 Illustrative image -- File photo
Since the regulations by the Ministry of Education and Training about wearing school uniforms came into effect in September, 2009, complaints among parents and students have been endless. Many students attend school and endure this unpleasantness every day.
Tran Mai Chinh, a mother of two sons with an innumerable collection of school uniforms, said each academic year was a fight for her.
"It really pissed me off! A couple of years ago, my son's uniform at the high school was nice, comfortable and easy to wear, with a white T-shirt and deep blue pants," Chinh said. "This year is a disaster, as their schools welcomed the new rector, and the children must switch to a new kind of uniform that's incredibly ugly and out of fashion. I assume the managing board had no idea that the old uniform was a traditional beauty. They just wanted to do it their way. I was told they share commissions together, by selling these uniforms," said Chinh.
Sharing the same struggle, Nguyen Dai Trang, whose daughter is studying at another high school, said she could not understand the odd rules.
"My daughter's health is not good, so she only change clothes every one to two years," she said. "She was just made to buy new clothes last year, and then they made her buy another uniform right in the middle of this year. At home, the uniforms of our kids are piled up like mountains…what a waste."
An often-heard concern from parents is that whenever they raise the idea, they will be denied due to absurd regulations, such as "all schools are alike, and rules are set for people to obey".
According to the parents' council of Viet Duc High School, the prices of uniforms are VND65,000 to 130,000 per set, including one shirt and one pair of pants. While most elementary schools set a regulation that a student must wear uniforms 2 to 3 days a week, others insist their students follow the regulation every day of the week.
Technically, a student had to have at least two sets of clothes and a winter overcoat, making the financial burden for destitute families larger.
Moreover, the change occurs every year, but the ugliness remains. Either the designs get worse, or the materials make students too hot or cold, and it is growing into their worst nightmare.
Vu Thu Cuc, a mother of four, added that the idea of having their tailor-made uniforms was first endorsed, but has resulted in unexpected consequences.
"When we do the orders ourselves, we cannot find an authentic school logo. We even entered many forums for parents to seek help, but it was useless. Eventually, we still had to buy uniforms made inside the school, just to have the tiny logo for our own custom-made products," Cuc said.
The questions continued, such as, "Why are so many schools interested in the idea of making uniforms?", and they were finally answered by Nguyen Van Nghia, a teacher at a local high school.
"As a school uniform is a mass product, many prestigious garment and textile companies rush in to present their offers with discounts," Nghia said. "They can even discount up to 40 per cent. What a huge profit for both sides," Nghia said.
And so, beloved parents of innocent and indefensible little children have been made victims in a fight for profit and personal interests by school staff.
Fashion designer Hoang Minh Ha, the second Vietnamese to be admitted to the Asian Couture Federation (ACF), said Viet Nam's student uniforms are "not identical and a mess".
"In most countries in Southeast Asia, school uniforms are highly evaluated based upon their convenience and modernity," he said. "In our country, it is a different story. Uniforms make children hate their school even more. The distance between rich and poor is deepened between each school, based on its uniforms."
I have not figured out when this war will end, but I fear my adorable cousin will grow up hating what she should have loved most during her adolescence: school and teachers.
VNS