IT graduates earn monthly pay of VND30-40 million: report
Vietnam is seriously lacking IT engineers, which explains why many new graduates with good skills and experience find jobs with attractive pay of up to VND30 million ($1,300) a month.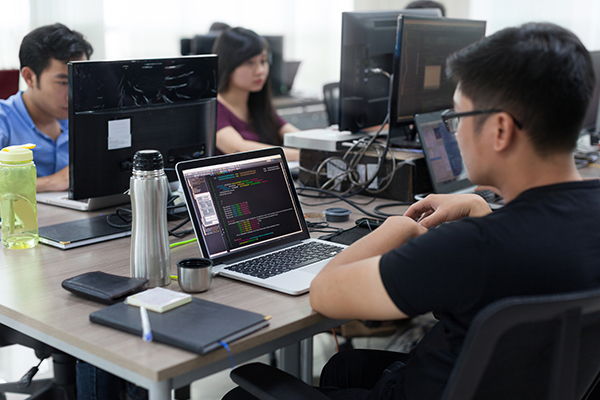 According to TopDev, Vietnam needs 450,000 workers in the IT (information technology) industry in 2021, but lacks about 100,000. The IT recruitment platform predicts that Vietnam will lack 28 percent of workers next year.
Vietnam will need 530,000 workers early next year, but lacks 150,000.
The report also found that the fields most expected by programmers are AI, cloud computing, fintech, e-commerce and information security.
Dang Minh Tuan, Head of Blockchain Lab belonging to the Posts and Telecommunications Institute of Technology (PTIT), said at a recent workshop on labor force development that IT is a special industry which has developed very rapidly.
Every 18 months, computer capacity will increase twofold, and information and knowledge volume will double. There is no other industry which has witnessed such a high growth rate.
The products of IT industry are present in all aspects of society's life and serve as the foundation for many business fields.
According to Tuan, in Vietnam, the Government pays high attention to the IT industry and sets policies to develop the industry. More and more young people, many under 30, have gained great success.
These include Nguyen Thanh Trung, CEO of Axie Infinity, the game project worth billions of dollars (A local newspaper reported that AXS token capitalization value has reached $2.4 billion); and Nguyen The Vinh, co-founder and CEO of Coin98. The stories encourage young people to study IT and work in the industry.
Tuan said the income of IT workers in Vietnam is relatively high compared with other business fields. A new graduate can receive up to VND30 million a month, which is higher than the salary of an army officer with Colonel title.

Le Ngoc Tuan, a founder of Maker Ha Noi, said all technology firms are lacking engineers in AI.
Tuan said the pay to IT engineers is topping the market. Young engineers with high capability could earn $1,000-2,000, while it's easy to earn VND10-20 million a month. They not only can work in Vietnam but also for companies overseas as freelancers.
However, experts warn that unlike other business fields, workers in the industry will have to update knowledge regularly or they will be weeded out because technology develops rapidly. 
Trong Dat

Technology firms in Vietnam complain that they find it difficult to recruit workers, especially highly qualified ones.

Nguyen Quan Anh Minh and Nguyen Tuan Khoi of the local messaging app Zalo have won the Show US the Data competition, organized by Coleridge Initiative on Kaggle, the world's most prestigious artificial intelligence competition platform.