Japanese capital inflow's new trend

After five years of decline, Vietnam's processing and manufacturing sector has begun to receive a substantial volume of investment capital from Japanese enterprises.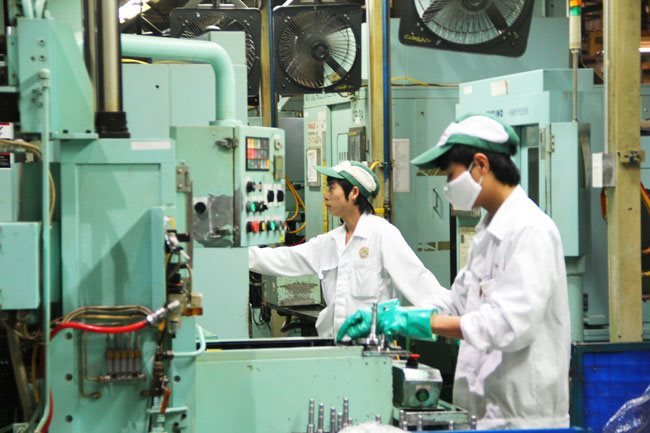 According to the Foreign Investment Agency, six Japanese processing and manufacturing projects were licensed last year, with over US$100 million committed to each project
 In addition, investors from Japan are paying more attention to Vietnam's domestic market instead of only focusing on export to other countries.
The famous Japanese corporation Marubeni has recently decided to pour an additional US$115 million into Ba Ria-Vung Tau PRovince to build a coffee factory, shortly after their packaging paper plant Kraft of Asia worth over VND4.8 trillion got off the ground in this province.
Meanwhile, in the central region, Hoya Corporation has started work on a second medical equipment factory in Vietnam-Singapore Industrial Park (VSIP) Quang Ngai with an annual capacity of about 130 million products, more than 10 years after its first factory was set up in Binh Duong.
Marubeni and Hoya are two of the many Japanese firms currently stepping up their investment in processing and manufacturing in Vietnam, a sector which had witnessed a sharp decline in Japanese investment over the past few years.
From 2012 onward, Japanese enterprises were more interested in other areas, such as services, trade and real estate.
Takimoto Koji, chief representative of the Japan External Trade Organization (JETRO) in HCMC, said Japanese investment in processing and manufacturing in Vietnam went down for five consecutive years during 2012-2017. However, it began to pick up again last year.
"The amount of Japanese capital committed to the local processing industry in 2018 was 3.6 times higher than the preceding year," Takimoto said. "It might mark a comeback of Japanese manufacturers."
Last year, around 77% of the sum pledged by Japanese investors went to processing and manufacturing, nearly reaching US$1.68 billion, compared with only US$426 million in 2017 and US$516 million in 2016.
Notably, large-scale production projects that had disappeared or been scaled down have now returned. According to the Foreign Investment Agency, six Japanese processing and manufacturing projects were licensed last year, with over US$100 million committed to each project.
They include a carton paper plant, a car brake factory, and a facility making motors for air conditioners.
In addition, those Japanese manufacturers that had already run a factory in Vietnam further expanded their operations in 2018, eyeing the provinces where there is still a lot of land available, instead of concentrating in HCMC and Hanoi.
Targeting domestic market
Vietnam is able to urge Japanese manufacturing and processing enterprises to boost their investment again, according to the head of JETRO in HCMC.
First, it is because the labor costs in Vietnam, albeit a surge, are still lower than many countries. Secondly, the capacity of local suppliers has been significantly improved, helping raise the localization rate and providing opportunely raw materials for production and partly reduce production costs.
As per a survey of JETRO on the investment of Japanese enterprises in Asia and Oceania in fiscal year 2018, the localization rate in Vietnam had been rising to reach the highest level among the 20 nations and territories surveyed.
Specifically, Vietnam achieved a localization rate of 36.3%, for the first time surpassing Malaysia (36.1%).
Formerly, Japanese firms developed manufacturing projects in Vietnam mainly for export. However, this tendency has changed. Japanese investors have recently switched to the domestic market, Takimoto said.
When asked about the reason for business expansion in Vietnam, 64.9% of the corporate respondents said it is because of the increase in their earnings from the domestic market, higher than the percentage of those citing export revenue growth as the main reason (45%).
"Japanese enterprises believe doing business in Vietnam is more and more profitable, and that the market is likely to continue to grow exponentially," he added.
According to Takimoto, Japan's manufacturing and processing industry has become ailing as a result of the production shift to other nations. However, it remains a key sector capable of generating high added value.
The point is Vietnam must decide which industries are superior and beneficial to lure over. "Vietnam needs to attract Japanese funds by making use of priority and a strategy," said Takimoto.
He said JETRO in HCMC each year welcomes some 6,000 Japanese entrepreneurs who come to look for investment opportunities, which suggests the wave of Japanese investment in Vietnam is constantly rising.
M&A boost
In addition to direct investment, Japanese firms are accelerating their indirect investment by buying shares from domestic enterprises or taking over them.
For example, Taisho Pharmaceutical has recently unveiled the plan to spend over VND3.4 trillion buying more shares from Hau Giang Pharmaceutical (DHG) to expand its stake in DHG to 56.7% with 74.12 million shares.
Taisho is no exception as many other Japanese investors are seeking ways to acquire a controlling stake in domestic companies or fully take over them to gain absolute control.
Last year, there were 585 cases in which Japanese investors contributed capital to domestic firms or purchasing shares from them, versus only nearly 430 projects of direct investment, as per data from the Foreign Investment Agency.
Traditionally careful investors, Japanese entrepreneurs in recent years have made faster decisions when it comes to pouring capital into listed companies or acquiring those with a good brand, those operating in the sectors whose room for growth remains vast, so as to enter the market right away, according to M&A consultants.
This activity takes place in a variety of areas such as retail, food, pharmaceutical, cosmetics, finance companies, finance leasing companies, real estate and other services.
Concerns linger
The survey results also point out some concerns of Japanese enterprises when doing business in Vietnam.
They include the incomplete legal system with ambiguous operations, complicated tax procedures and mechanisms that keep changing.
Moreover, labor costs in the local processing and manufacturing industry are surging and thus narrowing the gap with advanced nations.
Also, although it has reached a 36.5% rate, Vietnam's localization rate remains modest in comparison with China or Thailand.
To take advantage of the wave of Japanese investment, the Vietnamese Government and its businesses need to pay attention to human resources training and development, JETRO suggested.
It is because in the future, robots or automation in production will be inevitable.
Then, factories will be in need of high-quality human resources to control robots in place of unskilled workers.
In fact, as soon as they realized that labor costs were going up, some Japanese enterprises have invested heavily in technology and robots.
The Comprehensive and Progressive Agreement for Trans-Pacific Partnership (CPTPP), of which Vietnam and Japan are members, will provide an extra impetus for the surge in Japanese investment in Vietnam, experts forecast.
However, to fully enjoy the benefits from this trade agreement, Vietnam needs to further improve her investment environment and reform her administrative apparatus. SGT
Quoc Hung

Japanese investment in the manufacturing and processing industries has bounced back after five years of decline.

Vietnam is expected to see a fierce confrontation between fashion brands from Europe and from Japan.

Vietnamese tra fish, a major foreign currency earner, has gradually won the trust of Japanese consumers as seen in the market's emergence as one of the 10 biggest tra fish importers of Vietnam.