Japanese spot rising star of Vietnam's realty market
VietNamNet Bridge – Japanese investors are continuing to take advantage of Vietnam's real estate market opportunities with new projects from both new and existing developers.
VietNamNet Bridge – Japanese investors are continuing to take advantage of Vietnam's real estate market opportunities with new projects from both new and existing developers.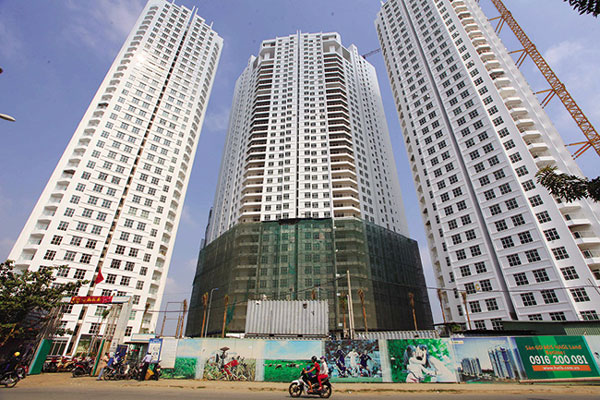 Japanese investors are capitalising on the lucrative potential in Vietnamese property – Photo: VIR
Sanyo Homes Corporation, a housing developer from Japan, has recently entered Vietnam's real estate market through a partnership with a member company of Hoa Binh House Joint Stock Company.
Sanyo Homes also inked an investment partnership agreement with locally-owned Tien Phat Real Estate Investment Corporation in Ho Chi Minh City to begin developing a property project named Ascent Lakeside.
The project's apartments and offices are expected to be finished and available for sale in November 2016. Ascent Lakeside's quality is guaranteed by the prestigious Vietnamese and Japanese brands involved in the project.
According to Yasusuke Tanaka, president of Sanyo Homes, Ho Chi Minh City's housing market has great potential. "We see the co-operation with Tien Phat as our first step on the road to developing a broader strategy in Vietnam," Tanaka said.
Prior to Sanyo's entrance into Vietnam's real estate market, many other Japanese investors made similar moves here. Analysts have noted that more and more Japanese investors are looking at the real estate market here, despite recent difficulties due to low demand.
Last October, a shareholders' meeting at locally-owned Nam Bay Bay approved regulations to fulfill the commitments it made with its Japanese partner, Creed Group. Earlier, Nam Bay Bay announced a programme with the Creed Group under which both would pour investment capital into Nam Bay Bay's projects and share profits.
Creed Group has committed to injecting VND600 billion ($27.27 million) into the projects by purchasing convertible bonds issued by Nam Bay Bay. Besides the City Gate Towers, Creed Group has undertaken two other projects – NBB Garden II in Ho Chi Minh City's Binh Chanh District, and NBB Garden III in district 8.
The Japanese investor is contributing 50 per cent of the total investment capital into every project. The NBB Garden III is projected to have an investment capital of VND3.8 trillion ($172.72 million).
Two months previous to the news about Creed Group's investment deal in Nam Bay Bay, Nikkei Inc. reported that Daibiru, a Japanese real estate group, wrapped up a deal to buy a CornerStone Building in Hanoi for $61 million.
This was not the first investment deal of Daibiru's in Vietnam. In 2012, Daibiru bought a large amount of shares in a company that owns Saigon Tower at No29 of Le Duan Street in Ho Chi Minh City's district 1. The seller was an investment fund under the Chinese Chiaphua Group. The value of the deal remains a secret.
Experts from Cushman & Wakefield Vietnam noted that the finance investors' biggest interest was in operational assets with a stable cash flow.
Toshihiko Muneyoshi, managing director of Creed Group, said that the demand for housing in Vietnam was high due to a young population and rising incomes.
"The Vietnamese market now is similar to Japan's over 30 years ago and the middle segment will grow stronger. Therefore, the firm plans to focus on this segment and is seeking more partnerships in Vietnam," Muneyoshi said.
Recently Hankyu Realty Co. Ltd and Nishi-Nippon Railroad Co. Ltd have also spent hundreds of billions of dong on a 50-per cent stake in the Fuji Residence project in Ho Chi Minh City's district 9.
The project, initiated by Nam Long Investment Corporation, is the second that the three companies have collaborated on. The first project, Flora Anh Dao, also in district 9, has sold 85 per cent of its apartments.
Toshihiro Matsuo, general manager of the Housing Business Department of Nishi-Nippon Railroad, said that they were interested in affordable housing and saw this segment's vast potential in Vietnam.
Many other investors had also recently visited Vietnam to research potential investment opportunities. Among them were Oyasogo Co and TNK Travel.
VIR