Khmer's ginger cake of love and faithfulness
The ginger cake of the Khmer ethnic group in Soc Trang Province is a beloved traditional treat that is often offered to ancestors on important anniversaries such as the Tet (Lunar New Year) festival.
According to legend, the cake is also a symbol of faithfulness between husband and wife.
It was said that there had been a girl named Nai Chrao Cho Pho who waited for her husband (who joined the army) from year to year with hopelessness. During these times, she made ginger cakes and brought them to a rock and sat there eating cakes, waiting for her husband until she turned to become a rock, elderly Khmer Son Phuoc Dung recalled.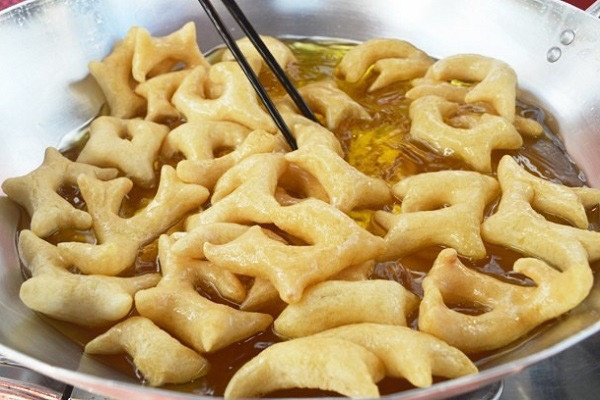 He said the cake had always been present at the group's traditional festivals, such as Dolta, Chol Chnam Thmay, Tet and wedding anniversaries, according to the group's traditional customs.
"Locals thought that ginger turns out many branches, so the presence of the cake would help their families and offspring to become wealthy and thriving.
"At wedding parties, the cake is considered a symbol of faithfulness between husband and wife," Dung said.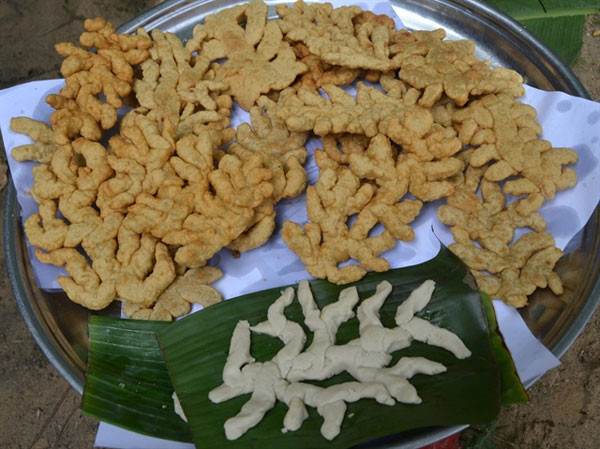 Making the cake is simple. It needs makers with skills in each process. They have to choose the right sticky rice, which has a milky colour, and wash it carefully before it is ground.
The maker then mixes the grounded dough with chicken eggs and a certain quantity of wine yeast and kneads it until it no longer sticks to their hands. Then it is cooked in oil, Dung said, noting that the final stage is to cover the roasted cake with molasses before drying it under sunlight.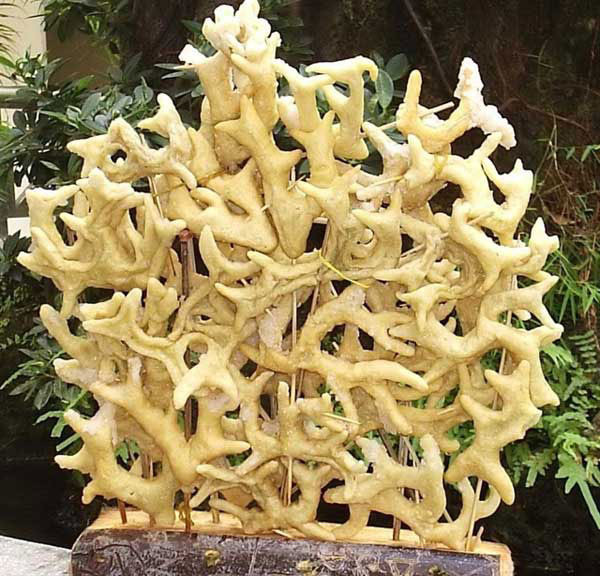 The perfect cake is crispy mixed with buttery fat and fragrant flavour from chicken eggs and light sweetness molasses, Dung said.
He said at important festivals such as Chol Chnam Thmay or the traditional Tet holiday, the Khmer people used a bamboo stick to pin the ginger cakes and stick it around a wooden round pillar decorated with colourful paper patterns and placed it at the most important place of a festival.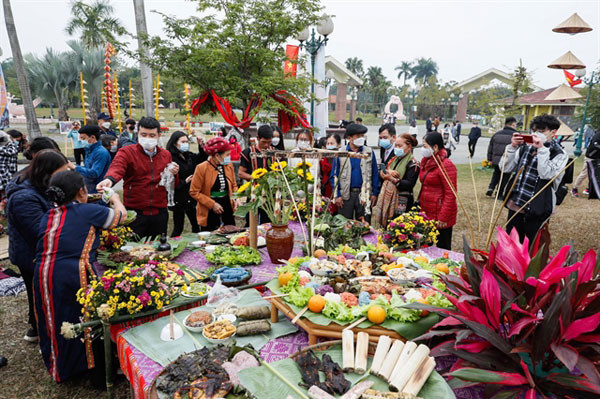 Dung said the Khmer people brought their ginger cakes as their special dish to join a big meal tray, with different specialities such as cơm lam (sticky rice cooked in bamboo) and others, made by 13 other ethnic groups to welcome Lunar New Year held recently at the Vietnam National Village for Ethnic Culture and Tourism in Hanoi's Dong Mo site of Son Tay Town.
Maker Tang Thi Lan, in Soc Trang's Hung Hoi Village who has been making the cake for many years, said she and her villagers are trying their best to preserve this traditional occupation by training young people, particularly young girls, to make the cake to improve their monthly income and more important is to further tie sentiment between family members.
Source: Vietnam News