Kids have no space or time to enjoy their vacation
The lack of adequately equipped playgrounds and healthy entertainment activities has become a concern in rural areas, especially during the long summer vacation.
VietNamNet Bridge – The lack of adequately equipped playgrounds and healthy entertainment activities has become a concern in rural areas, especially during the long summer vacation.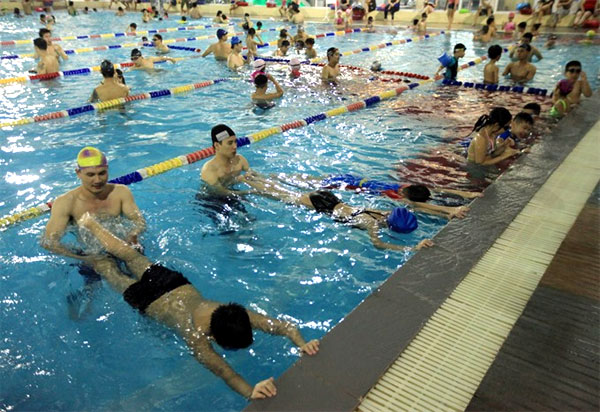 A swimming class in Ha Noi. Many rural provinces begin to offer swimming lessons for children this summer. – Photo: VNA/VNS
With parents and other adults busy in the fields, unsupervised children are prone to engage in "dangerous, accident prone" games like bathing in rivers with strong currents, climbing trees and playing games on the streets.
Besides, in many rural families, children are told to perform various tasks in the fields, gardens or forests, which means that they have no time to relax and have fun during the vacation.
Nguyen Thi Thoa, a resident of Nghe An Province's Thanh Chuong District, said most children in rural areas have no summer vocation.
"My family lives by farming so every child in my family has a job. The oldest child can help me with caring for the buffalos and ducks, cutting grass or catching crabs and snails, while the younger ones can do housework," she said.
"The children can stop studying at schools, but never stop doing housework and working in the fields," she added.
Nguyen Van Minh, a second grader from the province's Yen Thanh District, said looking after the family's buffalo is his main duty during the summer vocation.
"When I do that, I often catch crabs and snails to earn more money to buy school textbooks in the new school year," he told the Nong thon ngay nay (Countryside Today) newspaper.
Nguyen Thi Loi, a resident of Ky Bac Commune in the central province's Ky Anh District, said most parents wanted their children to have fun and engage in activities that improve their physical health before new school year, but there were few opportunities and no facilities to do this.
She also said it was necessary to assign housework for children and remind them to review previous year's lessons so that they do not get addicted to "dangerous" online games.
No resources
Nguyen Thi Thuy, a teacher from Ha Noi's Chuong My District, said although there was a lot of vacant land available to build playgrounds for children in rural areas, they had no resources even to design the space, far less build things like courts, goal posts, swings and other playing equipment.
Many families are very busy with farming work, so they do not have much time to care for their children. This results in the kids having to play and entertain themselves on summer days, according to the teacher.
Besides the unsafe games mentioned earlier, online games are a threat.
There are many students who study hard during the school year, but when vacation time comes, they enter the world of online games, and become addicted.
Then, after the summer vacation ends, the kids spend less time on studying and more time on playing games. This affects their results at school, and pushes many to drop out.
Nguyen Duy Thanh, a teacher of Que Phong Boarding Secondary School in Nghe An Province, said children living in remote areas were heavily disadvantaged, when compared with children in big cities.
"The majority of ethnic minority students are from families with serious financial difficulties, so they often follow their parents to harvest maize or gather firewood," said Thanh, who has spent 10 years teaching in remote areas.
"Recreation centres and other places where they can learn life skills are out of reach for children in these areas," he said.
Tran Xuan Tinh, head of the Education Department of Yen Thanh District in Nghe An, also agreed with Thanh. "Children in many rural localities do not have the entertainment options available for children in the city."
He said this was worrying because the lack of oversight by adults could lead to tragedies like drowning or serious traffic accidents.
Rising hopes
In this difficult situation, several parents and officials are showing admirable initiatives to ensure that children in rural areas have a good summer vacation, where they have fun and learn new things at the same time.
Nguyen Thi Trình, a mother of two daughters in Ha Giang Province's Hoang Su Phi District, some 300km from Ha Noi, said that every summer vacation, the local youth union organises a lot of cultural and sports activities for its members.
They can go to the commune's library to read books or play traditional games or take classes on subjects like drawing or embroidery held by the youth union twice a week.
Trình said more attention should be paid to children, especially those in rural, remote areas so they could improve their physical health, broaden their minds and learn necessary skills that are not taught at schools.
Tinh of Yen Thanh District said his office co-ordinated with local authorities to organise swimming classes for children.
Nguyen Thi Thanh Toan, a teacher from Huong Lien Primary School in Huong Khe District, Ha Tinh Province, said she was planning to teach Chut ethnic minority children some soft skills.
"I have requested the district's Youth Union to assign five volunteer students to organize summer classes so that children can review their lessons," she said.
She also plans to organise extra classes to disseminate knowledge on food hygiene and safety, forest fire prevention and offer swimming lessons for children.
Source: VNS