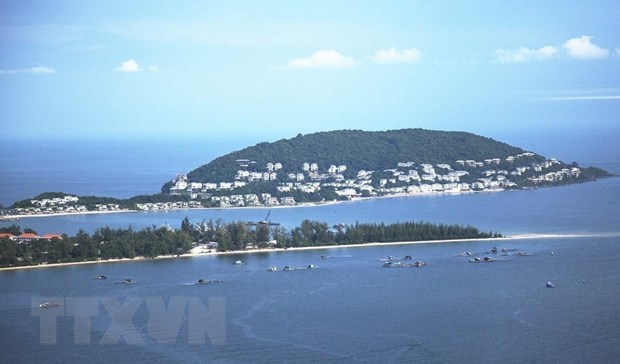 Phu Quoc Island
Prime Minister Nguyen Xuan Phuc has asked the Ministry of Internal Affairs to instruct Kien Giang Province to build a report on the proposal for the submission to the Politburo in the third quarter of this year.
Once approved, Phu Quoc will be Vietnam's first island city.
Regarding Phu Quoc International Airport's terminal expansion, the PM urged the province to draft an investment report for consideration.
The province authorities have been assigned to make a list of households which are living within Phu Quoc National Park as well as those using land within the area.
In case of violations detected, authorities will work with the ministries of Natural Resources and Environment and Agriculture and Rural Development for resettlement.
Phu Quoc is the largest island in Vietnam, with a total area of 59,000ha and a population of over 120,000 people. 
Phu Quoc was designed to become a tourism center of international stature. There must be a specific mechanism for Phu Quoc Special Economic Zone (SEZ) development.
Phu Quoc will be the first locality in the country to apply the new development model. It will be the flagship among three provinces - Phu Quoc, Van Don and Bac Van Phong - chosen to apply the model of special administrative-economic units.
The details of the Phu Quoc SEZ development plan have not been revealed, but major principles have been set up. The head of the SEZ will be chosen based on open competitions with the criteria designed by international consultants and approved by the government.
Phu Quoc SEZ will develop on the platform of a. knowledge-based economy. It is expected that after 20 years Phu Quoc will catch up with Hong Kong and Singapore.
There will be an overseas finance center on Phu Quoc, where foreigners have the right to own and trade in tourism and resort real estate, while investors can mortgage real estate at foreign owned banks for loans.
Le Ha

Da Lat and Phu Quoc, tourism paradises of Vietnam, have experienced historic floods, even though Da Lat is located on a plateau and Phu Quoc is an island.

The Ministry of Public Security has proposed to officially legalise visa exemptions for visitors to Phu Quoc Island.