High rate of unauthorized Vietnamese workers in RoK
Nearly 1,000 illegal Vietnamese workers in RoK voluntarily return home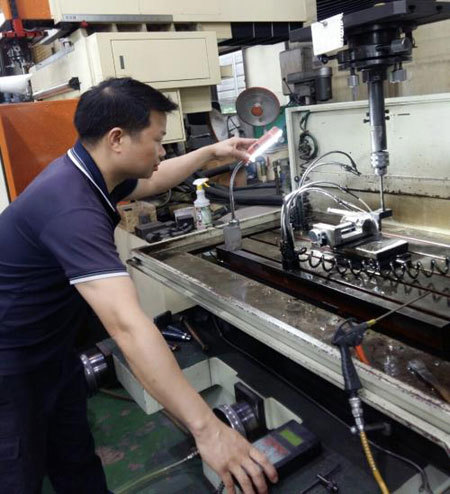 A Vietnamese labourer works for a mechanical enterprise in the RoK. — VNA/VNS Photo Thanh Trung
Arriving in the RoK under the Employment Permit System (EPS) programme for the first time in 2012, N.V. Lam (from Thanh Hoa Province) said before going to Korea he was only able to work as a hired labourer.
"The job is not stable and life is difficult," he said.
"At that time, I had just got married, so there were many things to worry about. In my hometown, there are many people who went overseas to work for a while and their lives improved."
After careful consideration, Lam decided to go to the RoK to work. He is currently working at a mechanical enterprise in Busan.
"At first, I didn't know the language. I focused on working, and learnt Korean in my free time," he said.
"The company helped me with accommodation and travel."
After the first contract was terminated (under the EPS programme between the RoK and Vietnam, Vietnamese workers are given four years and 10 months to work in the country), Lam returned to Vietnam and registered with a Korean company again.
He currently has an income of about KRW2-3 million/per month (equivalent to VND40-60 million). Thanks to the money he sends home, his wife and two children have a better life than before.
Like Lam, many Vietnamese workers in South Korea work hard and comply with local regulations, so they are able to send a lot of money back home.
Director of the RoK Immigration Service, Lee Deok Ryong, said that in 2015 the Ministry of Justice and local authorities had a policy of importing seasonal guest labourers to work in agriculture and fishery sectors.
And from 2017, the RoK implemented a policy of receiving skilled workers, and they can reside and work for more than 5 years (E7 visa).
The RoK government's EPS programme has attracted hundreds of thousands of Vietnamese labourers, working in the fields of manufacturing, construction and fisheries.
The quality of Vietnamese workers in South Korea was highly appreciated by Korean businesses for their ability to adapt and integrate.
Therefore, Vietnamese workers were considered the preferred choice for many Korean businesses. With the advantages of proximity, cultural similarity and equivalence in skills, the RoK was an attractive market for Vietnamese workers.
Le Duc Anh, from Thuong Tin, Hanoi said "With the basic salary stipulated by the Korean Ministry of Labour, a foreign worker gets KRW2-2.2 million per month (equivalent to VND40-44 million), not including income from overtime."
Accommodation and meals were paid by the company, Anh said, so he could save VND30 million (US$1,300) each month after deducting the cost of living.
"Compared to being a manual labourer at home, the income here is much higher," said Anh.
According to the RoK Immigration Service, by the end of March 2019, there were 209,015 Vietnamese people living, studying and working in the country.
Of which, there were more than 47,000 employees working at small and medium companies in four sectors: industry, agriculture, construction and fisheries.
Vietnamese workers are concentrated in provinces and cities such as Gyeonggi, Gyeongsangnam, Gyeongsangbuk, Jeollanam, Chungcheongnam and Incheon.
Vietnamese workers went to South Korea mainly following the EPS Programme. Since 2004, there were nearly 103,400 Vietnamese labourers working in the RoK through this programme.
Nguyen Nhu Tuan, head of the Vietnam Labour Management Board in the RoK said that in general, Vietnamese workers were prioritised by employers in recruitment.
The vast majority of Vietnamese labourers working in the RoK had good incomes and guaranteed working conditions.
Because foreign worker's income in the RoK was quite "attractive", the number of illegal Vietnamese labourers has remained high. With no health insurance, or legal documents, undocumented labourers often live in narrow rented rooms with poor conditions.
Currently, there are 46,000 illegal Vietnamese labourers in South Korea, according to the Korean Ministry of Justice.
Director of the Centre for Foreign Labour Management (Korean Ministry of Labour and Employment), Rah Yee Soon, said that among 16 countries sending workers to Korea, Vietnam was the second-highest (after China).
She said Vietnamese workers were "very quick, friendly, eager to learn and adapt quickly to working conditions in South Korea". In addition, the two countries had many similarities in culture and cuisine so Korean employers were very satisfied with Vietnamese labourers.
Lee Deok Ryong, Director of the Immigration Serivce, also highly appreciated hard-working Vietnamese workers, saying "Vietnamese workers are considered hard-working and vivacious, which are similar characteristics to Korean workers."
"Currently, the Korean Government is in desperate need of young, qualified, skilled human resources to nurture the development for Korean enterprises. Therefore, the country is preparing policies to lure more workers."
In 2019, the RoK has a target of receiving 56,000 foreign workers, mainly focusing on the fields of mechanics, construction, agriculture and fisheries.
VNS