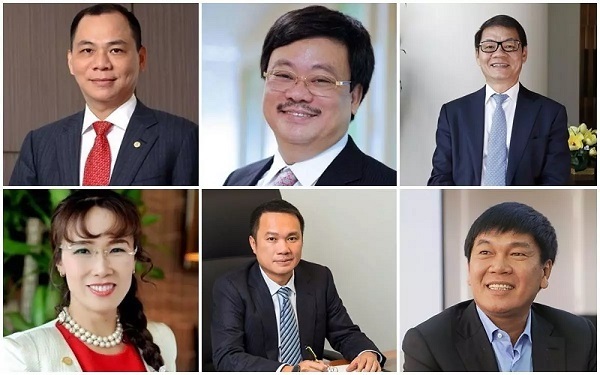 It has become common for many Vietnamese entrepreneurs to give senior management positions in their businesses to their children, also known as the F1 generation, gradually creating a business continuity tradition in private corporations in Vietnam.
In late 2020, Le Viet Hai, Chairman of Hoa Binh Construction Group, officially transferred the CEO position to his son Le Viet Hieu. This is an important transition for the new generation of leaders of this group.
It has become common for many Vietnamese entrepreneurs to give senior management positions in their businesses to their children, also known as the F1 generation, gradually creating a business continuity tradition in private corporations in Vietnam.
Beverage corporation Tan Hiep Phat of tycoon Tran Quy Thanh is now run by his two daughters - Tran Uyen Phuong and Tran Ngoc Bich.
Dang Van Thanh's family – the founder of Thanh Thanh Cong corporation – has also introduced the F1 generation with famous young entrepreneurs Dang Hong Anh and Dang Huynh Uc My.
The most famous F1 in the banking sector in Vietnam is Tran Hung Huy, who took over the hot seat of the Asia Commercial Bank (ACB) right after the collapse of boss Kien. Taking the hot seat at the age of 30, after nearly 10 years, Huy has proven himself as the son of famous banker Tran Mong Hung when taking ACB back to the top position in the Vietnamese banking industry.
At the shareholders' meeting of the Hoa Phat Group, billionaire Tran Dinh Long expressed his belief in his successors and did not forget to mention Tran Vu Minh. Similarly, two sons of TNT Group's Chairman Do Quang Hien have begun to follow their father from the positions of managers in to accumulate experience to shoulder future responsibilities.
Meanwhile, at the Inter-Pacific Group (IPPG), which owns DAFC and ACFC, specializing in the distribution of imported fashion brands, each family member manages a separate branch. As for Doji Group, continuing the tradition from their father, Do The Su, Do Minh Phu and Do Anh Tu have teamed up to develop Doji and TPBank.
A family company is defined as a company in which the majority of the voting rights are held by the founder or successor of the company from close family members and where at least one member of the family is involved in running the company and has begun to introduce the 3rd generation.
After opening its door, Vietnam's economy has developed strongly. Many family businesses have been founded, such as Vingroup, Tan Hiep Phat, Lien Pacific Group, Thanh Thanh Cong, IPPG, Minh Long Ceramics, Biti's, KIDO... Vingroup and Doji are named in the Top 750 Family Businesses, with Vingroup ranked 498th, and Doji 740th.
According to Forbes, the 100 largest family businesses in Vietnam contribute about 25% of the country's GDP. Family businesses are the growth engine of every country. They are also becoming "eagles" to create a push for the development of the private sector.
Korean chaebols
In 1953, South Korea's gross domestic product per capita was only US$67. In order to revive the agriculture-based economy, in the 1960s and 1970s, the Korean government helped to turn a number of large family-run companies into giant economic groups.
Thanks to the available advantages and preferential policies of the government, chaebols have developed very quickly. Thanks to chaebols, South Korea, from a poor country that went through a brutal civil war, has become a country with the 13th largest GDP in the world according to the World Bank 2015 report.
These corporations have developed industry and promoted exports and become the engine of economic growth in Korea. Typical names are Samsung, Hyundai, Daewoo... The Korean chaebols are the most typical example of the family business model.
In the world, names like Walton, Koch, Chanel or Hermès, Walmart, Tesla, etc. not only top the list of the richest corporations in the world, but these family businesses are also dominating the world economy.
According to research by Family Capital, with the support of PwC, the ranking of the top 750 family businesses in the world highlights the increasingly important role of family businesses in the global economy. These companies generate more than $9 trillion in annual revenue and employ nearly 30 million people.
Many of these companies are known as global brands. In Germany, Spain and France, family businesses account for about 80% of all businesses. In Italy, India and in Latin America, family businesses account for between 90% and 98%. Research by Ronald and David (2003) shows that 35% of S&P 500 businesses are controlled by families.
According to Credit Suisse's Family 1000 report, since 2006 these companies have outperformed non-family-owned companies.
The successes of family companies, spanning many industries, provide some important lessons for other businesses and investors. First of all, family businesses are grounded in their unique way of doing things.
The story of Korean chaebols as well as family businesses in the world is a lesson to guide the development of the private economy in Vietnam.
A recent survey of family businesses by Deloitte shows that family businesses currently account for a sizable proportion of total businesses in Vietnam. Many companies have much better growth rates and business performance than state-owned enterprises.
According to the Vietnam Chamber of Commerce and Industry (VCCI), family businesses account for a large proportion of the private sector. The most successful enterprises in recent years are private enterprises and family businesses, not state-owned enterprises.
According to Hong Sun of the Korean Chamber of Commerce and Industry (KORCHAM) in Vietnam, Korea's experience with chaebols shows that building a modern industrial economy cannot be achieved by relying on small and medium sized enterprises.
Vietnam is no exception to wanting to build big corporations. Only large enterprises with the ability to access capital and technology can participate in large-scale infrastructure projects or produce export goods.
However, family businesses in Vietnam are also facing many challenges similar to the general situation of the world such as governance, inheritance and innovation.
The long-running dispute between Le Hoang Diep Thao and Dang Le Nguyen Vu over the control of assets at Trung Nguyen coffee is anl example of the inadequacies in governance of family companies.
Besides, technology adaptation is still slow. According to a PwC report, only 9% of the companies surveyed are completely confident in their current digital capabilities.
"The world is changing, and so is the recipe for the sustainable success of family businesses," said Johnathan Ooi, an expert at PwC Vietnam.
In the world, there are companies that have developed hundreds of business areas and have existed for hundreds of years.
The hallmarks of these companies are good governance and transparency, in addition to innovative thinking, said Mr. Eng Chuan, a private and family business consultant.
An expert from PwC said that only with an open mind and acceptance of innovation will family businesses be truly firm in the face of challenges. To be ready for tomorrow, family businesses need a new approach to enhance and promote heritage values: performing digital transformation, focusing more on professional and sustainable development goals, and professionalizing family governance.
To reach out to the world, family businesses need to follow the international rules of the game, and gain competitiveness and the recognition of partners and customers outside Vietnam. That forces them to transform and apply international practices and standards, to become professional.
To do so, family businesses need a roadmap to change and must invest in change: from ideology, corporate governance, to information transparency, human resource quality, social responsibility and environmental responsibility... and these tasks must be done in a substantive and methodical manner.
Duy Khanh

After over 30 years of Doi Moi (reform), Vietnam has had large private groups operating in many industries with international stature. There are also Vietnamese USD billionaires, but only a handful.